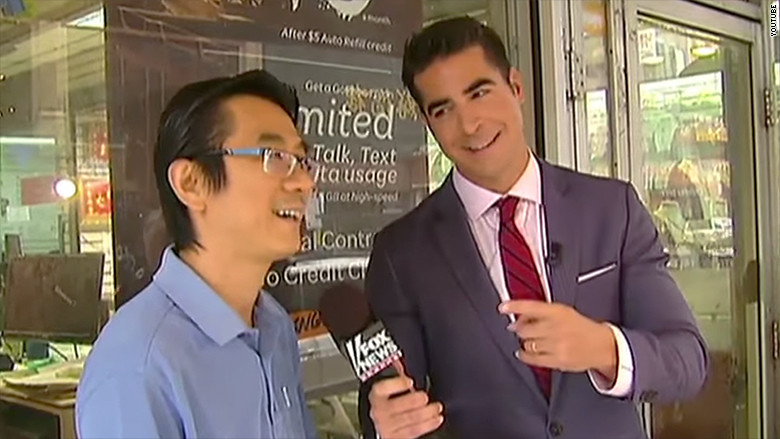 Fox News isn't commenting on a controversial segment by its on-the-street interviewer Jesse Watters that has been widely criticized for containing several offensive Asian stereotypes.
The five-minute segment, which aired on "The O'Reilly Factor" Monday night, features Watters asking people in New York City's Chinatown about the 2016 campaign and U.S.-China relations. But Watters also asks his subjects if he should bow when saying hello, accuses a street vendor of selling stolen watches, and asks one stranger if he knows karate -- which originated in Okinawa, now part of Japan.
"This is one of the most blatantly racist things I have ever seen," Farhad Manjoo, the New York Times tech reporter, tweeted. "How can anyone at Fox News defend this? It's nuts."
"What Watters was really doing was making fun of the people he encountered with the broadest, dumbest Asian stereotypes imaginable — making it clear they were there as props for him and his viewers for what he clearly considered a hilarious joke, rather than to actually give their opinions," Vox's Libby Nelson observed after the segment aired on Tuesday.
Even Bill O'Reilly, the show's host, acknowledged during a discussion with Watters after the segment aired that Fox was "going to get letters."
In recent months, Watters has also done segments that made fun of Italian-Americans and the Amish.
To fans, he is a a fearless questioner and jokester; to detractors, he is an obnoxious "ambush" journalist who often plays on stereotypes or takes advantage of his subjects. But Tuesday night's segment was seen as beyond the pale even by Watters' standards.
Fox Nation, an opinion website that's an arm of Fox News, described the segment as "hilarious" in a tweet. A Fox News spokesperson declined to comment, but did point CNNMoney to recent interviews in which Watters defended his intentions as an interviewer.
"I don't want to hurt anybody's feelings," Watters told IJR last year. "I go into it thinking how can I listen to them and have them share with me their thoughts and opinions in a way that doesn't come across as mean."
"I try to make it enjoyable for the person I'm interviewing," he told The Philadelphia Daily News last December. "We always come away from the interview all smiles, for the most part."
There were no smiles among Watters' critics on Wednesday.
"This O'Reilly factor segment making fun of Asian-Americans is unreal. It's 2016," Blake Hounshell, the editorial director at Politico, tweeted.
Lee Fang, an investigative journalist at The Intercept, called it "unabashedly racist."
And in a statement to the liberal press watchdog Media Matters, Paul Cheung, the president of the Asian American Journalists Association, said, "The segment was rife with racist stereotypes, drew on thoughtless tropes and openly ridiculed Asian Americans. Fox missed a real opportunity to investigate the Asian American vote, a topic not often covered in the mainstream news media."
Politicians also weighed in.
Daniel Squadron, the New York State Senator who represents Chinatown, called the segment "offensive and unacceptable."
"Welcome to my district," he tweeted, "hope you don't come back."
And Brian Schatz, the U.S. Senator from Hawaii, called Watters "unfunny and mean."
"He should be ashamed of himself," Schatz tweeted. "Also, he's not welcome to Honolulu Chinatown."
After hours of criticism, Watters addressed the issue late Wednesday afternoon in two tweets.
"As a political humorist, the Chinatown segment was intended to be a light piece, as all Watters World segments are," he wrote. "My man-on-the-street interviews are meant to be taken as tongue-in-cheek and I regret if anyone found offense."