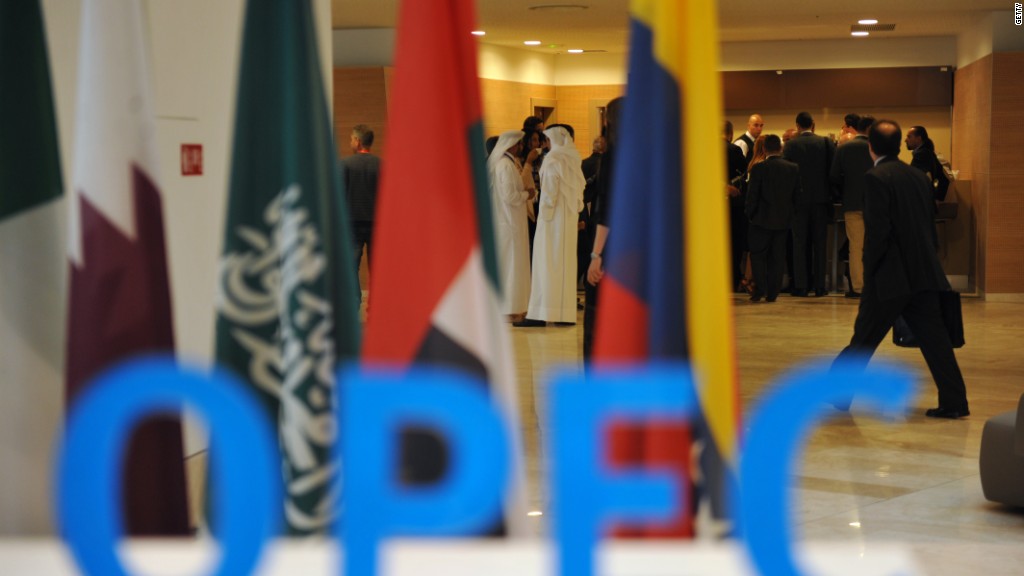 Don't look now. Oil prices are back above $50 a barrel -- thanks largely to OPEC's willingness to once again act as the world's crude referee.
Oil returned back above the magic $50 level on Thursday for the first time since late June.
Prices for the vitally-important commodity have surged 12% since OPEC surprised the world last week in Algeria by reaching an understanding to cut output for the first time in eight years. The framework deal could still collapse and awaits formal approval at OPEC's regular meeting in November, but it represents a reversal from the cartel's recent strategy of flooding the world with oil.
At a minimum, the OPEC deal has seemed to put a floor beneath oil prices. Oil bulls are hoping it could solve the supply glut that has pressured crude for nearly two years.
"OPEC has given a clear signal to the world that it is willing to reassume the role of global supply manager after a two-year hiatus," research firm JBC Energy wrote in recent report.
Related: Why OPEC's oil deal won't mean a spike in gas prices
Thanks to Thursday's oil rally, prices have now nearly doubled, since plummeting to a 13-year low of $26 a barrel in mid-February. That low point in oil prices created shockwaves around the world and spooked investors who feared it signaled something terrible about the global economy.
Yet oil prices are now sitting with a strong 35% gain for 2016.
"People are jumping on board this bullish train," said Matt Smith, director of commodity research at ClipperData.
However, Smith cautioned that the recent rally is being driven by "sentiment," not improving supply-demand fundamentals.
There are also doubts about the OPEC framework agreement, especially given the oil cartel's long history of having members "cheat" against agreed-upon quotas.
The Algeria agreement calls for a new OPEC output range of 32.5 million to 33 million barrels per day, down from 33.4 million currently. However, the deal is being complicated by the fact that three members are being exempted from production cuts: Iran, Nigeria and Libya.
"It's a huge, if not impossible task , unless Saudi Arabia does all of the heavy lifting," Smith said.
Related: OPEC agrees to cut production
JBC Energy echoed those concerns, saying, "So far OPEC has not done anything other than announce loose plans" and history shows it will be "extremely difficult" to pull this off.
In recent weeks, oil prices have also been supported by signs that the epic mountain of crude oil stockpiles is shrinking. U.S. inventories of crude oil plunged by 3 million barrels last week, surprising markets that had anticipated stockpiles to swell higher.
Still, Smith warns against predictions for oil prices to keep soaring. He notes that the U.S. oil boom continues to weather the cheap crude storm better than feared, keeping supplies high.
"There is far more supply than demand at the moment. And even if we do come back into balance, there is this huge cushion of inventories to keep the market in check," Smith said.