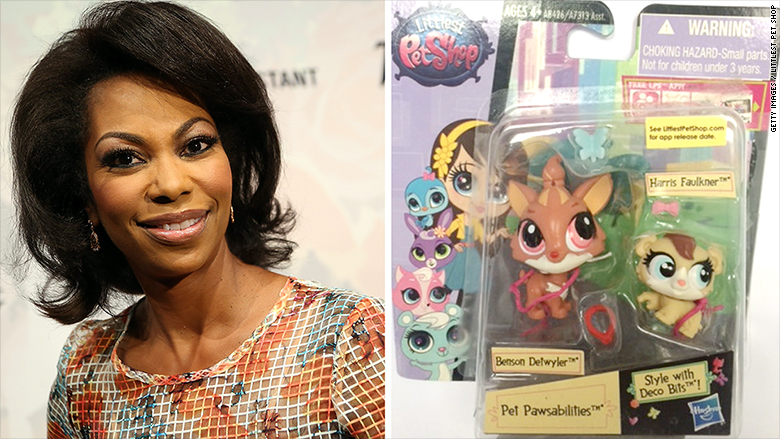 Fox News anchor Harris Faulkner has reached an agreement with Hasbro after suing the company over a toy hamster that bears her name.
Faulkner, who sued Hasbro last year, and the toy company agreed to dismiss the case, according to a document filed Wednesday in U.S. District Court in New Jersey, where Faulkner lives.
Faulkner was seeking $5 million in damages. A spokeswoman for Fox News said the lawsuit was "settled amicably" and the Harris Faulkner hamster toy is no longer sold or manufactured by Hasbro. But she wouldn't say whether Faulkner received any financial compensation in the settlement.
Lawyers for Hasbro did not immediately respond to messages seeking details of the settlement.
The complaint, filed in August 2015, says Hasbro (HAS) starting selling the toy in 2014 as part of its "Littlest Pet Shop" line of plastic animals.
Related: Harris Faulkner sues Hasbro over plastic toy hamster bearing her name
Not only does the Harris Faulkner Hamster Doll share the same name as Faulkner, says the lawsuit, but there are elements that "bear a physical resemblance to Faulkner's traditional professional appearance, in particular tone of its complexion, the shape of its eyes, and the design of its eye makeup."
The complaint says that Faulkner "worked for decades to establish and maintain her personal brand and laudable professional reputation" and that "Hasbro has caused substantial commercial and emotional damage to Faulkner."
The lawsuit referred to the toy as "insulting and demeaning."
On Thursday, Hasbro did not have the Harris Faulkner Hamster Doll among the other toys in its online gallery of Littlest Pet Shop characters.