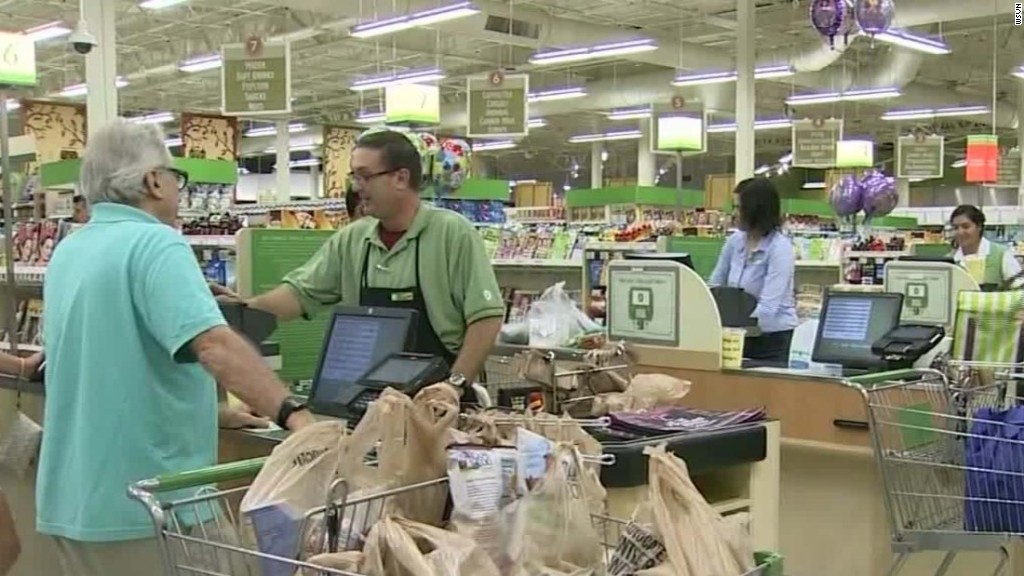 As Hurricane Matthew takes aim at Florida and the Southeast United States, forecasters worry it could become one of the most expensive storms in the nation's history.
The storm was moving through the Bahamas on Thursday, but it was still unclear how Matthew will hit the U.S. coast, and how strong it will be when it does. Even if the center of the storm stays off shore and simply moves up the coast from South Florida to North Carolina, the rain, wind and storm surge could cause significant damage.
There are at least 200,000 homes along the coast from Florida to North Carolina at risk of damage from the storm surge alone, which would push water ashore and causing flooding. Even if Matthew is downgraded to a Category 1 storm, repairing and replacing those homes would cost $43 billion, according to CoreLogic.
Should it remain a Category 3 storm, the surge could affect an additional 300,000 homes, which could cost an additional $60 billion.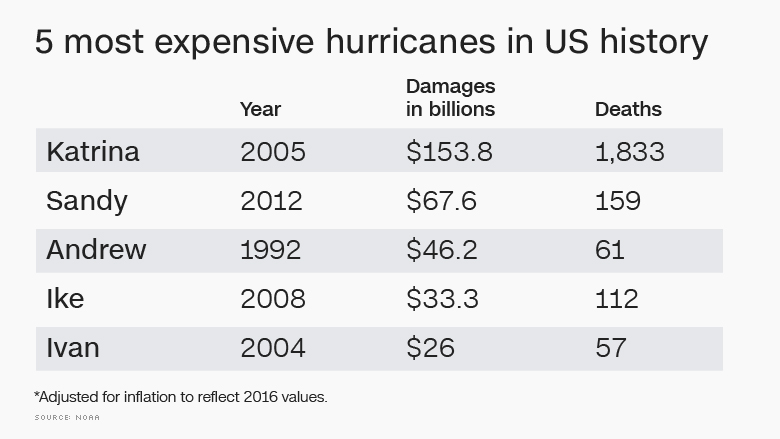 The storm surge isn't the only threat posed by Matthew, structures further inland are likely to suffer wind and rain damage as well.
Matthew poses a particularly large risk, since it could affect such a broad geographic area. There are nearly 400 miles of coastline from South Florida to Georgia now under Hurricane Warning, and roughly 200 more miles of coastline north of that area under Hurricane Watch.
Related: 'This storm will kill you.'
"Simply the fact that it could cover so much coastal area is what could make this so expensive," said Tom Jeffery, a senior hazard scientist at CoreLogic.
One reason it's tough to estimate how much damage might be caused by Matthew is that it's expected to follow the coast for such a long stretch.
"A small change in track could produce a significant change in impact -- 10 miles east or west could make all the difference between a landfall in southern Florida, with hurricane-force winds extending further inland, or a still-impactful bypassing storm causing damage along the coastline," said Tom Sabbatelli, a hurricane expert for RMS, which does risk analysis for the insurance industry.
Almost all of the most expensive storms in the nation's history have hit in the last 12 years, even when damage estimates are adjusted to 2016 dollars.
Related: Hurricane Matthew tracker
Hurricane Katrina in 2005 did $153 billion in damage and caused 1,833 deaths, according to the National Oceanic and Atmospheric Administration. Sandy, which was no longer a hurricane force storm when it came ashore near New York City in 2012, did $67.6 billion of damage, making it the second most costly storm.
Only two of the ten most expensive hurricanes on NOAA's list took place before 2004: 1992's Hurricane Andrew, and 1989's Hurricane Hugo at No. 9.