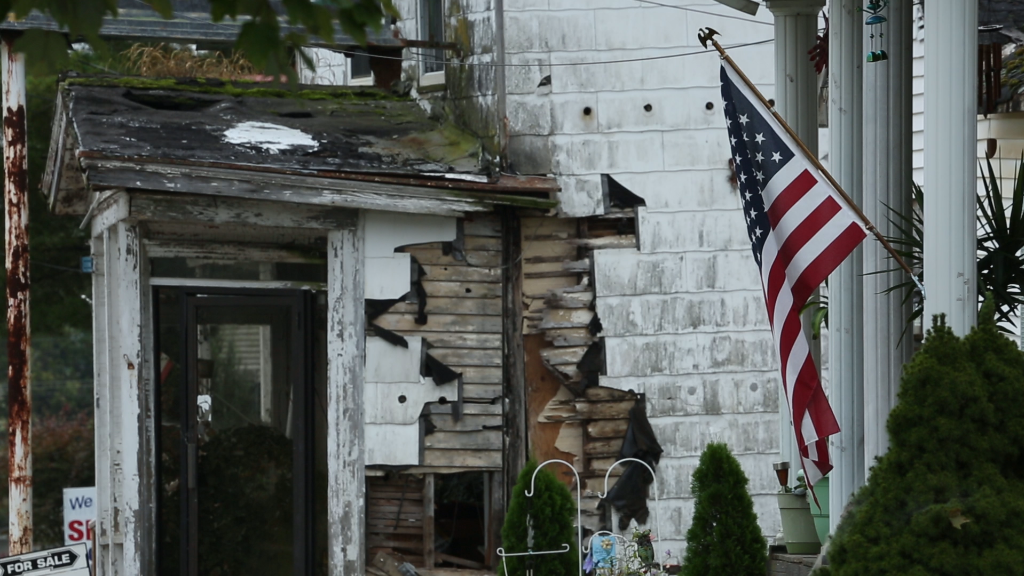 Show me the money? How about...show me economic growth.
The U.S. economy is on track for the worst year of growth since the Great Recession. For all of 2016, America is only expected to grow 1.5%, according to the experts at Oxford Economics.
Fitch Ratings forecasts an even lousier figure: just 1.4%.
"This year is likely to see the lowest annual growth rate for U.S. GDP since 2009," says Brian Coulton, chief economist at Fitch Ratings. He dubbed it "lackluster."
Blame businesses.
They aren't spending much. Private investment in new equipment and technology is way down. It started in the oil industry. As oil and natural gas prices plummeted, energy companies scaled back. But other businesses have followed the slow and cautious path.
On top of that, uncertainty about Brexit, the U.S. election, and what the Federal Reserve (and other central banks) will do with interest rates has added to the worry pile.
The big debate is what will happen next. Will the U.S. economy rebound or will it slide into another downturn?
Related: Is anyone worried about America's $19 trillion debt
"I think it's going to be a slow bleed," says Lindsey Piegza, chief economist at Stifel. "Right now, we're hoping for 1.5% growth on an annual basis. Next year, we could see 1% growth."
She projects the U.S. will "just slowly slide into recession over the next couple of years."
At the moment, the economy is still expanding, but growth of only 1.4% or 1.5% is a dramatic slowdown from 2.6% last year.
If 2016 comes in below 1.6% (the 2011 level), it would make this year the weakest since 2009, when the U.S. economy was in the midst of the Great Recession. (The latest International Monetary Fund forecast this week for the U.S. is 1.6% -- so right on the cusp.)
Related: This is the slowest U.S. recovery since WWII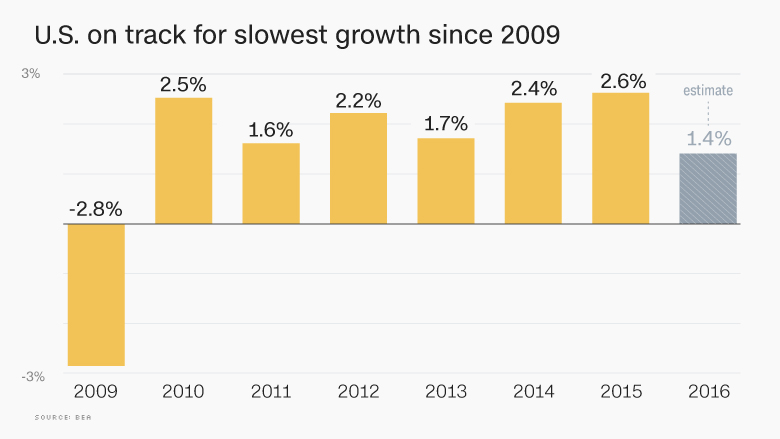 Slow growth has become a firecracker in the U.S. presidential campaign trail.
On the one hand, the U.S. is experiencing the most sluggish recovery (in annual growth terms) since World War II. It's a fact Donald Trump brings up frequently on the campaign trail.
On the other hand, the U.S. is clearly in a better place than it was in the crisis, and it has rebounded better than most other countries. Those are points that Hillary Clinton talks up.
America could very well keep going at this slower pace of growth for a long time, avoiding a bust.
"Although slow, the U.S. expansion could become the longest on record," wrote Jason Pride, director of investment strategy at Glenmede's, in a note this week.
It's already the fourth longest expansion in U.S. history.