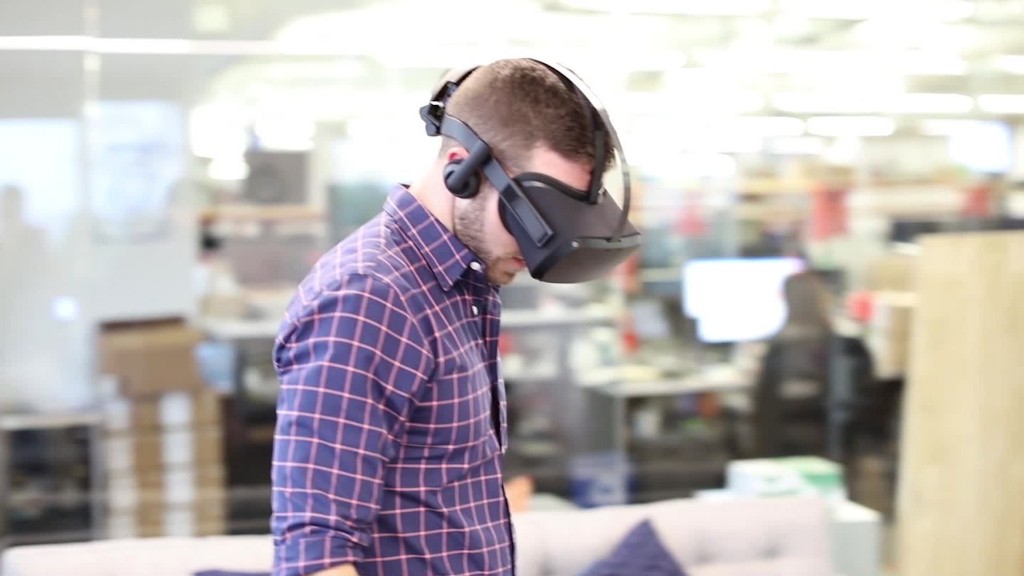 Oculus has laid out ambitious plans for the future of virtual reality.
Soon, it says, you'll be able to reach out and touch things in VR, snap selfies and catch up with family members all within a VR environment.
At its Oculus Connect developer conference in San Jose on Thursday, the Facebook (FB)-owned company demoed a series of new tools coming to its Oculus platform in the months ahead. It also announced more details around its Oculus Touch hand controllers.
The controllers, which will be used alongside the virtual reality headset Oculus Rift, will be priced at $199. Pre-orders start on October 10 and start shipping on December 6.
Related: Breakout app Prisma now lets you add artsy filters to videos
But perhaps the most exciting part of the event was the deeper look Oculus provided into a more social VR future. Wearing an Oculus Rift headset, Facebook CEO Mark Zuckerberg showed off what it would be like to be transported to his home in real-time to visit his dog, Beast. He phoned his wife Priscilla Chan (via a video call) and the three took a group photo within the VR environment. Zuckerberg later posted it to Facebook.
While socializing in VR is currently limited, the company is rolling out a Rooms and Parties feature where you can interact with up to eight others while wearing a VR headset. You'll soon be able to customize your avatar, too, so others can identify you in a virtual world.
The Oculus platform now supports the ability to move around a large space while in an immersed environment -- sensors for that experience will cost an additional $79.
To show its dedication to the technology, Oculus has already invested $250 million in VR development and has pledged an additional $250 million toward development. It's also investing $10 million for fund to develop more Oculus tools and $10 million to fund diversity programs for VR.
Related: Amazon only needs a minute of human labor to ship your next package
The launch of the Oculus Touch controller and the further investment follows a series of bungles from the company, including a slow device roll out, a high price tag and recent political controversy surrounding Oculus founder Palmer Luckey.
Oculus, largely credited for igniting excitement around VR with its record breaking 2012 Kickstarter campaign, now directly competes with the HTC Vive and PlayStation VR in its efforts to bring virtual reality to the masses.