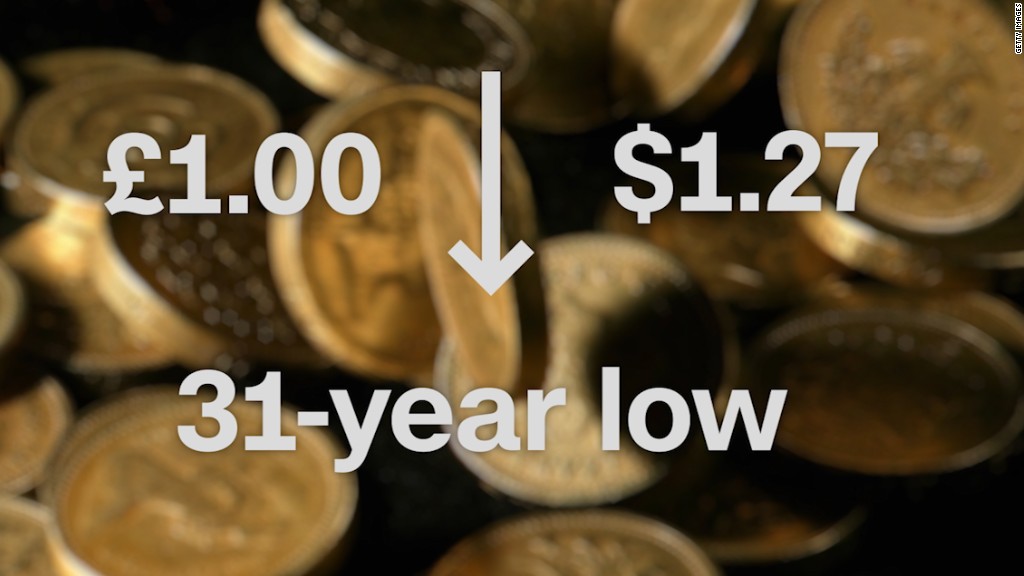 The pound's dramatic decline is threatening to spoil the golden years of retired Brits living abroad.
Popular retirement communities in Spain and France face an uncertain future. Pensioners have seen their spending power fall sharply since June as the pound slumped 15% against the euro.
Hundreds of thousands of expat retirees rely on U.K. government, company and private pensions to make ends meet. But the monthly payments are made in pounds, and must be converted to euros before being spent.
This works well when the pound is strong. But the currency crash since the U.K. voted to leave the European Union is hurting. A pension of 500 pounds a month was worth 655 euros on June 23. Now it's just 555 euros.
Here's what some expat pensioners are saying about the dramatic change:
Allen Bowen - aged 74 - Spain
Bowen retired in 1998 and moved to Spain the same year. Like many retirees, he came for the warmer weather.
Together his state and company pension are worth a little less than 2000 pounds a month.
That used to provide a very comfortable lifestyle. But the value has been cut by 250 euros following the Brexit vote.
His family has been forced to "go for the cheapest [products] we can get."
"It's affecting everyone," he said. "We go over to the U.K. for a couple of weeks a year to see our family, but we haven't done that this year -- just no extra money."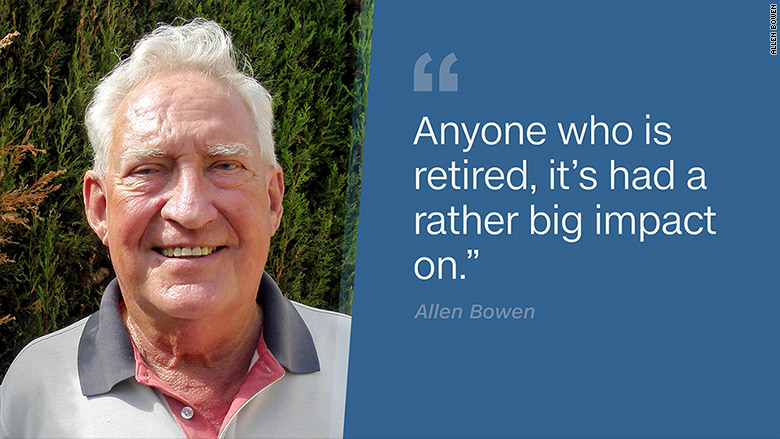 Related: Brexit exodus? Most big companies have thought about leaving
Deirdre Anne Leeming - aged 78 - Spain
A retired business manager, Leeming has been living on the Spanish coast with her husband since 2002.
Brexit has blown a 250 pound hole in their monthly budget.
"We've had some good years," Leeming said. "But it's not looking very good for the future. [Brexit] will make life very difficult."
To stay within budget, Leeming may have to pare back the number of games she plays at the bowling club. If the pound drops further, she may considering dropping out entirely.
"We can still live reasonably well ... but there's less money to put away now," she said.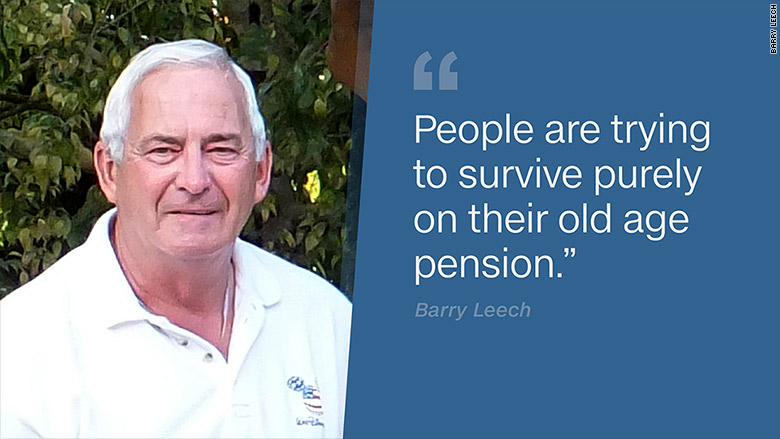 Barry Leech - aged 67 - France
Leech is the president of an organization that helps British expats in southern France. He said frustration is mounting over the U.K. government's handling of the aftermath of the Brexit vote.
"People are trying to survive purely on their old age pension," he said. "Widowers who have been out here for years, they will suffer. I've got people going to the food banks."
Returning to the U.K. simply isn't an option for many retirees. Home prices are relatively low in France, and retirees who sold to move abroad would struggle now to afford a house in Britain.
Leech said the British government needs to do more to protect the interest of retirees.
"If the people we put our trust in, the politicians, don't understand our plight, then what hope have we going forward?" he asked.
Related: U.K. pound plunges more than 6% in mysterious flash crash
John Welch - aged 73 - France
Welch, who spent years in the kitchen and bakery equipment business, retired to the Limousin region of France.
He estimates that Brexit is costing him 200 euros a month.
"You don't go out so much," he said. "If the rate goes down anymore, the harder it will hit us here. We only buy the bare essentials, we don't buy food to stock up in the cupboard."
Welch recently sold his home in France. But he can't move back to the U.K. because he can't afford a home there.
"There's a helluva lot of Brits living in France; everybody's the same as us. No one really knows what's happening," he said.