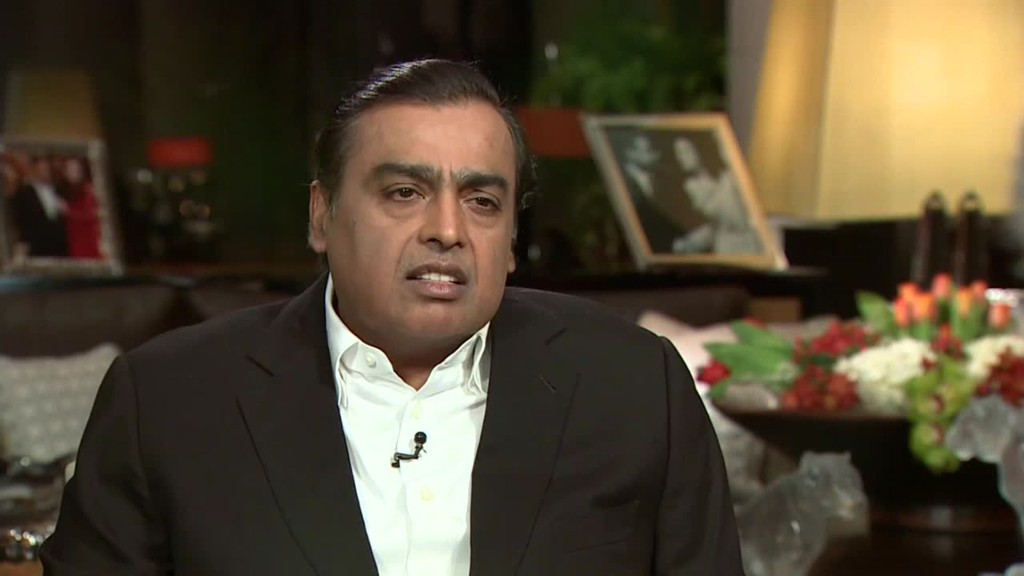 India offers huge potential for mobile operators, so why is it struggling to sell licenses for super fast telecom networks?
The government began its biggest ever auction of radio frequencies for 4G services earlier this week. It had hoped to raise as much as $84 billion from the sale.
But after five days of bidding, the auction ended with sales of just over $9.8 billion -- and 60% of the total bandwidth on offer was left unsold.
The 700 megahertz band — a frequency that significantly lowers the cost of providing services such as video streaming and mapping -- accounted for about 70% of the government's expected earnings. But it didn't attract a single bid.
Analysts had predicted that the auction probably wouldn't last more than a week, but the lackluster response from India's telecom companies meant that it didn't even go that long.
By comparison, demand for 3G licenses in 2010 was so strong the auction lasted 34 days.
Related: India isn't just growing fast, it's much more competitive
Many experts say the government is partly responsible for pricing the licenses too high.
"Everybody's been saying that the 700 [Mhz] pricing is really obscene, they're non-starters," said Prashant Singhal, an India-based telecommunications leader at Ernst & Young. The lack of enthusiasm towards the lucrative band, he added, sends "a very clear message to the government."
But much of the blame can be placed on the industry's fragile finances.
Indian telecom companies have already borrowed more than $61 billion, according to some estimates, and that figure is likely to rise after the auction.
The country's richest man, Mukesh Ambani, has just invested $20 billion in building a 4G network from scratch. His Reliance Jio network went live last month, offering free services until the end of the year, and cutthroat prices for data thereafter.
That triggered a price war -- market leader Bharti Airtel slashed its prices in response, and Vodafone (VOD) is investing billions more in its Indian subsidiary.
Related: India's richest man offers free 4G
Margins for operators are being squeezed, which means they may struggle to build out robust 4G services across the country. Even Reliance Jio isn't yet operating on the best frequencies available.
"If you are reducing the price in order to be competitive, you are going to compromise elsewhere and you're going to compromise on innovation," said Amresh Nandan, a research director at technology consultancy Gartner. "Subscribers may be happy, but it's not a good thing from a long-term perspective."
India is the world's second largest smartphone market, with over 220 million users. Ericsson (ERIC) estimates that number could rise to more than 800 million by 2021.
The country offers huge untapped potential. Hundreds of millions of Indians living in rural or poorer urban areas do not have access to the Internet.
It's a market that global tech giants are champing at the bit to enter. Facebook tried unsuccessfully to introduce a free, no-frills version of its site and Google is installing complimentary Wi-Fi at train stations across the country.
The need for connectivity, and the infrastructure that makes it possible, is greater than ever. Yet with mounting debt, high prices and shrinking margins, India's telecom companies risk being late to the party.