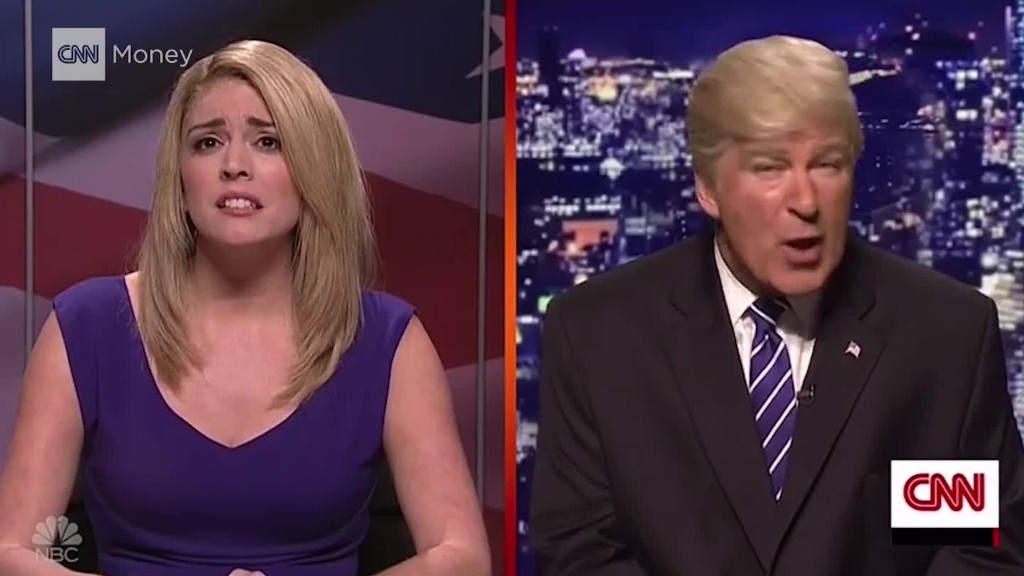 "Are you not entertained?"
That's how Alec Baldwin's Donald Trump opened this weekend's episode of "Saturday Night Live" -- just one day after a 2005 recording surfaced of Trump making vulgar comments about women.
The long-time variety show kicked off with a debate sketch between Mike Pence and Tim Kaine. In the skit, Beck Bennett's Pence argues that Trump has never said anything bad about women before getting cut off by a CNN breaking news alert.
"This leaked audio showed you saying, you know I can't quite say it on live television," said Cecily Strong as CNN anchor Brooke Baldwin to a satirical Trump. "Basically you said you wanted to..."
"Grab them by the p***y," Baldwin's Trump said directly into his microphone without NBC bleeping the word.
The sketch continued with Baldwin's Trump finding out about GOP politicians pulling their support for him before checking in with Hillary Clinton at her campaign headquarters, where she was having a party.
"I'm sorry, Brooke, I didn't see you. We were so busy preparing for the debate tomorrow," Kate McKinnon's Clinton said as she was dancing and popping champagne.
McKinnion's Clinton, who was dancing to Kool & the Gang's "Celebration," was then asked if Trump should drop out of the race.
"No! No! No!," McKinnon's Clinton said. "Give him a shot!"
The sketch ended with Trump getting caught making vulgar comments about Ted Cruz on a hot mic before saying the show's opening phrase, "Live from New York... It's Saturday Night!"
Following Friday's news about Trump's past lewd comments, many "SNL" viewers were excited to watch how the show would tackle the controversy.
"SNL" alumni Tina Fey and Jimmy Fallon made cameos as undecided Pennsylvania voters on "Weekend Update" -- a segment they used to co-host together.
Fey called out Fallon's character for acting like a Trump supporter -- something Fallon was criticized of after the candidate's recent appearance on "The Tonight Show."
Away from that, another reason viewers likely tuned in on Saturday was to see Broadway star Lin-Manuel Miranda host the show.
The "Hamilton" creator rapped his opening monologue before stopping in front of a photo of Donald Trump.
"Well, he's never going to be president now. He's never going to be president now," Miranda sang -- a riff on the song "The Reynolds Pamphlet" from the hit musical.