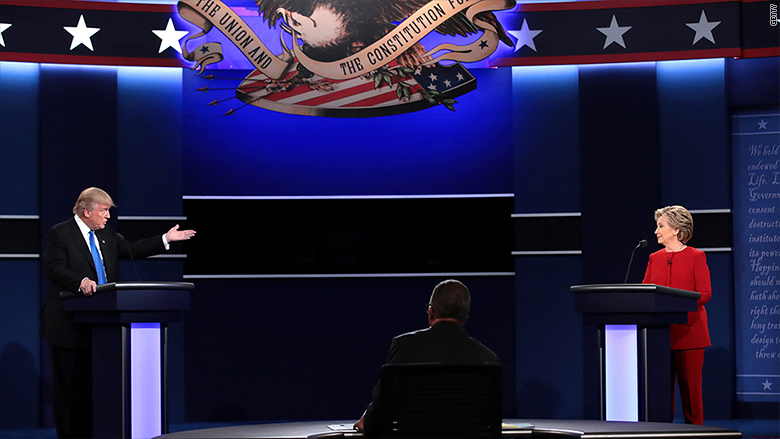 1. Clinton vs. Trump, Round Two: Hillary Clinton and Donald Trump will face off Sunday night after a tumultuous weekend for the Republican nominee. Members of the GOP are calling on Trump to quit after a 2005 video emerged in which he lewdly brags about groping women.
The candidates will answer questions from undecided voters in a town hall format. The debate will take place at Washington University in St. Louis, co-moderated by CNN's Anderson Cooper and ABC News' Martha Raddatz. The moderators are weighing how to incorporate this weekend's storyline. It begins at 9 p.m. ET.
2. Trump Taj Mahal is closing: The troubled 26-year-old Atlantic City casino is heading for a quiet end, ceasing operations at 5:59 a.m. Monday. While many of the restaurants have already closed, gambling is still ongoing. Guests are being forced to check out on Sunday, but the doors will officially close early Monday. The closure will put roughly 3,000 people out of work.
Trump called the casino the "eighth wonder of the world" when it opened in 1990. It lost millions of dollars within the first few months of opening and filed for bankruptcy a year after. Despite having his name attached to it, Trump hasn't owned the casino for years.
3. Banking battle: The National Association for Business Economics will host a debate between top economic advisers from the Clinton and Trump campaigns on Thursday. CNN's Christine Romans will moderate.
Representing Team Trump is Stephen Moore, a visiting fellow from the conservative Heritage Foundation. He helped Trump rewrite his tax plan. In Clinton's corner is Gene Sperling, who has served in financial roles for both Barack Obama and Bill Clinton's administrations.
4. It's earnings season again: There's a nip in the air, and the baseball playoffs have begun. That means it's time for third-quarter earnings to kick off.
On Friday, major banks, including Citigroup (C), JPMorgan Chase (JPM) and Wells Fargo (WFC), are set to report their quarterly finances.
For Wells Fargo, the report will encompass the results through September 30 when it was embattled in controversy for creating as many as 2 million phony accounts and was slammed with a $185 million fine.
5. Coming this week:
Monday - Trump Taj Mahal closes; Facebook at Work launches
Tuesday - Wells Fargo hearing at the California State Assembly
Wednesday - Fed releases minutes of its latest meeting
Thursday - OPEC monthly oil report, NABE debate
Friday - Bank earnings