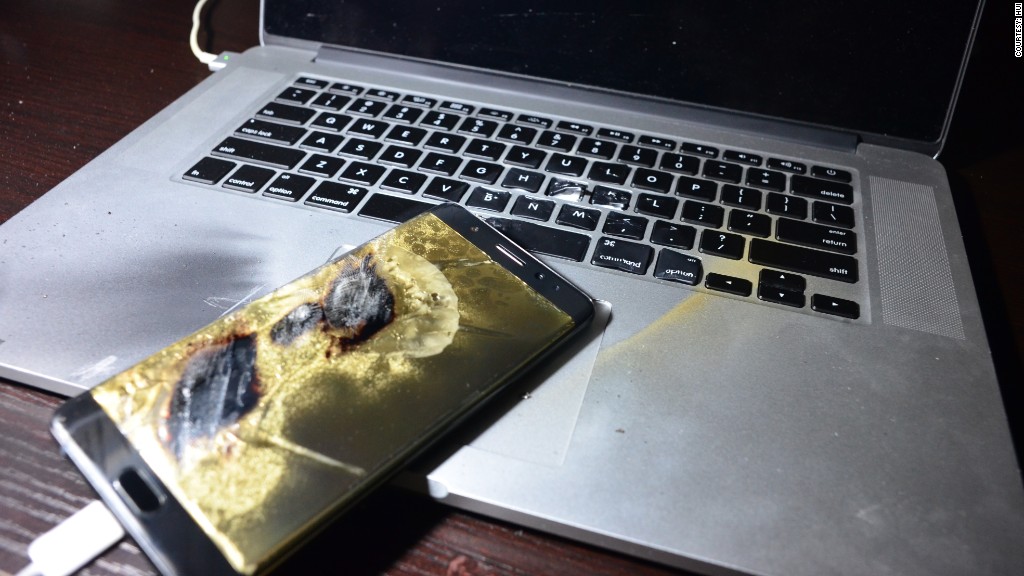 Samsung is putting the brakes on its beleaguered Galaxy Note 7 smartphone as fears spread that even replacement versions of the device can burst into flames.
"We are temporarily adjusting the Galaxy Note7 production schedule in order to take further steps to ensure quality and safety matters," a company spokesperson said.
Production of the phone has been temporarily suspended, a person familiar with the matter told CNN on Monday.
The development is the latest in a string of embarrassing setbacks for Samsung over the Note 7, one of its flagship smartphones. It comes after cell phone carriers in the United States and Australia said they would stop offering replacement Note 7s following concerns that the new versions are no safer from fire risk than the originals.
Soon after the Galaxy Note 7 hit stores in August, some users reported that their phones were catching fire. Samsung (SSNLF) recalled about 2.5 million of the devices worldwide last month, blaming faulty batteries for overheating the phones and causing them to ignite.
Related: Carriers bail on Galaxy Note 7 replacements
Replacement phones were supposed to solve the issue, and users started trading in their old devices. But some customers have been reporting the same dangerous problems with their new phones.
In the past week, an American user reported his replacement phone caught fire, even though it wasn't plugged in. And on Wednesday, smoke started billowing from a replacement Galaxy Note 7 aboard a Southwest Airline plane before it departed, prompting the flight's cancellation.
The U.S. Consumer Product Safety Commission has said it is investigating the incident on the plane.
TuanAnh Nguyen, a research analyst at Canalys, said the production halt would cost Samsung billions of dollars in lost sales over the next six to nine months. It should now abandon the product entirely, he said.
"Samsung needs to quickly put an end to the Note 7 line so as not to get deeper into trouble with recalls and faulty devices which will tarnish its brand," Nguyen said.
Related: Samsung Galaxy Note 7 replacement phone reportedly catches fire on plane
Some phone carriers have already taken unilateral action.
"Based on recent reports, we're no longer exchanging new Note 7s at this time, pending further investigation of these reported incidents," an AT&T representative told CNNMoney on Sunday.
T-Mobile said it would suspend sales of all Note 7s, including replacement models. Customers can exchange their Note 7s with any device T-Mobile carries.
In Australia, mobile operator Telstra said it had "temporarily paused shipping" of replacement Note 7s to its customers "while Samsung investigates reported incidents in the U.S."
Related: What Note 7 crisis? Samsung stock hits new high
The flurry of bad news hit Samsung's stock, which fell as much as 4.6% in Seoul on Monday.
The plunge came just days after Samsung shares had climbed to new highs following a call by an activist hedge fund for a revamp of the company's structure.
-- Danielle Wiener-Bronner and Zahra Ullah contributed to this report.