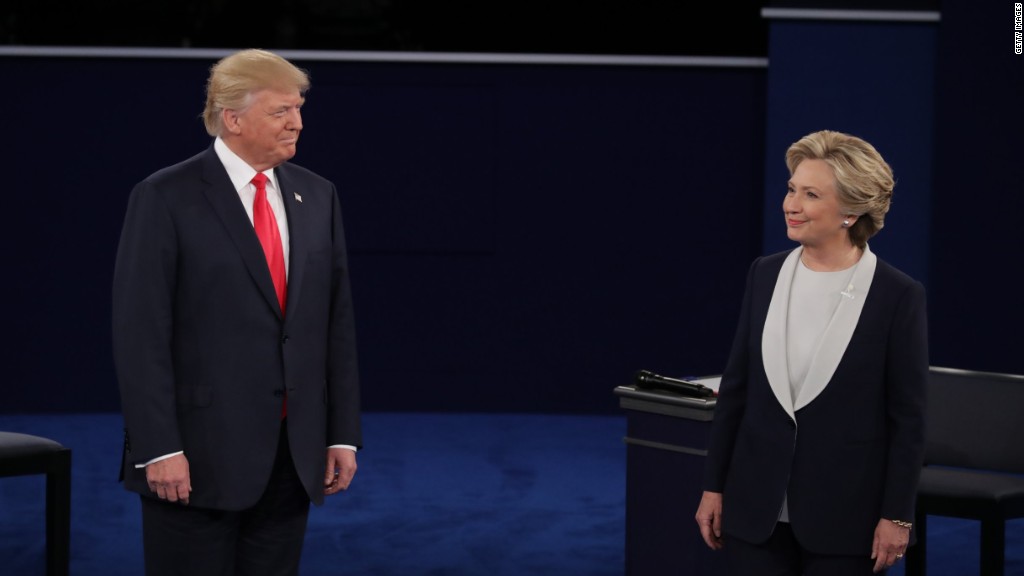 Did Hillary Clinton deliver a knockout blow to Donald Trump's presidential prospects during Sunday night's debate?
Not according to the Mexican peso.
The currency, which acts as a key indicator of how markets think Trump is faring, jumped as much as 2% against the dollar going into the debate. But by the end, it had given up some of those gains, suggesting investors saw no clear winner from the bitter verbal showdown.
In recent weeks, the peso has been moving in the opposite direction to Trump's poll numbers.
Related: The Presidential Debate Show avoids 'disaster'
Rather than the debate, the bigger factor driving the peso early Monday in Asia appeared to be the uproar over the weekend about Trump's vulgar and aggressive comments about women in a taped conversation from 2005.
The Mexican currency's movements before and during the debate "suggest the tapes dictated the action," said Matt Simpson, senior market analyst at ThinkMarkets.
Even after losing some of its gains, the peso was still up 1.6%, near its highest point against the dollar in almost a month.
The currency has jumped 4.8% since hitting an all-time low just before the first debate. And Trump didn't do enough Sunday to reverse the trend.
Related: How the shocking hot mic tape of Donald Trump was exposed
"The stronger peso clearly doesn't favor Trump's chances," Simpson said. "And the debate ... didn't show any concerns of a Trump revival."
In a CNN / ORC poll, 57% of debate watchers said Clinton won, and 34% gave it to Trump.
Other assets showed more muted reactions to Trump's difficulties in quiet trading in Asia. Markets in Hong Kong, Japan and Taiwan were closed for public holidays.
The peso's swings in recent weeks reflect investors' fears that the relationship between Mexico and the U.S. could be thrown into chaos by a victory for Trump, who has proposed building a wall along the border and the renegotiation of NAFTA, a key regional trade deal.
-- Patrick Gillespie contributed to this report.