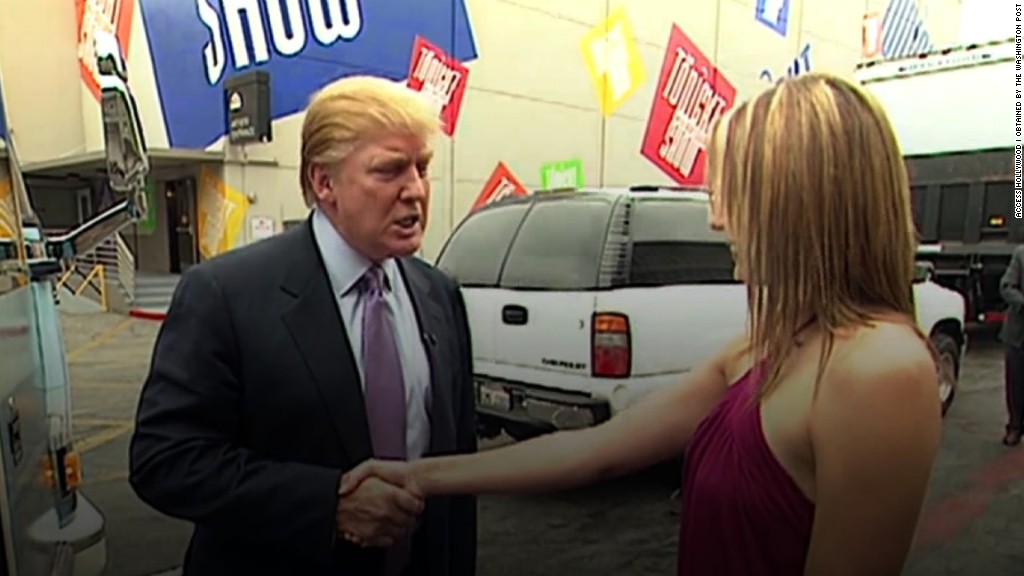 Donald Trump may prove to be the cataclysmic loser from the exposure of the "Access Hollywood" tape that contained probably the crudest, most offensive language ever heard from a presidential nominee.
But the incident was not the finest hour for the organization that actually owned the tape: NBC. Thanks to a series of decisions that can be described as at least curious, NBC News missed out on gaining credit for the scoop of the campaign, an October surprise to put all others that have come before it to shame.
And it has left NBC News answering questions about its hyper-cautious reaction to the tape, and pondering if it can rehabilitate the image of its recent high-profile anchor hire, Billy Bush. Bush's behavior on the tape is creepy, nauseating -- and, if the reaction on Twitter and elsewhere is any indication, worthy of severe sanctions, up to and including an invitation to exit the organization. Indeed, late Sunday, NBC told the staff of the "Today" show that Bush had been suspended, pending further review, citing the fact there was "no excuse" for his language and behavior on the tape.
Related: Billy Bush, suspended from 'Today,' faces uncertain future at NBC
The facts of what happened have come out over the past couple of days. Producers at "Access Hollywood" found the tape in their archives. It was part of a report about Trump visiting the NBC soap opera "Days of Our Lives" in 2005.
Anyone watching the tape and hearing the exchanges between Trump and Bush should have instantly concluded -- as the Washington Post reporter who eventually broke the story did -- that this was explosive material, demonstrating vividly the depth of the Republican candidate's crude misogynistic attitude -- and behavior --toward women.
NBC reacted a bit differently. The network took four days to conclude it was time to move forward with the story. NBC now denies reports that it actually planned to sit on it even longer, until after Sunday's debate. That was the plan of "Access Hollywood," the company's fluffy entertainment magazine show, which NBC News was going to allow to break the story.
The rationale for the delay, NBC executives said in several conversations with reporters this weekend, had to do with, among other things, concern about Mr. Trump possibly suing. The network held a series of discussions with its lawyers over whether it was ethical to use a conversation that was on microphone but largely off camera.
California, where the event took place, is a state that requires two-party consent on taping a conversation. But Trump clearly had consented; he was wearing a microphone throughout, and knew cameras were there as he emerged from a bus.
Related: How the shocking hot mic tape of Donald Trump was exposed
Still, it took from Tuesday to Friday for NBC's lawyers to thrash this out. By the time a plan was in place to run the story on NBC News sometime Friday (after finally deciding "Access Hollywood" was taking too long the break the story first), someone at NBC took matters in his or her own hands and leaked the tape to the Post.
The Post had to deal with the issue of having to verify the tape, which it quickly did. NBC owned the tape, knew where it came from, when it was made, and that Trump had consented to wearing a microphone. But it hesitated over the legal question and other mysterious issues that NBC has so far declined to discuss.
Notably, news organizations did not hesitate in the past to cover taped statements by presidential candidates who were being recorded surreptitiously, clearly without their consent. That happened in 2008 with Barack Obama's famous comments about people retreating to their guns and religion, which took place in a private fundraising meeting, and in 2012 with Mitt Romney's comments about 47 percent of the country being takers -- also at a private meeting. NBC covered both those stories.
As this one unfolded, the Post got a story out in a matter of hours. NBC was forced to play catch up on a story based on its own material.
Was the presence -- and embarrassing behavior -- of Billy Bush a factor? NBC officially says no. His humiliating sucking up to Trump was always going to be part of the story, according to NBC.
Bush, the long-time anchor of "Access Hollywood," where his main role was conducting fawning interviews of celebrities, was in May named an anchor of the 9 a.m. hour of "Today." Speculation -- though not from anyone in authority at NBC News -- has put him in the running to succeed Matt Lauer one day as the main host of the show.
NBC does officially describe Bush as a journalist, despite his complete lack of serious journalistic credentials. (He did once host the game show "Let's Make a Deal" as well as Trump's Miss Universe pageants.)
Related: Billy Bush: The other voice in the Donald Trump video
As for his future, that is now clearly in doubt, as NBC apparently recognized how toxic he had become to female viewers. NBC News, of course, took action against its most important journalist, Brian Williams, for fabrications about news stories he was involved in. He was suspended for six months, after executives seriously considered firing him.
On the infamous tape, Bush first eggs on Trump to ogle a woman and hoots at his account of engaging in sexual aggression against women, then acts like an enabler for Trump, insisting that a soap opera actress give them both a hug.
Bush issued an apology in a statement, but he has been excoriated on Twitter and elsewhere, especially by women outraged by his comments and behavior. Now NBC may feel compelled to take further action against him.
As for the decisions that cost NBC the rights to the biggest news story of the 2016 election, the network's official position is that it simply doesn't care about that.
Mark Kornblau, a spokesman for NBC News, said Sunday, "We are comfortable with having reported this six minutes after the Washington Post, and before everyone else. We believe we reported a tough and important story responsibly and quickly."