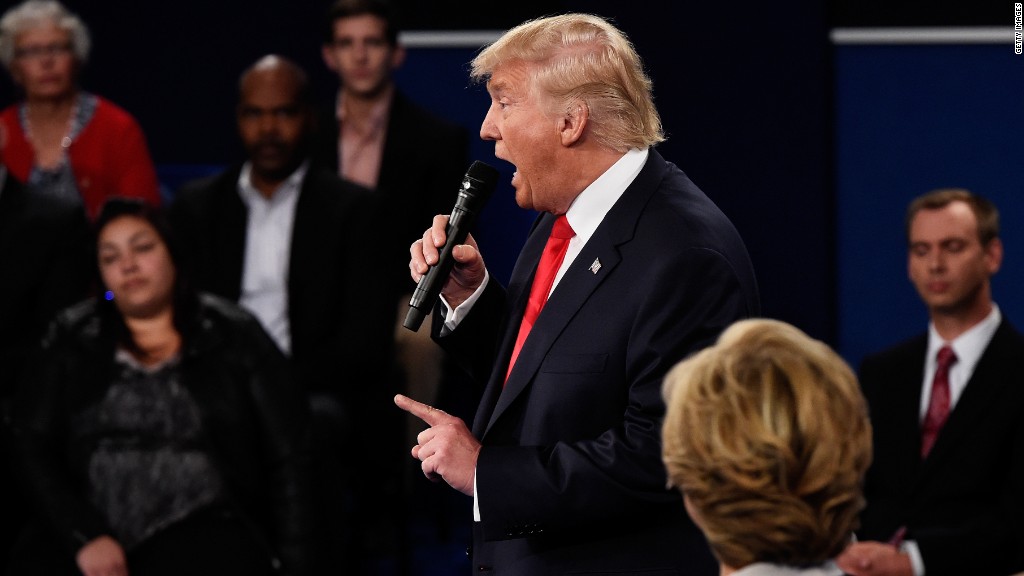 NBC's "Sunday Night Football" viewership took a hard hit from the second presidential debate, but stayed shakily on its feet.
The Green Bay Packers' 23-16 victory over the New York Giants brought in an average audience of 16.6 million Sunday night. This was the lowest viewership for the broadcast since 2013.
The game, between two of the most popular teams in the NFL, had to compete with the second presidential debate between Donald Trump and Hillary Clinton, which drew a huge audience of 66 million people.
Sunday's viewership is still a big number all things considered, but far below what "Sunday Night Football" usually brings in ("SNF" averaged 22.5 million viewers over all of last season, the largest audience in its 11 year run), and it appears that the debate was the major factor.
Packers-Giants peaked with 20.5 million viewers before the debate started. It also had an average of 17.2 million people watching following the debate.
Related: NFL's ratings fumble: Is it time to panic?
Whether Sunday's ratings are good or bad news is really a matter of perspective. On one hand, "SNF" still brought in a big number against huge competition, but on the other it continues a disconcerting trend of dipping viewership for the league.
Four weeks into the season, the league's ratings are down 11% across the board.
The last time a NFL game took on a debate it was tackled for a big loss in terms of viewership.
ESPN's "Monday Night Football" went up against the first presidential debate on September 26 -- the most watched debate in U.S. history, with more than 80 million viewers -- and brought in an average of 8 million viewers, the program's lowest viewership in decades.
The good news from the NFL's perspective is that it will not have to go against another presidential debate this season. The third debate takes place on Wednesday, October 19, away from football.