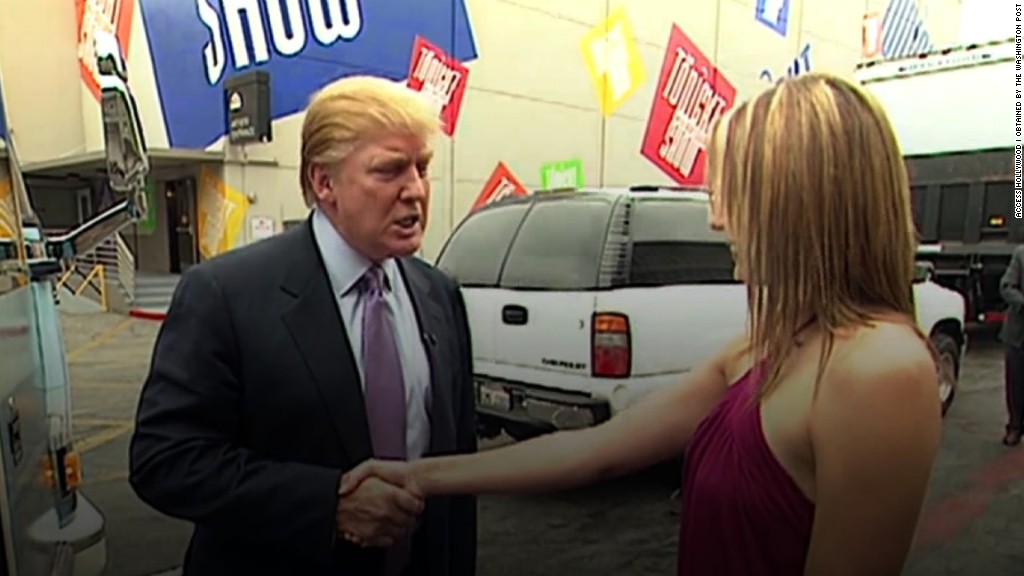 On Saturday night NBC was going to throw a surprise party for Billy Bush in New York's Greenwich Village. Now it has been cancelled.
"Surprise," indeed.
Bush's rising star has fallen to earth in the past four days because of a leaked tape showing a lewd conversation that he had with Donald Trump in 2005.
His exit from the "Today" show is now a matter of "when," not "if," according to two sources with knowledge of the negotiations.
One of the sources said his departure will be announced "in the coming days."
He is effectively already gone. After being suspended on Sunday night, his name was missing from the 9 a.m. hour graphics on Monday and Tuesday. He and his assistant have not been in the office.
Behind the scenes at the "Today" show, "everyone's just shaking their head," said one of the staffers who spoke anonymously for this story.
NBC News is acting swiftly to shore up confidence. The news division is continuing to conduct an "internal review" of Bush, focusing on the tape, another staffer confirmed on Tuesday.
NPR's David Folkenflik reported earlier Tuesday that he had a source who said Bush's departure is "a matter of days" away.
What's clearing the way for his removal, a third staffer said, is that Bush is new to the show — "he isn't really a part of the 'Today' show family yet."
This "family" concept, while easy to mock from the outside, is genuinely important to both "Today" insiders and viewers. The hosts were once dubbed "America's first family," and this sense of closeness is important to the audience at home. Plus, the show has a relatively tight-knit staff that has squeezed outsiders out before.
Bush has not responded to requests for comment. He has apologized for his conduct on the tape.
The NBCUniversal corporate story is that "Access Hollywood" dug up the tape and notified NBC News about it on October 3. But rumors are flying about who knew what about the tape before then.
The stakes are high: some top Republicans have accused NBC of keeping the tape a secret until after the primary campaign, thereby hurting Trump's GOP rivals and helping Democrats.
Bush "bragged" about the existence of the recording to entertainment division colleagues while he was in Rio for the Olympics in August, according to the New York Post. If true, this raises questions about why Bush didn't tell his new bosses at NBC News about the tape.
Related: NBC caught in dilemma over its own Donald Trump, Billy Bush tape
One obvious answer is that Bush knew his jocular behavior with Trump would hurt his reputation, particularly with the women who make up the majority of the "Today" show audience.
Bush moved from the entertainment show "Access Hollywood" to "Today," a product of NBC News, in August. NBC made him a co-host of the 9 a.m. hour -- signaling that Bush would be a big player in the future of the massively profitable morning show franchise.
Bush moved his family from Los Angeles to New York for the new job. He was just beginning to acquaint himself with his "Today" show colleagues -- that's why a plan was hatched for the surprise party, which was to be held at a restaurant called El Toro Blanco this coming Saturday.
He had a "rocky entrance," an on-air source noted, pointing to Bush's weak interview with Ryan Lochte in Rio. "He was in the papers too much."
Furthermore, "he didn't ingratiate himself with Al Roker and Tamron Hall," the other regular co-hosts of the 9 a.m. hour, the source said.
Roker is now off work; he had a knee replacement surgery on Tuesday. Carson Daly filled in on Tuesday.
"Today" staffers know little about what is going on with Bush or the future of the 9 a.m. hour. Noah Oppenheim, the executive in charge of the four-hour broadcast, met with staffers on Monday and listened to concerns about Bush, a source said.
Some staffers were clear that they believe Bush should be replaced.
NBC has to consider a number of factors -- including Bush's multi-million-dollar contract.
Will viewers, particularly Hillary Clinton supporters, change the channel if Bush is back on the air? Will some celebrity guests refuse to be interviewed by Bush?
Those questions are mostly moot now that NBC is in negotiations about his exit.
Meanwhile, there are other outstanding questions about what happened inside NBC News last week between the time the news division officially learned about the tape on Monday and the time the Washington Post scooped NBC on Friday.
The network had legal and ethical issues to consider, according to sources. The impact on Bush was also a factor.