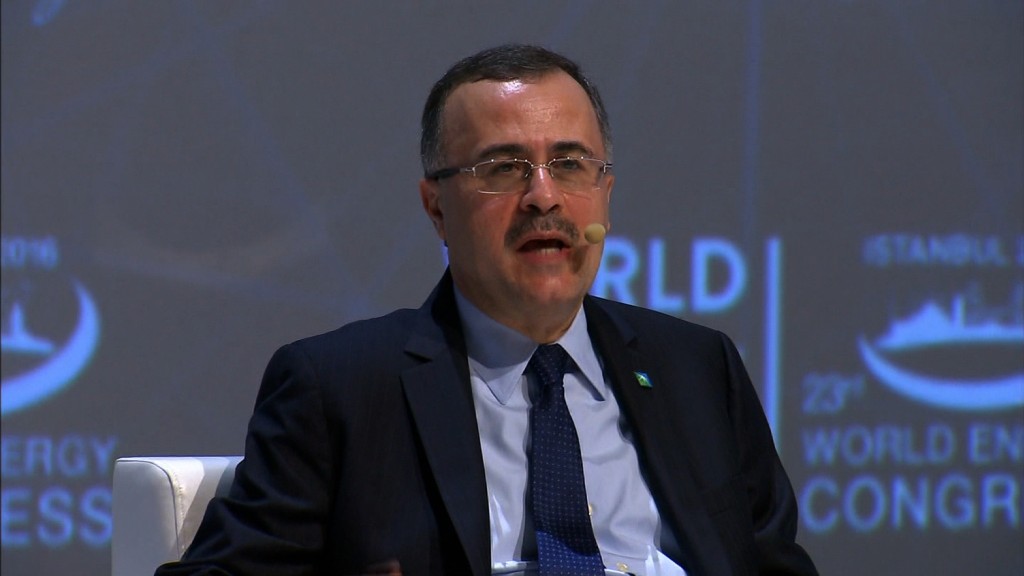 It's a pretty bad time to be thinking about going public if you're an oil company. Oil has lost half its value in a little over two years, and the market for IPOs is in the doldrums.
Saudi Aramco is no ordinary oil company, however. The world's top producer says it will be ready to launch the biggest IPO ever by 2018.
"We are optimistic," CEO Amin Nasser told CNNMoney's John Defterios. "The market has started to recover, we expect it to recover even more in 2017 and I think the time in 2018 will be almost right."
Saudi Arabia revealed its plan to sell part of the oil behemoth earlier this year. The oil price slump has blown a huge hole in the kingdom's budget, and even a tiny share of Aramco would be worth tens of billions of dollars.
Related: No cut here: OPEC output hits new record high
Saudi officials have said they expect an IPO to value Aramco at around $2 trillion. If the market agrees, selling just 5% would raise $100 billion -- four times as much as Alibaba's (BABA) IPO in 2014, the largest to date.
The details of the sale will ultimately be decided by deputy crown prince Mohammed bin Salman, who is overseeing a plan to diversify Saudi Arabia's economy and ween the country off oil.
Under his plan, Saudi Arabia wants to boost non oil revenues sixfold to $266 billion by 2030 and create a $1.9 trillion public fund to invest at home and abroad.
Related: Forget the election! Oil is driving the market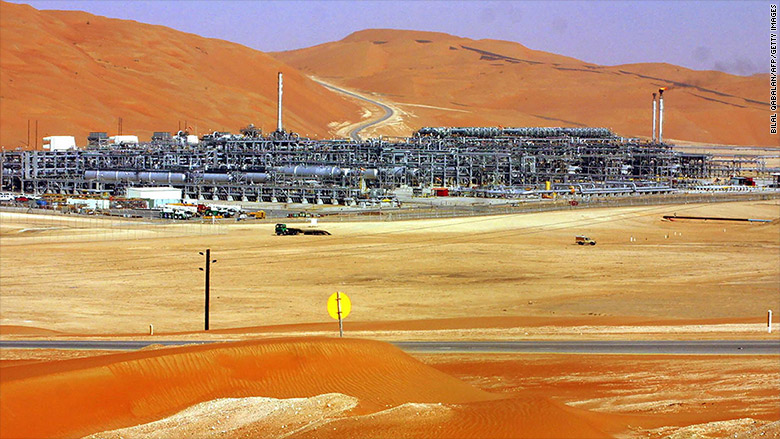 Apart from the exact timing and size of the IPO, Saudi Arabia still has to decide where to list Aramco, whose market capitalization could dwarf even the biggest companies such as Apple (AAPL) and ExxonMobil (XOM).
Nasser said he was looking at all the major markets, including New York, London, Hong Kong and Tokyo.
"When we talk about 2018, we feel comfortable we will be able to meet all the requirements in different markets," he said.
7 crazy numbers about the world's biggest oil company
Nasser also said Aramco has to get into shape before the listing. Despite sitting on nearly 270 billion barrels of proven reserves, and average production costs of less than $10 a barrel, the company has more work to do.
It plans to nearly double its oil refining capacity to match daily crude production of about 10 million barrels by 2030, and invest more than $300 billion over the coming decade.