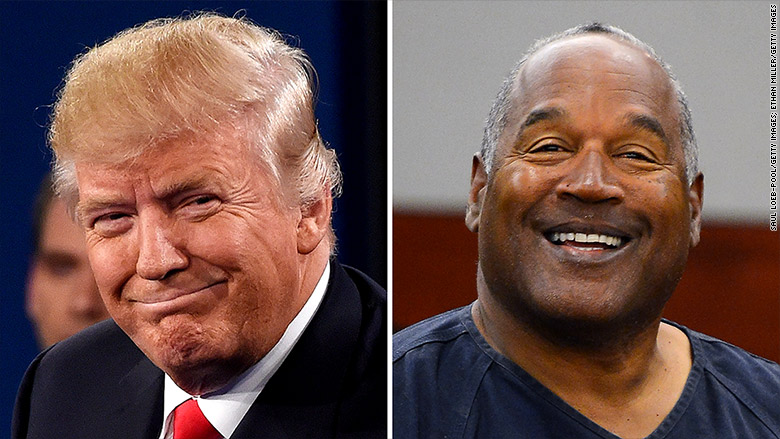 In an effort to gin up interest in his newly revamped "Celebrity Apprentice" in 2008, Donald Trump entertained a controversial idea: bringing on O.J. Simpson as a contestant.
The proposal was quickly and unequivocally shot down by NBC at the time. The company released a statement in April 2008 saying, "NBC representatives have never considered O.J. Simpson for the next season of 'The Apprentice,' nor will."
But in interviews on television and on the radio, Trump talked about how he wanted Simpson — who was acquitted for the murder his ex-wife in a sensational 1995 trial — on his reality show.
"I do have to tell you about O.J. and 'The Apprentice,'" Trump said in July 2008 on the Howard Stern Show. "NBC went totally crazy when I wanted to put O.J. on The Apprentice."
Trump added that while he was friendly and played golf with O.J. before the murder trial, he abandoned him when he "realized he killed his wife."
"Why would you put him on the Apprentice?" Stern asked
"Well you know, in your business, there's a thing called ratings. And, you know you can come up with a cure for cancer — I found out a lot about your business — because, hey, I'm the biggest star. I'm now the biggest star," Trump said. "So I know that if you come up with a cure for cancer, and if you put it on, and if it doesn't get ratings, they will not broadcast it."
"So, you come with a cure for a disease, no good. Now, I know this if I put O.J. on huge ratings. Oh, forget it, 35 million people," Trump said.
"So did O.J. call you and..." said Stern.
"I don't want to go into it, but O.J. would have done it," said Trump. "I can't go into the details."
Trump refused to answer if he spoke to Simpson about the show when asked directly.
Trump said, "I hadn't spoken to him in years, I don't like people that kill their wives. Does that make sense? Does that make me a disloyal person?"
It's unclear exactly when Trump considered Simpson for his show. Simpson was arrested in September of 2007 for his involvement in a robbery at a Las Vegas hotel. In October 2008, he was convicted of all 12 charges against him.
Trump also told Extra in May of 2008 NBC had "heart attack" at the thought of Simpson on the show. "Let's say that NBC, when I mentioned O.J. Simpson, had a heart attack," Trump said. "They weren't thrilled. I'm not saying I would have cast him, either, but it was certainly somebody that would be interesting."
Simpson was a recurring topic whenever Trump would appear on Stern's radio show. Both Stern and Simpson attended Trump's 1993 wedding to Marla Maples.
In an interview from 2004, Trump recalled seeing Simpson and his wife at a restaurant in Los Angeles.
"I'm sitting having dinner and O.J. came up to me — I was sitting with very important people, big bankers, nobody that you know, big, big bankers, and we were sitting there, there were six of us, and O.J. came up," Trump said. "And he was talking to us for about three minutes, and Nicole, was with her mother I think, and she came over, and she started screaming at him, 'get over to the table, what the hell are you—' she was rough, in all fairness."
"So, he decided obviously to kill her," Trump said, laughing.
"It might have been right at the [restaurant] that he decided it," Stern responds.
"She was very tough," Trump continued. "She came over and she really embarrassed him, she was screaming at him. She didn't care. And that was before 'The Apprentice' so she didn't give a damn about me. Now she'd be kissing my ass. Now I'm the biggest star on television, she'll kiss my ass."
"You would never kill one of you ex-wives, would you?" Stern asked.
"Uhh, I could think about it," Trump replied, laughing.
"It would almost be that absurd to think that O.J. killed his ex-wife," Stern said. "It would be that absurd to think you killed your ex-wife. That's what I read in the paper today. In other words, it was out of character it seemed for O.J. Nice O.J."
"Other than all of the beatings that were called into the police station and later retracted," Trump said. "There were a number of them, Howard. Like about six times."
Trump added, "You know she did call six times and screamed: 'help, help, help he's beating me up, he's beating me up' and the next day they dropped the charges. That's not totally normal. That's not Fred and Mary Trump, do we agree?"