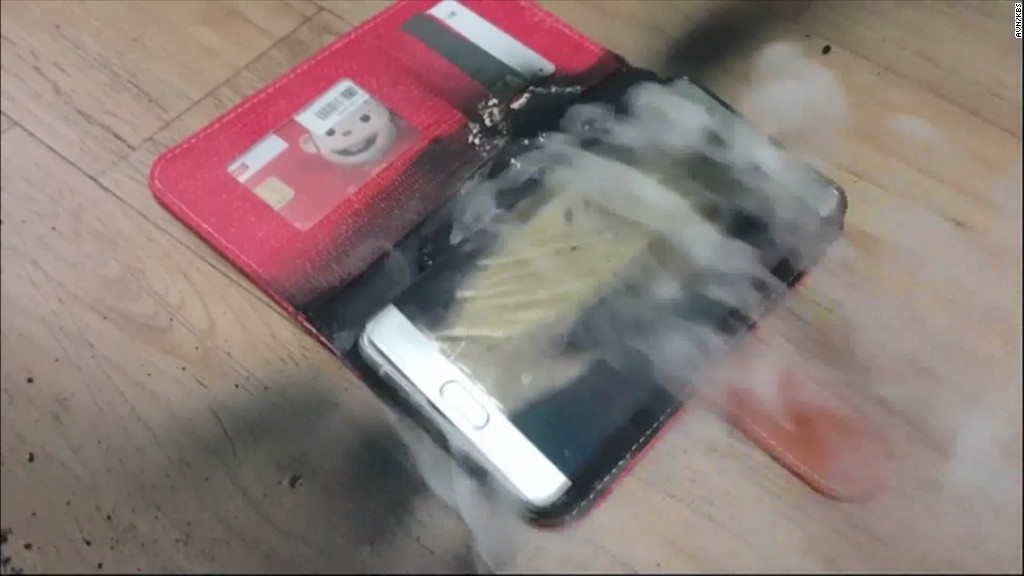 Samsung's decision to kill off its fire-prone Galaxy Note 7 smartphone is already hurting its profits.
The world's biggest smartphone maker on Wednesday slashed billions of dollars off its sales and profit estimates for the three months to Sept. 30. The move came a day after it permanently halted production and sales of the Note 7.
Taking a knife to its forecasts adds to Samsung (SSNLF)'s humiliation over the Note 7 debacle. The original sales and profit guidance was only issued on Friday.
The company cut its operating profit estimate by $2.3 billion to $4.6 billion, and its sales estimate by $1.8 billion to $41.9 billion.
Related: How much will Samsung's Note 7 fiasco cost?
But analysts say more pain is yet to come. Nomura Securities has predicted that the decision to ditch the Note 7 will cost Samsung $9.5 billion in sales and put a $5.1 billion dent in profit between this month and the end of 2017.
There are also concerns that the damage to Samsung's reputation from the Note 7 fiasco could deter people from buying its other smartphones.
Related: Loyalists stick with Galaxy Note 7 to the bitter end
Samsung is still trying to figure out what caused some Note 7s to burst into flames. It recalled 2.5 million of the phones in early September, blaming a battery fault. It promised then that replacement devices would be safe.
But reports began to emerge of the replacement phones also catching fire, which forced the company to give up on the Note 7 product entirely.
Samsung stock has dropped 10% so far this week in Seoul as the Note 7 crisis has escalated, wiping more than $20 billion off its market value.
-- K.J. Kwon contributed to this report.