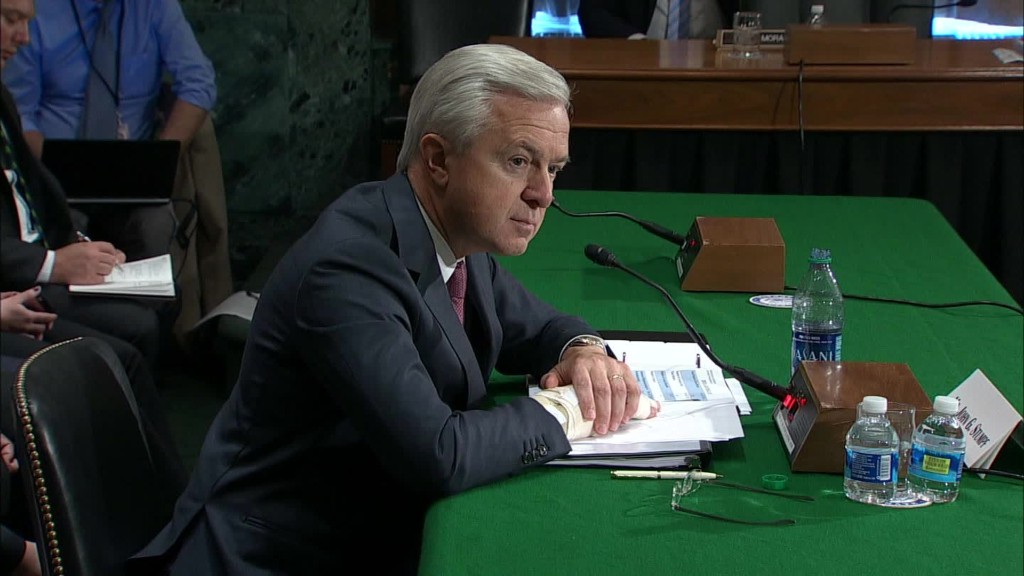 With all due respect to
Alcoa

(AA), which reported its latest terrible results on Tuesday, earnings season kicks off for real on Friday. That's when three ginormous banks -- Wells Fargo, JPMorgan Chase and Citigroup -- are due to report their latest numbers.

Wells Fargo (WFC) will likely get the most attention. As it should. The fake accounts scandal is something that has hurt the bank's standing with customers and has led to chairman and CEO John Stumpf taking an early retirement.

But investors shouldn't ignore Wells Fargo's actual results and outlook -- as well as the numbers from Chase (JPM) and Citi. (C) The worst might be over for big bank earnings, even though their reputations continue to suffer.

Analysts are expecting that revenues will be up at Wells and Chase this quarter -- even though profits are forecast to fall from a year ago.

However, in the fourth quarter, Wall Street is predicting profits to rise for Wells, Chase and Citi.

Bank stocks have rallied due to these expectations.

Despite the huge plunge in Wells Fargo, the Financial Select Sector SPDR ETF (XLF), which holds Wells, Chase, Citi and other big banks such as Goldman Sachs and Bank of America (BAC), is up 3% since the Brexit vote in late June.

Related: Wells Fargo CEO John Stumpf is out

The S&P 500 is up just 1% during the same time frame. So why are investors brushing off the worries about Wells -- as well as concerns about German banking giant Deutsche Bank's (DB) ability to pay a huge settlement with U.S. regulators?

Simply put, investors are focusing on the Federal Reserve. The Fed is expected to raise interest rates in December. And as long as the U.S. economy and global financial markets remain relatively steady, more rate hikes are likely throughout 2017.

Big banks have been waiting for rates to go higher for years. The Fed raised rates once last December -- the first increase since 2006. But the Fed has sat tight all this year. Rates are still well below 1%.

These super low rates are hurting profit margins for banks. It's harder for them to make money on loans with rates near zero.

So it makes sense why bank stocks are rallying on anticipation of a rate hike.

Big banks may also benefit if the window for initial public offerings continues to open.

There have been several successful debuts from smaller tech unicorns -- companies like Twilio (TWLO), Line (LN), Nutanix (NTNX), Acacia (ACIA) and Coupa (COUP) that are all worth at least $1 billion -- in the past few months.

And there are reports that Snapchat has hired Goldman Sachs (GS) and Morgan Stanley (MS) as underwriters, with the hopes of going public next year. If Snapchat does well, that could lead to IPOs from other giant unicorns, such as Uber, Xiaomi and Airbnb.

But the global financial giants still have other pressing concerns on their plate.

Related: Why big business is freaking out about Brexit

The continued fallout from Brexit could hurt the banks in Europe. China's economy is starting to show new signs of weakness. And there are growing concerns that banks will be targeted more by U.S. politicians next year.

Even though Hillary Clinton has been criticized for her ties to big banks, many Democrats want to see tougher regulations against Wall Street -- especially in light of the Wells Fargo scandal. And Donald Trump is no friend of the financial titans either.

John Augustine, chief investment officer at Huntington National Bank, said the positives outweigh the negatives for the industry though. He thinks earnings expectations are still relatively low too.

"Interest rates are going higher. That eclipses concerns about Europe and Wells Fargo," Augustine said.

So it will be interesting to hear what JPMorgan Chase CEO Jamie Dimon and Citi chief Michael Corbat have to say on Friday about the outlook for their banks and the global markets in general.

New Wells CEO Tim Sloan is likely to face more questions about the aftermath of the fake account scandal than queries about the bank's earnings outlook.

And investors will learn even more about the health of Wall Street next week. BofA, Goldman and Morgan Stanley are all on tap to release their latest results.