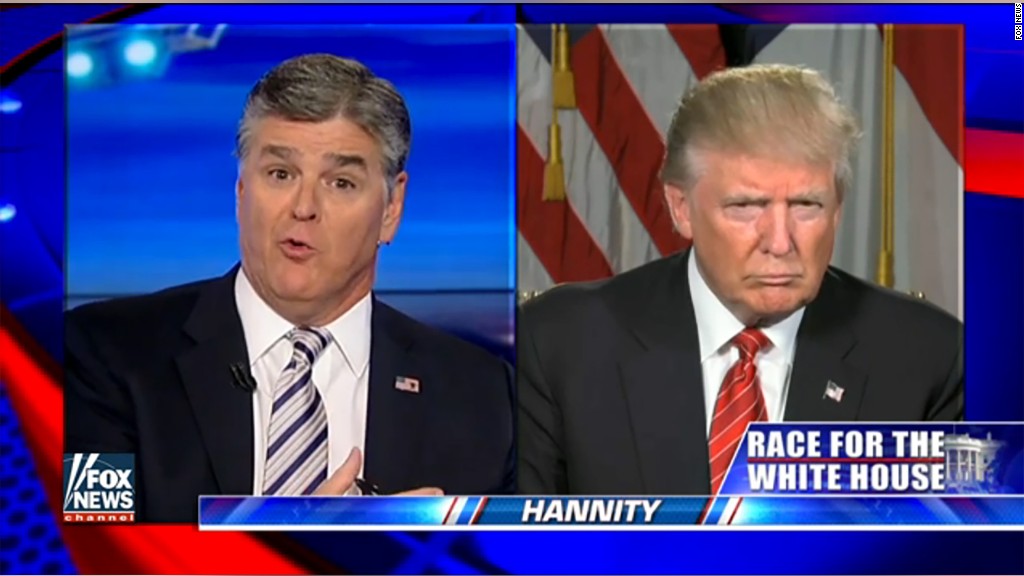 "Donald Trump, through his words and actions as a candidate for president of the United States, has consistently betrayed First Amendment values."
That's what the Committee to Protect Journalists declared in an unprecedented statement on Thursday.
The nonprofit organization advocates for the rights of journalists all around the world. CPJ usually concentrates on the Middle East and other conflict-stricken areas where journalists routinely face repression and violence. Foreign governments like Iran, China and Pakistan are frequent targets of the group's efforts.
Right now CPJ feels it also has to focus on American attempts to undermine a free press.
The group's board of directors passed an anti-Trump resolution last week and published it on Thursday.
"Trump has consistently demonstrated a contempt for the role of the press beyond offering publicity to him and advancing his interests," the group said. "For this reason CPJ is taking the unprecedented step of speaking out now."
Related: New York Times to Donald Trump: We won't retract
"This is not about picking sides in an election," the statement added. "This is recognizing that a Trump presidency represents a threat to press freedom unknown in modern history."
The committee made the point that the United States is cited by journalists in other countries as a model of free expression and journalistic freedom.
A Trump presidency could erode those rights in America and have consequences for journalists in other countries as well, CPJ said.
Related: Read full New York Times letter to Trump's lawyer
CPJ's board members include Associated Press executive editor Kathleen Carroll, New Yorker editor David Remnick, CBS News correspondent Lara Logan, Univision News boss Isaac Lee, and many other prominent journalists.
The group anticipated that some readers could bristle at the statement and call it an overreaction. So it listed specific examples of Trump showing "disregard" for the press, including his past denial of press credentials to certain news outlets (a practice he has since stopped) and his refusal to "condemn attacks on journalists by his supporters."
"Throughout his campaign, Trump has routinely made vague proposals to limit basic elements of press and internet freedom," the group said, including by talking about wanting to "open up our libel laws," thereby making it easier to sue news organizations.
Related: People Magazine slams Trump for 'disgusting...attempt to victimize' reporter
The statement was the latest high-profile attempt to draw attention to press freedom concerns.
CPJ said in May that Trump's "insults of journalists must be taken seriously."
While Trump is a fixture of tabloid covers, a former reality TV star, a savvy user of Twitter, he is also explicitly running against the media at the same time he is running against Hillary Clinton.
Politicians, particularly from the Republican party, frequently complain about media scrutiny and accuse journalists of bias. But the ferocity of Trump's attacks is unprecedented in modern American politics.
At a rally on Thursday -- facing intense scrutiny over assault allegations -- he said "the corporate media in our country is no longer involved in journalism" and he accused news outlets of colluding with the Clinton campaign.
"Their agenda is to elect crooked Hillary Clinton at any cost, at any price, no matter how many lives they destroy," he said.
Related: Sources: Billy Bush's departure from NBC now matter of "when," not "if"
His core supporters cheer Trump on whenever he attacks journalists. The crowd at Thursday's rally was noticeably hostile toward the press corps.
Some journalists have acknowledged that there is a disconnect between the press and the public when it comes to concerns about the First Amendment.
Washington Post reporter Philip Bump said on Wednesday's "CNN Tonight" that Trump's anti-media campaign "makes members of the press nervous. I realize it doesn't make members of the public as nervous, because the public doesn't really like the press. But it makes us nervous because we see our job as reporting the truth."