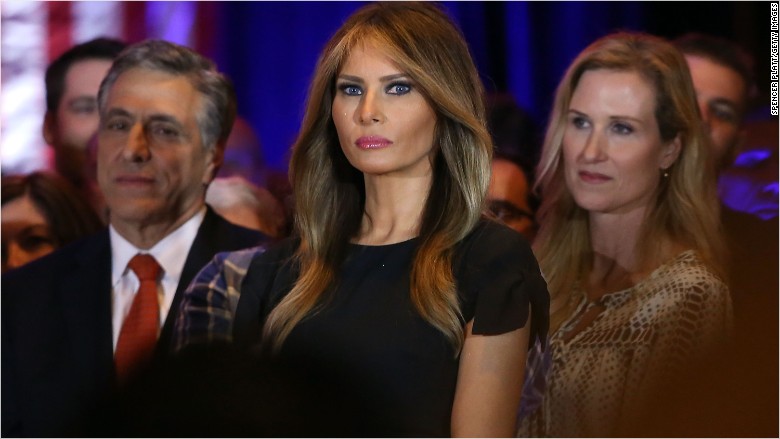 On Thursday night, Trump tweeted an image of a letter from her lawyer addressed to Jess Cagle, the magazine's editor-in-chief, and Natasha Stoynoff, the reporter who claims Donald Trump made inappropriate physical advances on her at Mar-a-Lago while was writing a profile on the Trumps' one-year wedding anniversary.
But the letter only took issue with the part of the story in which Stoynoff says she ran into Melania Trump on 5th Avenue outside of Trump Tower, following the incident.
"That winter, I actually bumped into Melania on Fifth Avenue, in front of Trump Tower as she walked into the building, carrying baby Barron," Stoynoff said in her report. "Natasha, why don't we see you anymore?" she quotes Trump as saying.
In the letter to People, Trump lawyer Charles Harder writes, "Mrs. Trump did not encounter Ms. Stoynoff on the street, nor have any conversation with her. The two are not friends and were never friends or even friendly."
Harder then writes that failure to comply with the retraction request "will require Mrs. Trump to consider her legal options."
Related: New York Times to Donald Trump: We won't retract
Marnie Perez, a spokesperson for People, confirmed that the magazine had received the letter and said it was standing by its story. CNN has not independently confirmed Stoynoff's accusations.
Prior to the story's publication, a spokesperson for Donald Trump's campaign told People, "This never happened. There is no merit or veracity to this fabricated story."
On Thursday morning, Trump criticized the article on Twitter, writing, "Why didn't the writer of the twelve year old article in People Magazine mention the 'incident' in her story. Because it did not happen!"
Cagle responded to Trump and his campaign in a sharply worded statement.
"We are grateful to Natasha Stoynoff for telling her story," she wrote. "Ms. Stoynoff is a remarkable, ethical, honest and patriotic woman, and she has shared her story of being physically attacked by Donald Trump in 2005 because she felt it was her duty to make the public aware. To assign any other motive is a disgusting, pathetic attempt to victimize her again. We stand steadfastly by her, and are proud to publish her clear, credible account of what happened."