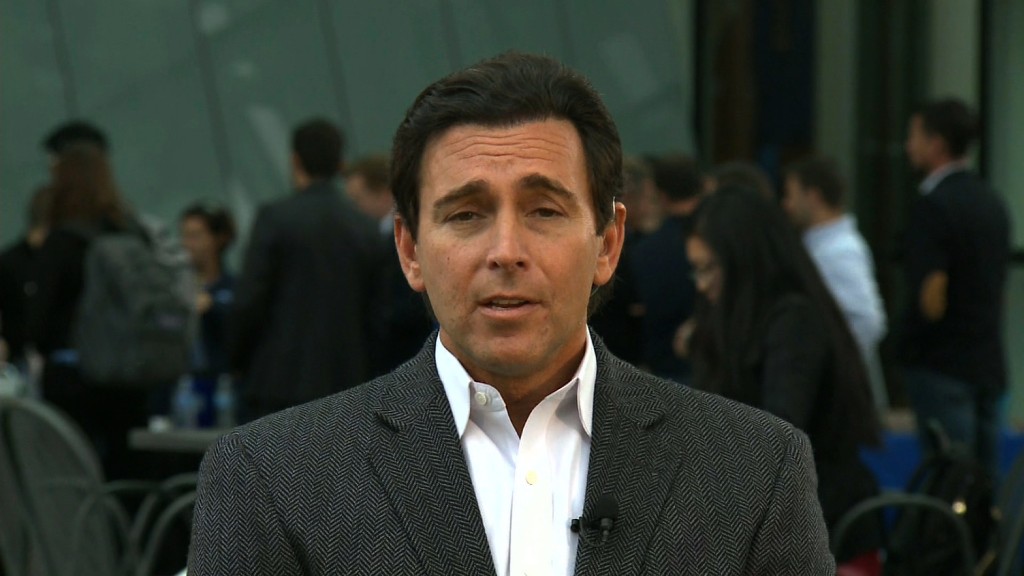 Mexicans are getting more cash from friends and family in America -- in part because of Donald Trump.
Cash transfers sent from the U.S. to Mexico -- remittances -- are up 25% so far this year compared to the same time a year ago. That is, if you count in pesos.
That's because each dollar these days gets you a lot more pesos than last year.
Remittances are a huge driver of Mexican spending. Mexico took in more money on remittances last year than it did from oil sales. So far this year, about $17.7 billion in remittances have been sent to Mexico, almost entirely from the United States.
"Remittances are like a motor that is essential to the growth of the Mexican economy," says Oscar Garcia, an architect, who also operates a money exchange center in Acambaro, Mexico, a three-hour drive from the country's capital, Mexico City.
Garcia, 56, has seen customers picking up a lot more cash this year. Overall remittances from the U.S. in dollar terms are up 6% this year. Plus each dollar today fetches 19 pesos, up 15% in value from last year.
A slew of factors -- Mexico's sluggish economy, low oil prices, political turmoil and, increasingly, the prospects of a Trump presidency -- have weakened the peso.
Related: When Donald Trump rises, Mexico's peso falls
Trump has made several threats such as imposing tariffs against Mexico, and those warnings have caused Mexico's peso to lose value. If Trump were elected, it would be bad news for Mexico, which depends on selling goods to the United States.
"The Trump effect on the peso is important and it's relevant," says Kathryn Rooney Vera, head of research at BullTick Capital Markets in Miami. "I've never seen something like this before."
Indeed, the peso has started tracking Trump's polls. Consider this: On September 11, when Hillary Clinton became ill -- improving Trump's odds of winning -- the peso lost value. And when Trump lost the first debate, the peso rallied.
Rooney forecasts that if Clinton wins, the peso will rally. But if Trump wins, the peso would decline further.
Workers, like Armando Reyes, fear that if Trump is elected there will be less job opportunities on both sides of the border. Reyes, 30, spent four months in Mississippi working as a seasonal farmworker to earn enough money to send back to his family in Mexico.
"We are all praying that Trump doesn't win because he will cause a great deal of harm to all of us and our families. There won't be as many jobs for us," says Reyes, 30.
Related: Mexico gets more cash in remittances than oil
But for now, his dollar earnings are going a long way in Mexico.
"It's great -- it's a windfall for Mexicans receiving remittances" says Alberto Ramos, head of Latin America research at Goldman Sachs (GS). "Because inflation is under control, your purchasing power from these remittances increases phenomenally."
To be clear, there is not a peso party happening in Mexico. Its economy is slowing down, its president, Enrique Pena Nieto, has record-low approval ratings and there were deadly protests in Oaxaca over education reform earlier this year. Those developments weigh down the peso too, it's not just Trump.
Tough times make remittances all the more important. There's a few types of people who are sending extra cash home this year, experts say. There are the everyday workers sending money home to loved ones.
Related: Market metrics: who is winning the election
Then there's the fear factor at play: best to get my money home now before President Trump stops, or taxes, my remittances. Trump has threatened to stop workers in the U.S. from sending money to Mexico as a way to pay for the wall on the U.S. - Mexico border.
However, Trump can't stop people from sending dollars across the border in reality.
Ramos says that when wire services such as Western Union (WU) charged high fees a decade ago, Mexicans still got their money across the border by flying home, giving cash to relatives who visited or simply sending it in an envelope.
"If you tax that money it won't necessarily stay in the U.S., It can still go to Mexico through informal channels," he says.