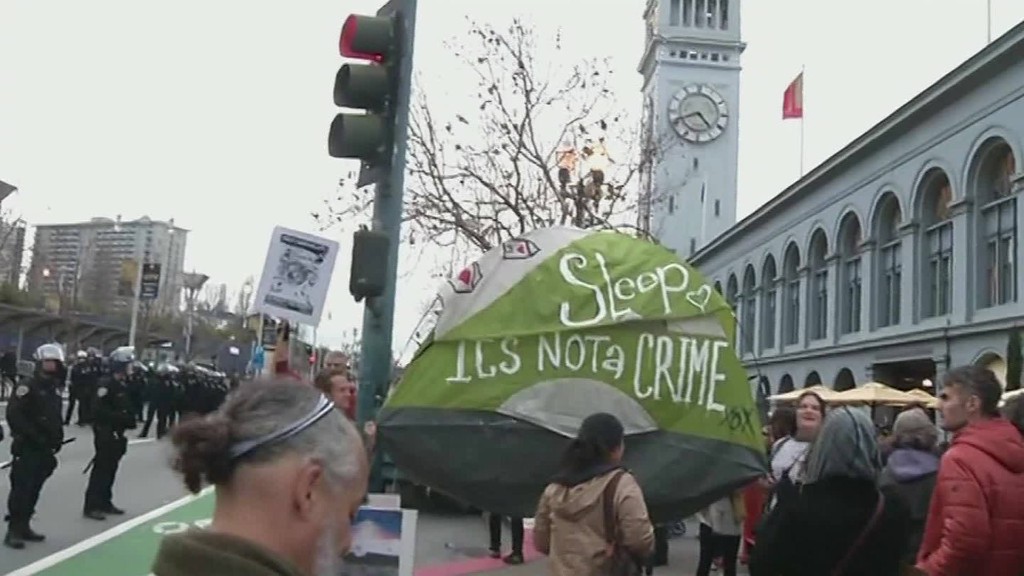 Walking through any neighborhood in San Francisco is a visual reminder of the city's inequality. Almost 7,000 adults are homeless, and tent encampments are set up amongst the world's biggest tech companies and million-dollar apartments.
Some San Francisco residents want that to stop.
Proposition Q wants to tighten the laws against setting up tents on the sidewalk. It's on the ballot this November, and some big names in tech are supporting it.
Angel investor Ron Conway, Sequoia Capital Chairman Michael Moritz, and investor William Oberndorf have each donated $49,999, according to filings. (Conway is also an investor in HandUp, a startup aimed at fighting homelessness and poverty.)
Other backers include Zachary Bogue, an investor who's married to Yahoo's Marissa Mayer; the San Francisco Chamber of Commerce's PAC; and the Hotel Council of San Francisco. The bill is also supported by Mayor Ed Lee's administration.
Related: How I went from middle class to homeless
If passed, city officials must give homeless people 24 hours' notice to decamp and offer a bus ticket out of town or a place in a temporary shelter if no long-term housing is available. If people fail to move, officials can seize their property and dispose of it after 90 days.
Over 800 people are already on the wait list for long-term shelter beds in San Francisco. There are just 1,000 temporary beds in the whole city and they are filled on a first-come, first-served basis.
The requirement that officials offer the homeless a bed in a temporary shelter could have additional consequences, according to Jennifer Friedenbach, executive director of the Coalition on Homelessness. Shelters might have to start start keeping some of the -- already limited -- beds empty, not knowing whether they'll need to be utilized or not.
"Besides raising anti-homeless rhetoric, which prevents actual solutions from being forged, it would give the city a great incentive to hold shelter beds empty, and shelter beds are in very high demand," said Friedenbach, who is against Prop Q.
Related: Can tiny homes solve homelessness?
The San Francisco Chronicle also opposes the measure, and notes it "is more about frustration and political symbolism than ending the camps."
San Francisco is just 46.9 square miles, which means the density of the homeless population is much higher than in some other cities -- it also means they're more visible.
Over the summer, Chronicle editor Audrey Cooper spearheaded an unprecedented collaborative effort between media companies to document homelessness and put forth solutions.
Proponents of the bill say two shelters opening next year will add a few hundred temporary beds for the homeless.
San Francisco Supervisor Mark Farrell, who authored the bill, said if there are no beds available at homeless shelters, Proposition Q won't go into effect. The proposition does not include additional funding for bus tickets for the homeless or shelters.
"It's a challenging enough period of time for these individuals," Farrell said. "I don't think the city should be exacerbating those challenges, but encouraging individuals to get into a shelter or housing, and not remain or encourage them to be in tents on our sidewalks."
Related: Amazon lets Seattle's homeless move into one of its buildings
California state law already criminalizes "lodging in any building, structure, vehicle, or place, whether public or private, without the permission of the owner or person entitled to the possession or in control of it."
San Francisco has 23 codes criminalizing homeless activities, including standing or resting in public areas.
But enforcing homeless encampments to break down is inconsistent officials can take a few hours or a few weeks to force people to move. Proposition Q would enforce a 24-hour time limit on moving people out of tents.
Moritz referred CNNMoney to the campaign's spokesperson; Conway and Oberndorf could not be reached for comment.