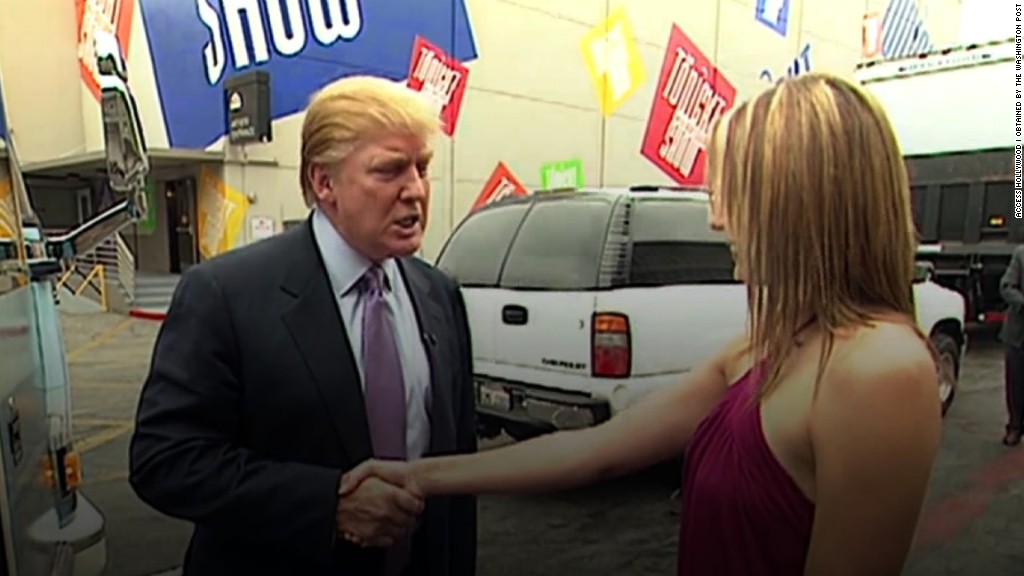 NBC is about to pay millions of dollars to Billy Bush to stop hosting the 9 a.m. hour of "Today" show.
The awkward arrangement is the result of the leaked 2005 "Access Hollywood" videotape showing Bush and Donald Trump making lewd and sexually aggressive remarks about women.
Negotiations between Bush and NBC are ongoing and "productive," Bush's lawyer Marshall Grossman told CNNMoney on Saturday.
Bush's exit from NBC could be announced as early as Monday, another person with knowledge of the negotiations said.
Grossman issued a statement on Friday night to knock down a Page Six report that Bush is "likely to get a $10 million lump settlement from NBC."
Grossman responded, "There are news reports that a $10M settlement has been reached between Billy Bush and NBC. That report is false."
He added, "There is no $10M agreement and that amount has not been discussed."
The New York Daily News subsequently reported a $9 million figure.
Grossman said on Saturday, "The negotiations are productive in moving the parties away from litigation to resolution. Obviously there is more to be done before all of the terms of an agreement are reached and documented."
NBC declined to comment.
The payment could prove to be a further embarrassment for the network.
"Everyone is so mad that he's getting paid," a high-ranking "Today" show staffer said. But the morning show is a profit engine, and "he's another person paid to go away to keep the train moving."
NBC may have little choice but to pay Bush many millions of dollars. In the complicated world of television industry contracts, networks are often obligated to pay stars even if the person, like Bush, is benched.
Bush's contract was reportedly worth upwards of $3 million a year for the next three years. He joined the 9 a.m. hour of the "Today" show just a couple months before the videotape was revealed.
NBC executives have said that "Access Hollywood" and NBC News were both working on stories about the tape when it was leaked to the Washington Post on October 7.
Once the tape was out, executives ultimately decided that Bush could not return to "Today."
Given Bush's troubling comments on the tape, NBC may have tried to invoke what is known as a "morals clause" in a bid to terminate him.
Negotiations began earlier this week. Bush hired Grossman -- a high-profile Los Angeles litigator -- and signaled that he was willing to fight.
"We were preparing for battle," Grossman told Page Six at one point on Friday, "but today we are preparing for settlement."
It is unknown whether the exit agreement will include a confidentiality or nondisclosure clause that prohibits Bush from speaking about the controversy.
Another big question: Will he be able to start another job at another network right away? And if so, will one be willing to hire him?