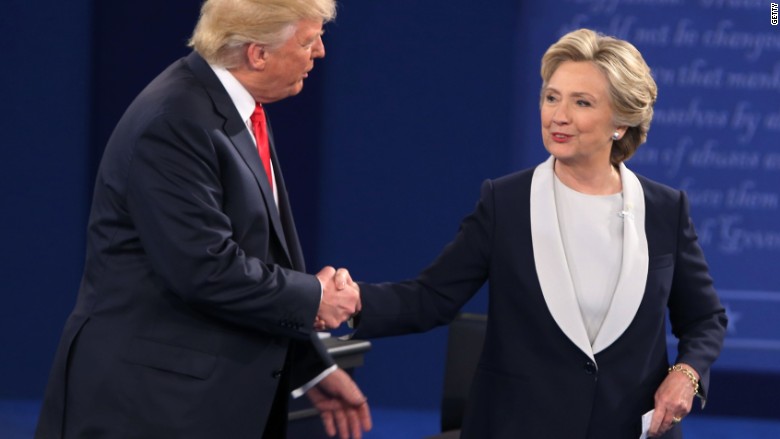 1. Last presidential debate. Republican nominee Donald Trump will face off with Democratic nominee Hillary Clinton for the last time on Wednesday.
The final debate will be moderated by Fox News anchor Chris Wallace and be hosted by the University of Nevada at Las Vegas. The candidates will have 90 minutes to discuss debt and entitlements, economy, the Supreme Court, immigration, foreign hot spots, and their fitness to be president.
Last week's presidential debate came on the heels of revelations that Trump bragged about groping women in a conversation caught on tape in 2005. During the debate, Trump told co-moderator Anderson Cooper that his words did not correlate to action -- but since then, several women have alleged that Trump sexually assaulted them.
2. Netflix earnings. Also on Monday, stick around after the bell for Netflix's third-quarter earnings report. Analysts predict Netflix's profit will fall compared to last year. Investors are also likely to see slower subscription growth, thanks to this year's price hike.
Even if it disappoints, some say now's the time to invest in Netflix (NFLX) stock -- before the streaming service takes off internationally, as it hopes to.
3. Goldman Sachs earnings. On Tuesday, Goldman Sachs (FADXX) will announce its third-quarter earnings. Scandals at Wells Fargo (CBEAX) and Deutsche Bank (DB) have made for a lousy environment for banks, but surprisingly good earnings from JPMorgan (JPM), Wells and Citi (C) last week boosted stocks.
Goldman has differentiated itself in recent days by announcing Marcus, a lending product for regular consumers. The bank hopes Marcus sheds it in a more positive light with everyday people.
4. New Tesla product revealed? This week may bring a surprise announcement from Tesla. The electric car company's theatrical CEO Elon Musk recently teased a new product, tweeting that it will be "unexpected by most."
Musk at first suggested that something big is coming on Monday, but on Sunday tweeted that he needed more time and would make an announcement on Wednesday. CNNMoney's Peter Valdes-Dapena recommends measuring expectations. It's more likely that Tesla (TSLA)will unveil a new version of an existing product or a more detailed look at the upcoming Model 3 rather than a new vehicle, he says.
But some are dreaming big, hoping that Musk will formally announce one of the new cars and features (like ride-sharing) that he's outlined in his second master plan. We'll have to wait and see.
5. Coming this week:
Monday - Bank of America earnings
Tuesday - Oil & Money Conference starts in London
Wednesday - Trump's childhood home auctioned; Tesla announcement
Thursday - Nestle earnings; Verizon earnings
Friday - McDonald's earnings