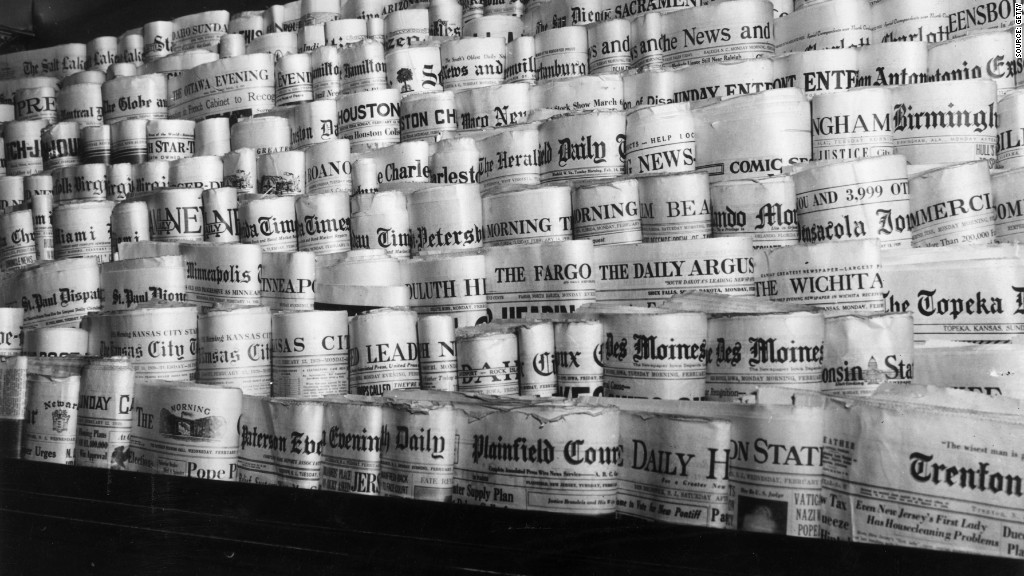 The Arizona Republic's editorial board knew it was wading into controversy last month when it endorsed a Democrat for president -- the first time it had done so in its 126-year history.
But some of the backlash that followed the paper's decision to back Hillary Clinton instead of Donald Trump went beyond the pale. An op-ed published this weekend by the newspaper's top executive details some of the most disturbing threats her employees have received over the past month.
Related: Arizona Republic endorses Clinton for president, first time ever backing a Democrat
"We're being targeted ... it's not the America I know. It's not the democracy I love," Republic Media president Mi-Ai Parrish told CNNMoney on Sunday.
Parrish's column described a number of violent threats the paper has received since its endorsement. One anonymous caller referenced Republic reporter Don Bolles, who was assassinated by a car bomb in 1976. The killing was speculated to have been linked to organized crime, which Bolles covered. One of his last words was "mafia."
The caller "threatened that more of our reporters would be blown up because of the endorsement," Parrish wrote.
Parrish also chronicled her employees' response to such threats. She wrote that the woman who spoke with that caller "walked to church and prayed" for the person.
Speaking with CNNMoney, Parrish called the phone call "horrifying."
"I absolutely welcome debate and free expression, and I will protect and uphold the right of people to say ugly things to me. That's part of how this works," Parrish said. But she called threats like that one "incredibly dangerous."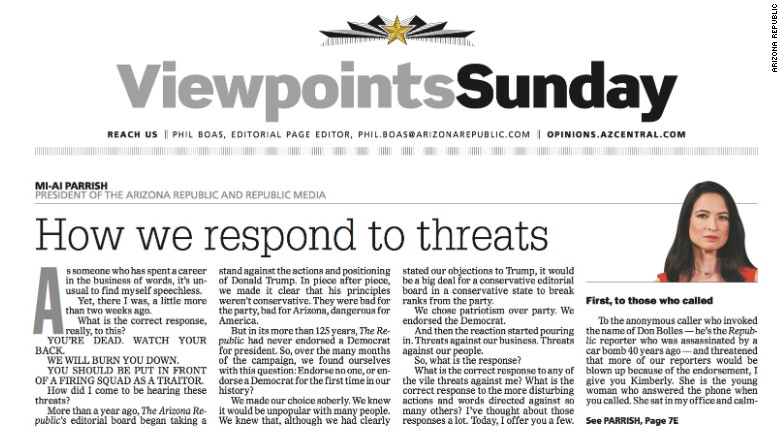 Parrish said she considered writing a column as the violent remarks piled up. Her op-ed describes young door-to-door subscription salespeople who were "spit on" or "screamed at" by critics.
Parrish also invoked her personal family history in the column.
"To those of you who have said Jesus will judge me, that you hope I burn in hell, that non-Christians should be kept out of our country, I give you my pastor grandfather," she wrote, adding the man was imprisoned and tortured for his faith.
"Much as my grandfather taught, I also know there are a lot of things worth standing up for."
The Clinton endorsement brought national attention to Arizona's largest newspaper. The editorial board, which is separate from the paper's newsgathering operation, called Trump "not conservative" and "not qualified."
Parrish said she feels "even more strongly" now about the paper's decision, and said the paper has received a flood of support in the wake of Sunday's op-ed.
She called her employees "strong" and passionate," adding, " I'm just honored to stand by their side."
The Republic was one of many major papers with conservative editorial boards that either endorsed Clinton or declined to endorse trump. The Cincinnati Enquirer endorsed a Democrat for the first time in 100 years. The Dallas Morning News endorsed the Democrat for the first time since 1940.