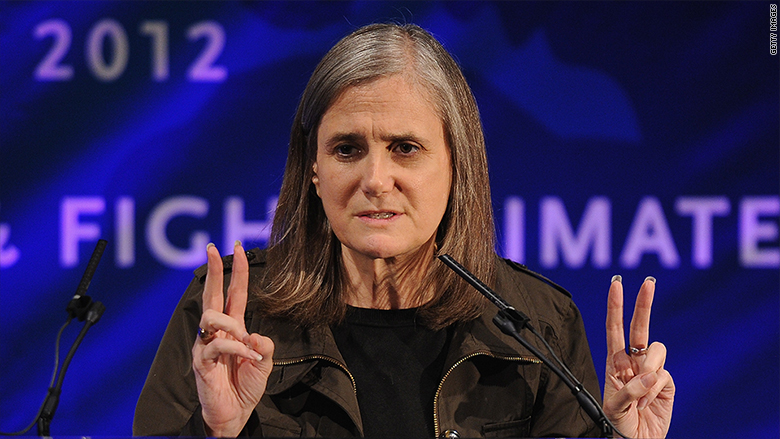 "Democracy Now!" host Amy Goodman fought the law, and won.
On Monday, a North Dakota judge found there wasn't probable cause to support a riot charge brought against Goodman related to her footage of protests over an oil pipeline in the state.
A warrant had been issued for Goodman's arrest last month, days after "Democracy Now!" released footage from her reporting at the site of the protests, which showed security personnel pepper-spraying and siccing attack dogs on demonstrators.
The demonstrations have been spearheaded by the Standing Rock Sioux tribe, whose reservation in North Dakota is near the route of the proposed Dakota Access pipeline, construction of which they say will violate a treaty and contaminate their drinking water. Their protests have attracted thousands of other Native Americans. They may have even inspired government action. Last month, the Obama administration temporarily halted construction of the pipeline.
But the demonstrations have not generated much media coverage, prompting criticism from activists who believe major outlets are ignoring a significant story.
Related: Spills are more common thanks to aging pipelines
Goodman and her "Democracy Now!" team have been an exception, doggedly covering the demonstrations with continual on-the-ground reports. Her footage of a clash on September 3, which showed a dog with blood dripping from its nose, went viral.
The original charge against Goodman was for criminal trespass, but that was dismissed on Friday after North Dakota state's attorney Ladd Erickson filed a new charge against Goodman for allegedly engaging in a riot.
Five others faced the same charge as Goodman, but Judge John Grinsteiner approved it for only one defendant. The charges against Goodman was widely denounced by journalists. Goodman herself said she was merely doing her job as a journalist "by covering a violent attack on Native American protesters."
Outside the courthouse in Mandan, North Dakota on Monday, where anti-pipeline demonstrators were gathered, Goodman called the judge's decision "a great vindication of the First Amendment and to the resistance camps."
Erickson, she said, was "attempting to stop journalism."
"The state's attorney must respect freedom of the press and the First Amendment," Goodman told the protesters in remarks that were carried on Facebook Live.
Donnell Preskey, a spokesperson for Morton County, North Dakota, disagreed with the suggestion that the charge against Goodman was "rejected," saying that Erickson could pursue the charge with a different judge.
"The judge just didn't sign the criminal complaint," she said.