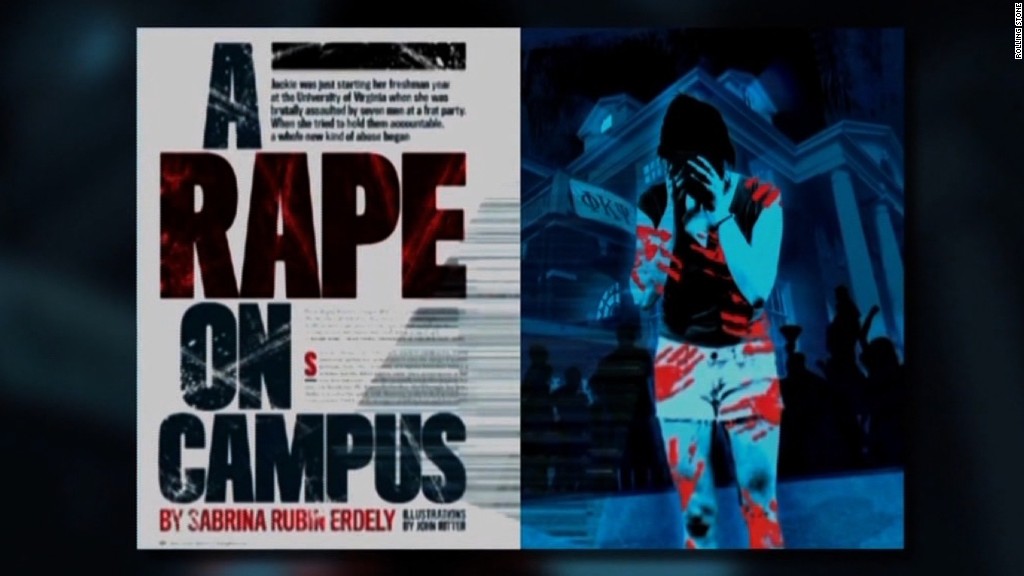 Nearly two years since it was originally published, Rolling Stone's discredited article about an alleged gang rape at a University of Virginia frat house will take center stage in court on Monday.
The magazine is heading to trial in Charlottesville, Virginia in a defamation lawsuit brought by a UVA administrator named Nicole Eramo who says the story portrayed her as callous and insensitive to the plight of an alleged rape victim. Jury selection began on Monday morning.
Eramo, who was serving as associate dean of students at the time of the article, is seeking $7.85 million. In an interview that aired Friday on ABC News, she said the story changed her life.
"I'm never going to be where I was on November 18 of 2014," Eramo said, referring to the day before it was published. "But I can hopefully recognize that person again."
The story, titled "A Rape on Campus" and written by Sabrina Rubin Erdely, centered around the allegations of a UVA student identified only as "Jackie," who recounted a vicious gang rape that she said took place at the Phi Kappa Psi fraternity. Totaling 9,000 words, the story was met with shock and disgust nationwide. After it was published, UVA suspended all fraternities.
But the story soon unraveled as questions about Jackie's claims mounted. Journalists and readers were stunned to learn that Erdely did not contact any of the accused rapists.
A subsequent investigation by Charlottesville police found no evidence that the rape ever happened, and Rolling Stone later retracted the story after a review by Columbia University's Graduate School of Journalism identified significant problems in Erdely's reporting and the magazine's fact-checking.
Eramo filed her lawsuit against Erdely, Rolling Stone and the magazine's publisher, Wenner Media. In a statement, Rolling Stone acknowledged the mistakes in its reporting, but said it looks forward "to telling the jury the full story."
"As this trial begins, it's important to remember that Rolling Stone and our reporter Sabrina Rubin Erdely firmly believed in the credibility of Jackie, as did UVA and Dean Eramo, when the Article was published," the statement said. "We made journalistic mistakes with respect to Jackie's story, and we have learned from them. Up until now, only one side of the story has been presented."
Rolling Stone is facing another lawsuit over the story, one brought by Phi Kappa Psi. The trial in that case is slated to begin next year.