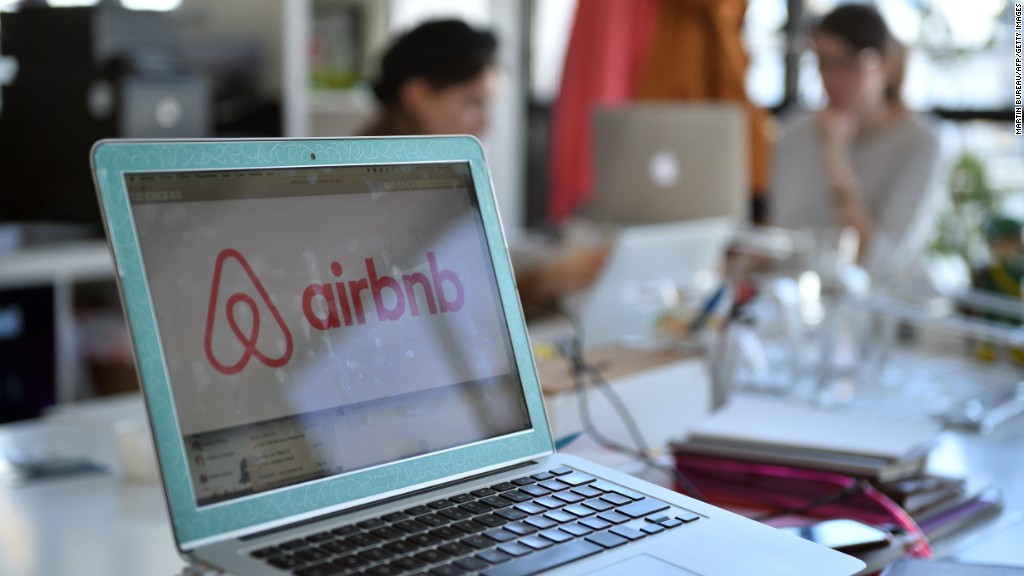 Airbnb is encouraging members to install solar panel systems in their homes.
On Tuesday, the company announced a new partnership with full-service solar power system provider SolarCity. The company helps customers handle the financing, permitting, installation and maintenance of solar panel systems.
SolarCity, which is 22% owned by Elon Musk and serves as chairman -- is also headed toward a merger with Tesla, founded by Musk.
Airbnb will give its users cash back -- up to $1,000 -- for purchasing a system from SolarCity, starting now through the end of March. The offer will drop to $750 after that period. The rebate will be funded by SolarCity.
Airbnb hosts and guests can take advantage of the partnership offer in the 19 markets where SolarCity operates, including Arizona, New Hampshire and Hawaii.
Related: Elon Musk wants to sell you a car and solar panels in five minutes
The collaboration helps Airbnb assert itself as an environmentally-friendly lodging option for travelers.
"We know specifically that our guests are, in fact, looking for those types of places to travel to," said Chris Lehane, Airbnb's Head of Global Public Policy & Communications, in a press call on Tuesday.
The company had previously partnered with NRG Home Solar in December to give members a rebate on their solar leases.
According to Solar City, the average solar system cuts down on utility bill costs for homeowners and offsets the amount of carbon dioxide pollution over its lifetime. That's equivalent to 125 road trips from San Francisco to New York.
SolarCity president of global sales Toby Corey said the company is particularly interested in reaching an important new market partnering with Airbnb: Millennials. He called the millennial market a "huge customer base where we've seen very little adoption rate."
Lehane added SolarCity is operating "business as usual" for now.