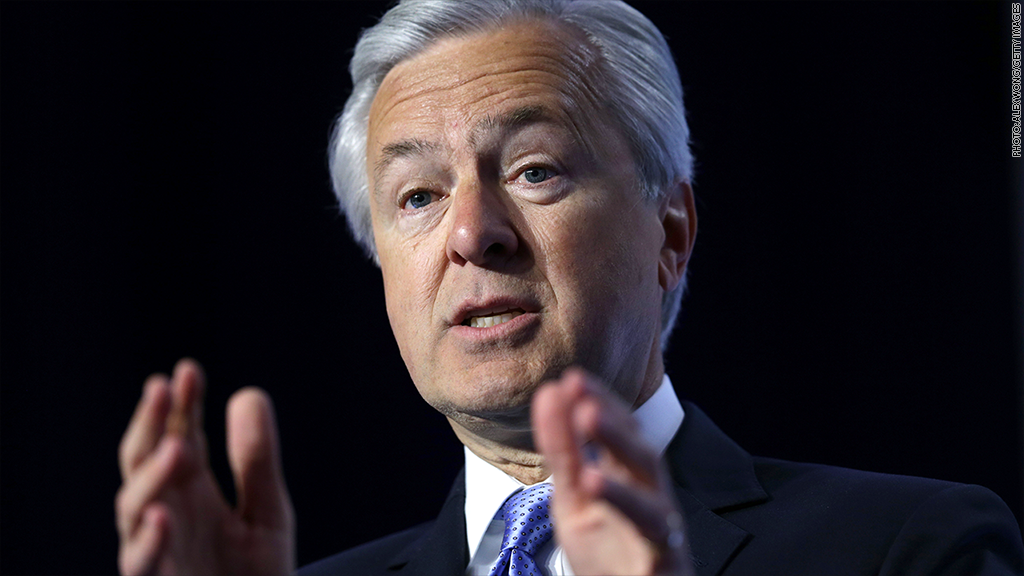 Elizabeth Warren might have been happy to see the sudden resignation of former Wells Fargo CEO John Stumpf last week. But that doesn't mean she's a fan of the new boss.
Warren, who famously called Stumpf "gutless" while saying he should resign, now wants to know whether new Wells Fargo (WFC) CEO Tim Sloan was aware of the bank's fake account scandal. And if he was, what did the longtime Wells Fargo exec do about it?
The Massachusetts senator asked these questions in a letter she fired off on Thursday to Stephen Sanger, the new chairman of Wells Fargo's board.
Sloan was named CEO after Stumpf stepped down amid intense scrutiny over the creation of as many as 2 million fake accounts.
"A resignation alone is not enough to assure proper accountability at Wells Fargo," Warren and New Jersey Senator Bob Menendez wrote in the letter.
Sloan has had a 29-year career at Wells Fargo, but much of that was not at the company's retail bank, where the problems occurred. Only since November 2015 did Sloan oversee community banking in his role as president and chief operating officer. Sloan also did stints as chief financial officer and chief administrative officer.
Warren wants Wells Fargo to explain if Sloan "played any role in the scandal." She also wants to know if the board considered hiring anyone else.
Related: Letter warned Wells Fargo in 2007
Wells Fargo did not respond to a request for comment.
However, a spokesman for the company's independent directors released a statement to CNNMoney that said they "take these issues seriously." The directors promised that the ongoing investigation launched by the board will "follow the facts wherever they lead."
The board also addressed the concerns about Sloan, saying it has "great confidence" in his leadership and commitment to making sure "this conduct does not occur again."
Jaret Seiberg, a Cowen & Co. analyst, sees the letter from Warren as a "threat to Mr. Sloan's future as CEO" and called it a "make or break moment." The key, Seiberg wrote in a research report, will be whether Sloan can convince lawmakers he did not "tacitly condone" illegal activity.
Not surprisingly, Warren believes Stumpf's retirement was "entirely appropriate," due to the "scope of wrongdoing on his watch."
But Warren is taking issue with the roughly $130 million of Wells Fargo shares and other payouts Stumpf is set to walk away with. That fortune reflects stock he amassed during his three decades at the bank as well as other payouts. Stumpf did forfeit $41 million in stock awards after the scandal broke.
Related: Sign up for CNNMoney's morning market newsletter: Before The Bell
Warren also pointed to government filings that indicate Stump could score benefits of $200,000 and a personal driver over the next two years if he stays on as a "consultant."
That's to say nothing of the $200 million Warren has estimated Stumpf made during the years Wells Fargo has admitted the fake account scandal was taking place.
In response to Warren's letter, the board reiterated to CNNMoney it is prepared to "take additional actions" if they are "warranted" by the findings of the investigation. The board said that includes potential clawbacks of compensation already paid out.
The questions about Stumpf's pay come amid new questions about when he was first alerted to the scandal. CNNMoney obtained a 2007 letter addressed to Stumpf that warned of widespread "unethical (and illegal) activity" inside Wells Fargo, including the "routine deception" of customers.
Warren asked for a written response from Wells Fargo by October 27 and a briefing no later than November 3.