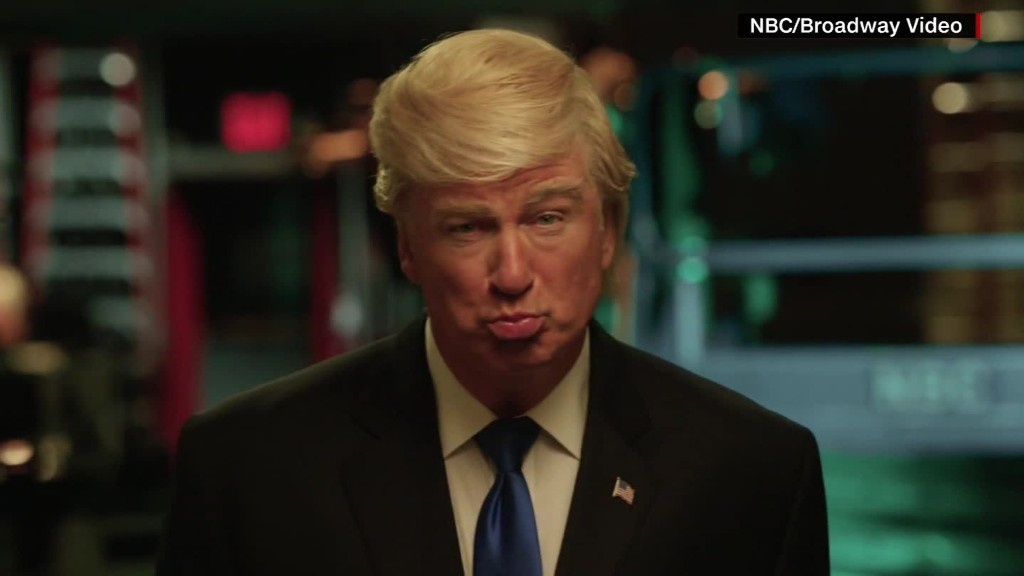 There've been a lot of Donald Trump impressions this election, but only Alec Baldwin's take on the candidate for "Saturday Night Live" has really matched reality.
In fact, Baldwin's Trump is so spot-on that at times during Wednesday night's presidential debate in Las Vegas some people felt that it seemed Trump was impersonating Baldwin rather than the other way around.
"I was fascinated by just watching Donald Trump," Jimmy Kimmel said during his monologue on "Jimmy Kimmel Live!" Wednesday night. "His eyes were mostly closed the whole time, his voice was at, like, a phone-sex whisper the whole time. It almost seemed as if he was doing an impression of Alec Baldwin doing an impression of him."
Kimmel wasn't the only one who observed the eerie similarities.
"Final thought: Hillary won the debate, but Alec Baldwin did a great job intensifying Trump's insanity," HBO's Bill Maher tweeted. "That was Alec Baldwin, right?"
Others on social media, like W. Kamau Bell, host of CNN's "United Shades of America," noted that Trump's use of "wrong" during the debate seemed taken directly from "SNL." Of course, Baldwin got the idea for it from Trump himself saying that during the first debate.
"I feel like every time @realDonaldTrump says, 'Wrong' he's doing an impersonation of Alec Baldwin's impersonation of him," Bell wrote on Twitter.
TV producer Greg Berlanti added, in a jab at Trump's claim that the Emmys were rigged against him, which was brought up at the debate, "The closest Donald Trump will ever get to an Emmy is when Alec Baldwin wins one for playing him."
Even those in the debate hall apparently couldn't help but see the resemblance.
"Overhead in debate hall: 'I thought it was Alec Baldwin up there,'" tweeted Chris Megerian, a reporter for the Los Angeles Times who covers the 2016 election.
Baldwin joined "SNL" earlier this season as Trump and has garnered acclaim from viewers and critics for his close to life portrayal of the brash businessman turned presidential candidate.
But not everyone is a huge fan of Baldwin's Trump -- and that includes Baldwin's own brother, Stephen, who previously told CNN's Don Lemon that he thinks Trump would "make a great president."
Related: Hillary Clinton tactically jabs Donald Trump in Las Vegas debate
"He's got the voice down very well," Baldwin told CBS News following the debate Wednesday. "I don't want to be party pooper here, but I don't think it's very funny. I don't think there's anything funny about this election."