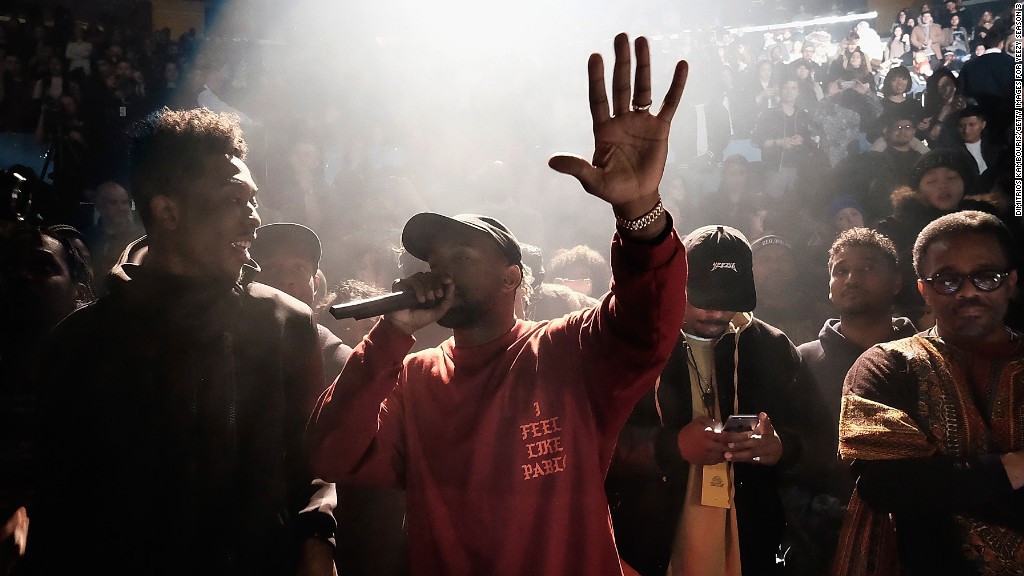 Leave it to Kanye West to give it to you straight, no chaser.
The rapper is once again venting about streaming music services that have apparently put him "Through the Wire."
Back in July, West was on Twitter seemingly trying to negotiate a deal where Apple Music would buy rival Tidal.
"I need Tim Cook, Jay Z, Dez, Jimmy, Larry, me and Drake, Scooter on the phone or in a room this week!!!" West tweeted.
Related: Kanye West rants about Tidal-Apple 'beef'
Fast forward to West's concert in Seattle on Wednesday, and Jay Z, Drake, Apple Music and Tidal were once again on his mind.
West went into an expletive filled rant to explain that he and Jay Z would not be doing a sequel to their successful 2011 collaborative album "Watch The Throne."
Such a project would not be happening, West said, for the same reason he and Jay Z didn't make the album version of the Drake single they performed on titled "Pop Style."
The reason?
"Some Tidal/Apple bulls***," he told the audience.
"There will never be a Watch The Throne 2 ," West said. "I wasn't on the [the album version of 'Pop Style'] 'cause [Jay Z]. It was some Tidal/Apple bulls***."
Jay Z owns Tidal. Drake's album "Views" was released exclusively on Apple.
West went on to explain that while he and Jay Z had rapped on the "Pop Style" single, Jay Z declined to be on the album version out of respect for his rapper and friend Meek Mill, who was feuding with Drake at the time.
"I said, look, I'll call Drake, I'll call Meek, we gotta squash this s***," West said. "We gotta let people have this song!"
Yeezy is, after all, a man of the people.