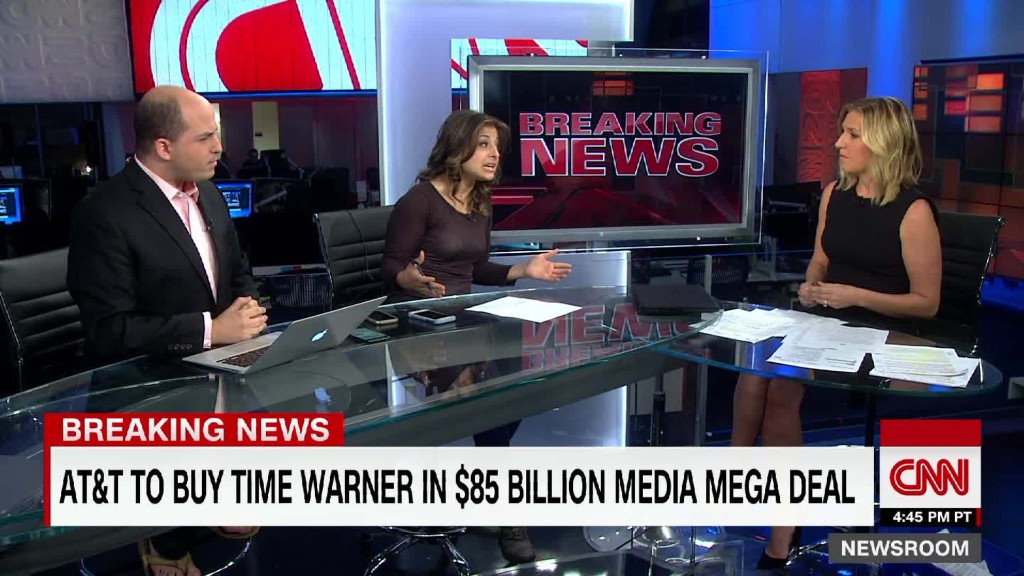 1. AT&T to buy Time Warner: The two companies will hold a joint call Monday with more details on the $85 billion deal announced Saturday. The merger will be the one of the biggest media tie-ups of all time if it is approved by federal regulators.
The acquisition positions AT&T to compete with Comcast and Disney, the biggest names in media and entertainment. Time Warner CEO Jeff Bewkes will remain at the helm while the deal is under review, which could take more than a year. (Time Warner is the parent company of CNN.)
2. Big week for Apple: The consumer tech giant is expected to unveil a fresh line of Mac computers at a media event on Thursday. The MacBook Pro hasn't gotten a major refresh in four years, and the MacBook Air has been largely the same since 2010.
The event comes on the heels of Apple's (AAPL) third quarter results, which it shares on Tuesday. We'll get very early numbers on the iPhone 7, which went on sale around the world last month.
3. Earnings galore: We're in the thick of earnings season. This week's substantial batch includes Samsung, Visa, Ford (F), Amazon, Boeing (BA), Coke, Alphabet (GOOGL) and Twitter.
Samsung's call on Wednesday could signal the extent of damage wrought by the fire-prone Galaxy Note 7 catastrophe. Investors will also dial in Wednesday to see if Nintendo offers more details on its newly announced Switch console. Visa's (V) results on Monday will show how much its deal with Costco is paying off. And on Thursday, Twitter (TWTR)'s call could provide much-needed insight on the company's future -- especially now that takeover prospects look bleak.
4. Economic bellwethers: The United States will release its first read on third quarter GDP Friday. Economists (and, most likely, Democratic presidential candidate Hillary Clinton) are crossing their fingers for stronger numbers than were posted this spring.
America's economy grew only 1.2% between April and June, compared to the same period the year before. The number fell below many predictions.
5. Coming this week:
Monday - AT&T and Time Warner call and AT&T earnings, Visa earnings
Tuesday - Apple, GM (GM), Fiat-Chrysler (FCAU) and Chipotle (CMG) earnings
Wednesday - Southwest Airlines (LUV), Nintendo, Airbus, Boeing, Coca-Cola (KO) earnings
Thursday - Apple's Mac reveal; Alphabet, Samsung, Amazon (AMZN), Twitter, Ford, UPS (UPS), ConocoPhillips (COP) earnings
Friday - MasterCard (MA) and Anheuser-Busch (BUD) earnings, third-quarter U.S. GDP