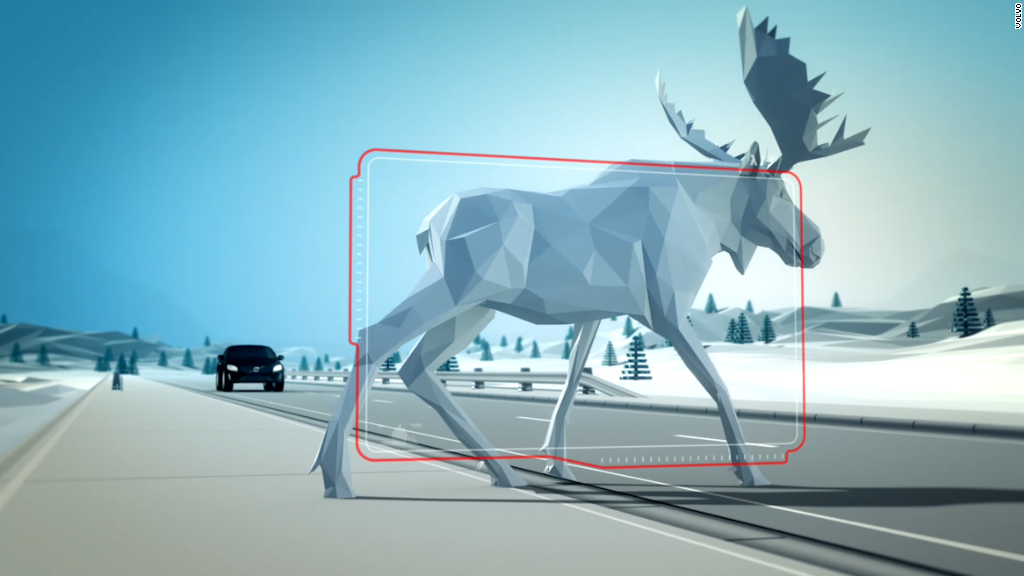 When it comes to cars, progress often means problems. Consumer Reports latest auto dependability survey, released Monday, tells the story. All-new or completely redesigned cars and SUVs tend to have the most problems. Basically, the latest thing is also the most trouble-prone.
Take the Honda (HMC) Civic, for instance. The 2016 Civic is an all-new, totally re-engineered model. Car critics loved it so much that it won the North American Car of the Year award in January, a prize given out by a jury of auto writers. But customers have experienced so many glitches and failures that the car ranked "Much worse than average" in the new dependability survey.
But just because a car fares poorly on dependability doesn't mean that owners hate it.
The Volvo XC90 SUV, which was name Motor Trend's SUV of the Year, is an example of that. Buyers have suffered so many issues with the SUV that the Volvo car brand fell into the "Less Reliable" rankings on the dependability list. But these problems haven't translated into owner dissatisfaction, which is a different measure that Consumer Reports also tracks. XC90 owner satisfaction is actually rated as "Very good" on the Consumer Reports website.
Consumer Reports cited the Volvo's touch-screen interface, used to control things like navigation and the radio, as the biggest source of trouble. Volvo said the complaints were mostly due to new owners' lack of familiarity with the system and that, once they learned how to use it, most are very satisfied.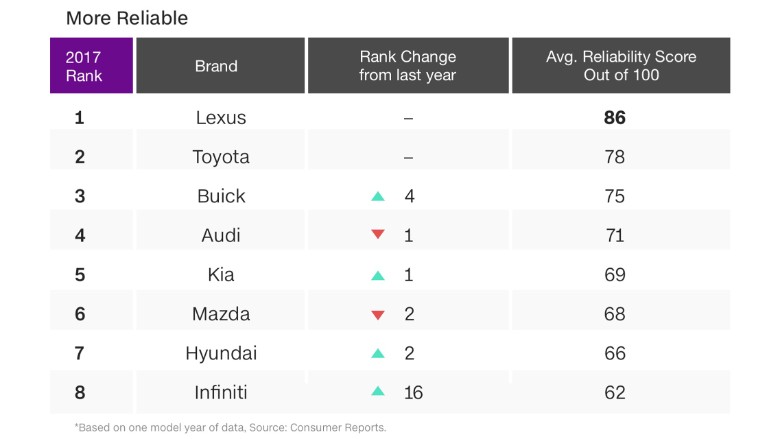 Then there's the Tesla Model X SUV. Tesla (TSLA) CEO Elon Musk admitted that he wished he hadn't put so much new, complex technology on it all at once when he unveiled the model last year. Apparently, he was right to worry.
The Model X's complicated "falcon wing" doors have been a big trouble spot, said Jake Fisher, head of Consumer Reports' car testing unit. Even the front doors, which have electric motors that let them open on their own, have been a headache for customers, he added.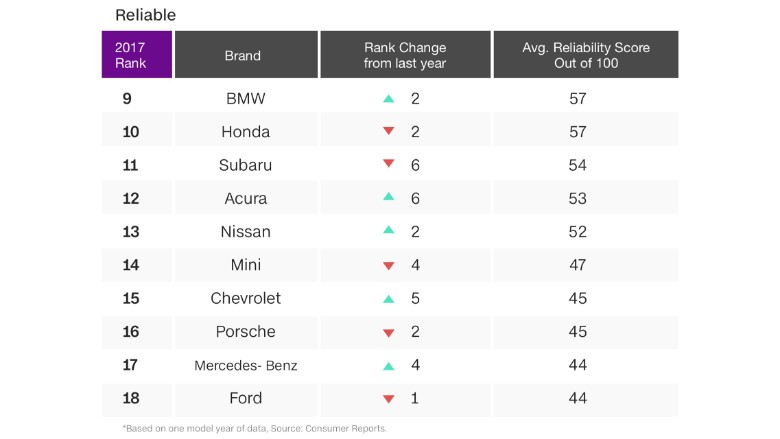 As a result, Tesla ranks among the "Less Reliable" brands on Consumer Reports' list. The SUV's dependability is rated as "Much worse than average." Still, overall owner satisfaction with the vehicle is rated as "Excellent."
For a long time, "dependability problems" have tended to be relatively trivial, said Fisher, as the industry has perfected the major mechanical aspects of the cars. In recent years, the problems have stemmed from the more high-tech additions to the newest cars, like the computer screens that work with phone, navigation and entertainment features, said Fisher.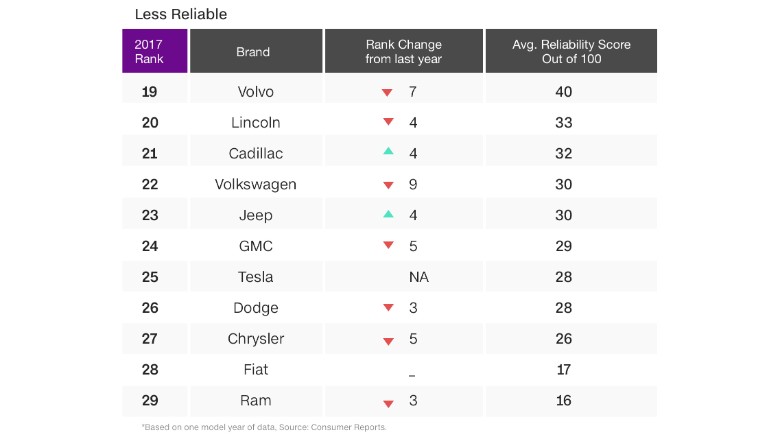 But now, with tougher fuel economy rules pushing more complex transmission technologies, dependability issues are once again starting to involve fundamental mechanical components. New eight- and nine-speed transmissions as well as dual-clutch and continuously variable transmissions have been suffering problems at a higher-than-average rate, Fisher said.
It's been years since new car buyers would have to worry about things that could actually render their vehicle undriveable. But those concerns are coming back, Fisher said.