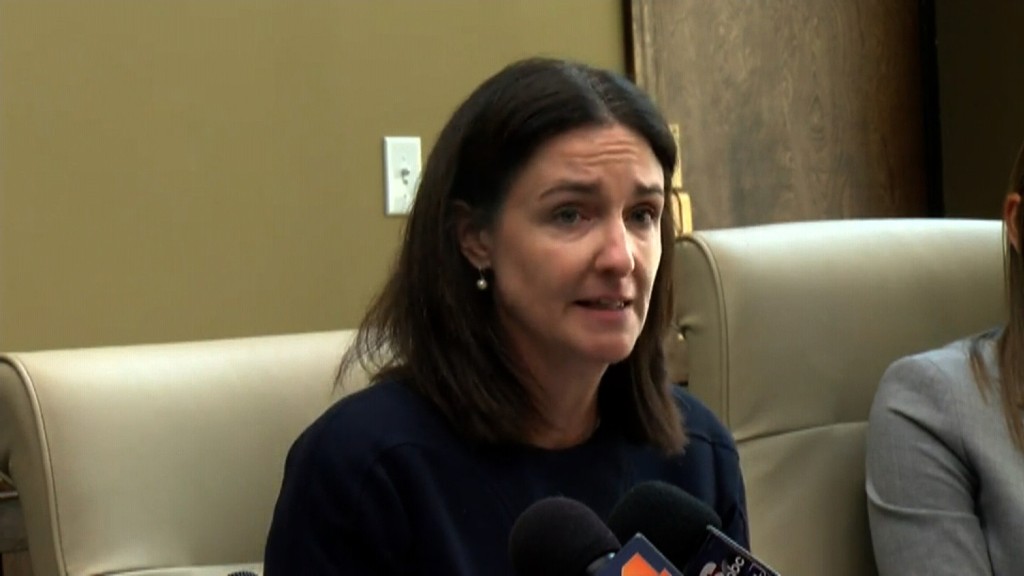 The ex-wife of disgraced Subway pitchman Jared Fogle is suing the sandwich chain, charging that top executives knew of his pedophilia as early as 2004 and should have notified authorities.
Katie McLaughlin divorced Fogle after he pleaded guilty to federal charges of child pornography and having sex with minors. She alleges in the suit that she and her children suffered emotional distress because Fogle's behavior did not become publicly known before she married him in 2010.
"A responsible corporation would take immediate action when hearing of this behavior, even if it was only allegations," she charges in the suit. "Subway failed every test of corporate responsibility in its response to each of these complaints."
The suit contends that Subway believed that sustaining and expanding its market share, profitability and growth depended on Jared's reputation. "Subway's ambition for sales and growth came at the expense of Katie [and her children]," it says.
At a press conference Monday, McLaughlin said it was "beyond comprehension" to find out that her husband was a child predator, and to also learn that executives had been told of his behavior and did not act. With her voice breaking, she apologized to Fogle's victims and said she was filing the suit to get answers about what Subway knew and when its executives knew it.
"A lot of questions have come up, questions my kids are going to ask my some day," she said. "I will not lie to my kids and I want to be able to answer those questions." She said the suit was the only way she could get those answers.
Related: Bill Cosby, Jared Fogle and other pitchmen gone bad
Subway said it could not comment on pending litigation.
The suit details an instance when a Subway franchisee, Cindy Mills, called the company's then-CEO Jeff Moody in 2008, to alert him about Fogle. She said that Fogle had told her that "he really liked them young," and that he admitted to her that he had had sex with minors from ages 9 to 16.
The suit charges that Moody interrupted Mills and told her "Please don't tell me any more. Don't worry, he has met someone. She is a teacher and he seems to love her very much, and we think she will keep him grounded." Moody told Mills that he had dealt with similar complaints in the past.
The suit says that the teacher that Moody was referring to is in fact McLaughlin.
"Having neither expert knowledge of pedophiles' predatory compulsions nor seeking guidance from experts, Subway made a terribly misguided assumption that Jared's marrying Katie would correct Jared's pedophilia behavior," the suit charges.
The suit also details how Subway subsequently started a campaign to battle childhood obesity that entailed having Fogle visiting elementary schools. It alleges that the company started a campaign depicting Fogle as a family man and used images of McLaughlin and their children without her proper authorization.
Fogle is serving more than 15 years in federal prison. He also agreed to pay 14 of his victims $100,000 each.
The suit asks for compensation for "intentional infliction of emotional distress," but doesn't specify a dollar amount.