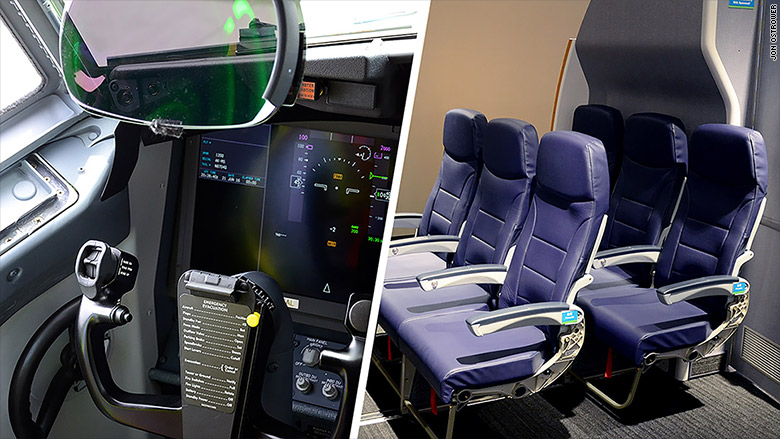 Aerospace electronics giant Rockwell Collins on Sunday inked the biggest acquisition in its history, a bet on the future of airline cabins.
Rockwell Collins (COL) announced it would buy B/E Aerospace (BEAV) in an $8.3 billion deal, creating one of the largest aerospace suppliers in the world.
Rockwell specializes in aerospace electronics ranging from advanced displays for airline and fighter pilots to broadband in-flight connectivity and wireless video streaming systems.
B/E Aerospace is best known for its elaborate airline seating, galleys lighting and lavatories.
Whether it's a passenger ordering a drink from a seat, streaming a movie to a tablet or smartphone, or smart systems automatically notifying maintenance crews of a broken lavatory or coffee maker, aircraft are increasingly using digital networks in the air and on the ground.
Related: Bombardier announces another round of steep job cuts
"Think of the future airplane," said Rockwell Collins chief executive Kelly Ortberg on Monday. " All of the galley equipment is going to be a node on the network" to change how passengers can enjoy a flight or to keep the equipment running reliably, he said as an example. With the merger, Rockwell wants to bring B/E's cabin equipment like galleys, seats and lavatories onto the cabin networks.
B/E Aerospace, out of Wellington, Florida, might not be a household name to fliers, but U.S. travelers are well acquainted with their products. The company supplies the seats in the main cabin aboard JetBlue Airways (JBLU) and Southwest Airlines (LUV) and in business class on many of American Airlines (AAL) transcontinental and long-haul United Airlines (UAL) flights.
Related: Airlines get tougher rules on hidden fees, performance reporting
The deal enables Rockwell, based in Cedar Rapids, Iowa, to keep up with the constant demands from airlines for increasing reliability and new products with which to court premium customers.
Aircraft cabins for premium fliers increasingly resemble hotel rooms, where passengers are demanding high speed connectivity and more elaborate sleeper beds, each with a price tag for airlines of $100,000 and up. Rockwell says being able to offer its electronic products along side B/E's galleys, lavatories, lighting and seats could mean as much as $50 million in revenue per airplane.
"The connected aircraft is clearly a theme that's got a lot of legs and is going to be putting up a lot of growth," said Ken Herbert, aerospace analyst at Canaccord Genuity.
Related: 'Passport Plum' and 'Groundspeed Graphite': Delta unveils new uniforms
Rockwell's move reflects continued consolidation among commercial and defense aerospace suppliers, who have been hard pressed by plane makers to cut costs and deliver parts at an ever-lower price.
That tight relationship leaves Rockwell vulnerable to the ups and downs of new airliner and business jet production. The acquisition, the largest in its history, taps into B/E's business of supplying new interiors for airlines as they are refreshed multiple times with new cabin technologies through their multi-decade lives.
However, Herbert questions whether the tie up will create financial benefits out of the technology. "Does owning the guy that makes the seat, is that truly going to impact decisions of how airlines make decisions about how they communicate in the cabin or aircraft to ground?" he said.
Related: Delta expects airfares to keep falling
The deal comes as the aviation industry is growing increasingly concerned with declining per passenger revenue, too much airline capacity and worries that big jet output from Airbus and Boeing (BA)may have to come down.
Already weighed down by falling business jet production, the acquisition by Rockwell "may be an indicator that commercial aerospace markets are approaching peak. Historically, consolidation in non-core markets has been used to drive growth as end markets slow down," wrote Bank of America analyst Ron Epstein.