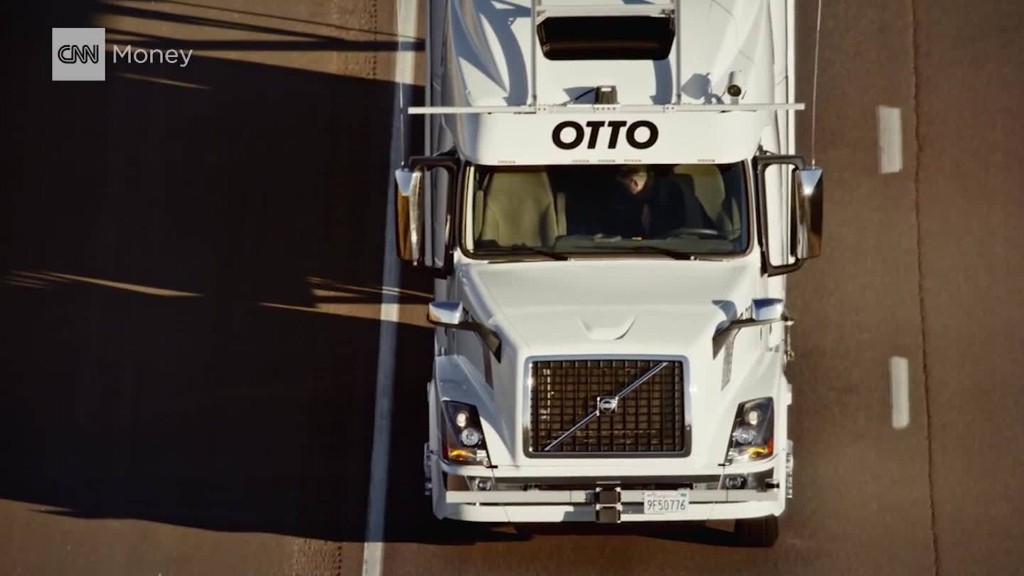 In the wee hours of Thursday morning, 51,744 cans of Budweiser received an escort worthy of a president.
Otto, a startup Uber bought this summer, used one of its autonomous trucks to complete a 120-mile trek in Colorado, which the companies are calling the first commercial delivery using a self-driving truck.
The truck cruised down Interstate 25 with an empty driver's seat. The human who piloted the truck from Anheuser-Busch to the highway shifted to the back of the cab until the truck exited the highway.
Before the trip even began, two tow trucks drove the route to make sure no vehicles were parked on the highway.
The driverless tractor-trailer was sandwiched between four Colorado state patrol cars and three vehicles from Otto. In one patrol car sat the executive director of Colorado's department of transportation, Shailen Bhatt.
The state had overcome its reservations about the trip after Otto repeatedly drove the route autonomously with a human behind the wheel, who never had to intervene.
Related: Is Uber's push for self-driving cars a job killer?
"This is a big deal. Transportation is being transformed by technology," Bhatt told CNNMoney. "For me, it comes back to this: Technology can help us save lives."
The test was months in the making. This spring, Anheuser-Busch (AHBIF), which makes Budweiser, reached out to Otto, then a highly regarded self-driving truck startup. The brewer was interested in how self-driving trucks could help its operation. Each year, its beer travels 450 million miles on U.S. roads.
"We're eager to begin to scale this," said James Sembrot, senior director of logistics strategy at Anheuser-Busch. "I see a future where this technology becomes ubiquitous, it becomes similar to automatic transmission or cruise control."
Otto and Anheuser-Busch did not pinpoint when they see the technology being used regularly and without police convoys. They'll need to receive regulatory approval too. In Colorado, it's a gray area, according to Bhatt.
Both pointed to autonomous technology as a way to improve road safety and make transportation more sustainable. They anticipate self-driving trucks will use fuel more efficiently than humans, because they will drive the speed limit and anticipate looming traffic jams rather than slamming on their brakes.
Related: What it's like to ride in a self-driving Uber
Some experts have warned that autonomous trucks will lead to mass unemployment for truck drivers.
Lior Ron, Otto's cofounder, sees drivers and autonomous trucks working in harmony. The human will become a copilot, taking breaks while the truck drives. Ultimately, Ron said, the truck will be more productive for more hours of the day.
For Bhatt, self-driving trucks are also a promising way to limit congestion.
"If we work to perfect technology, we can shift a lot of these freight hauls to the dead of night and take advantage of our Interstate system when it's underused," he said.
Bhatt said the successful delivery wasn't the only productive part of the trip. Colorado state patrol encountered and apprehended a drunk driver en route.