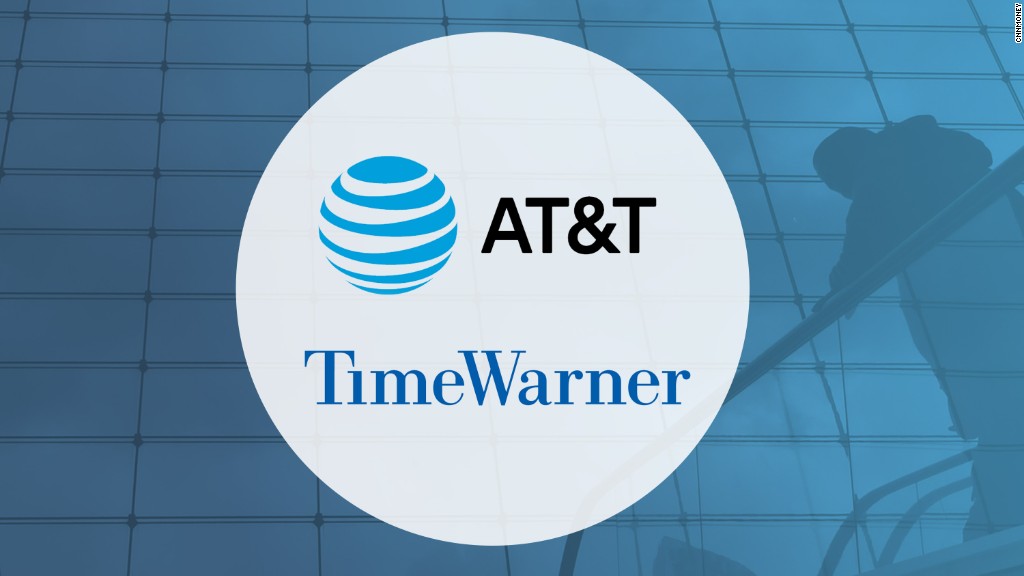 Hillary Clinton says she will "closely" follow AT&T's acquisition of Time Warner as the deal comes under regulatory scrutiny in Washington.
The Justice Department's antitrust division will analyze the deal in the months ahead. The Federal Communications Commission may also take a look. There will be Congressional hearings too.
The $85 billion deal was announced over the weekend. Clinton's campaign indicated that she had questions about the combination of AT&T (T) with CNN parent company Time Warner (TWX), but she didn't comment directly until Wednesday afternoon, when reporters asked about it during a Q&A session.
"I think it raises questions and concerns and they should be looked into," she said, toeing a common Democratic line about big business mergers.
Clinton said she had heard that Congress "will start having bipartisan hearings" about the deal, "which I think is appropriate."
There is a hearing scheduled for November.
"So I am going to follow it closely, and obviously if I am fortunate enough to be president, I will expect the government to conduct a very thorough analysis before making a decision," she said.
Related: Media titans weigh in on AT&T-Time Warner merger
Clinton is staking out a much more nuanced position than Donald Trump, who has joined Bernie Sanders in flatly rejecting the deal. Trump said over the weekend that, if elected, his administration would block the acquisition from going forward. Such a statement by a presidential candidate — issued before government regulators even begin examining the deal — is highly unusual.
Sanders, whose anti-merger views are well known, said in a letter to the Justice Department on Wednesday that "this proposed merger is just the latest effort to shrink our media landscape, stifle competition and diversity of content, and provide consumers with less while charging them more."
AT&T executives had anticipated heated campaign season rhetoric when they moved forward with the deal.
AT&T CEO Randall Stephenson expressed confidence that regulators will eventually bless the transaction, though possibly with some conditions attached.
The companies say they anticipate the deal to close by the end of 2017 -- meaning the review process will take over a year.
Related: Why Wall Street doesn't like the AT&T-Time Warner deal
Some analysts say there is only a 50-50 chance of approval.
Stephenson said Monday on CNN's "New Day" that because AT&T does not own big entertainment or news channels currently, the proposed deal is a "true vertical integration."
AT&T's failed bid for T-Mobile, on the other hand, was a "horizontal integration" because it would have merged two competitors.
"This transaction is not horizontal. We don't compete," Stephenson said.
He added: "There's not a competitor being taken out. And, in fact, you're hard-pressed to find, in either one of our industries, a time when a vertical integration was shot down by regulators."
When regulators reviewed the Comcast-NBCUniversal deal in 2010, they decided to approve it with a number of conditions attached. The merger took effect in 2011.