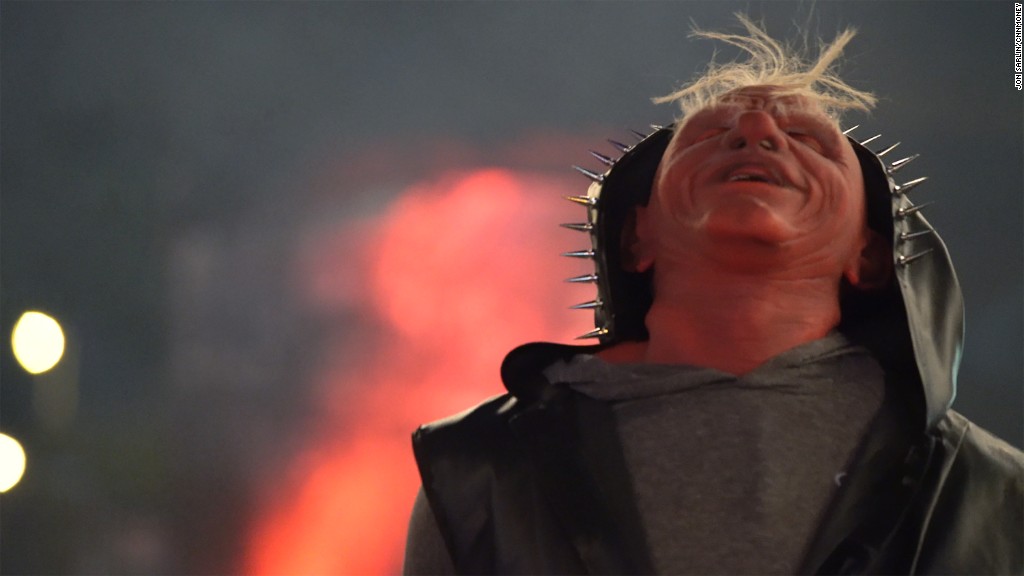 Looking for a job? Can you act? Willing to wear scary clown makeup? Can you run a chain saw?
You might have what it takes to work at a haunted house.
Those spooky venues, where actors masquerading as ghouls and goblins terrify paying customers, are getting bigger and freakier. They've grown into a spine-chilling sub-genre of the economy, employing thousands of people across the nation.
One industry association estimates there are 2,000 haunted houses across the country, not counting Halloween-themed charity events or the 300 amusement parks with haunted attractions, like the Haunted Mansion at Disney (DIS) World.
They range from the classic haunted house and haunted hayride to relatively new phenomena like the zombie run: Think of it as a mudder with a "Walking Dead" theme, customers chased through an obstacle course by hungry zombies.
They're not real monsters, of course. The face-painted zombies chasing you through the woods of Maryland and the corn fields of Iowa, the chainsaw-wielding cannibals at the haunted hayrides in Maine, New York and California, and the torturers who put a cage over your head and force you to eat slime in strobe-lit dungeons are all paid workers.
Related: Home Depot pulls Scary Peeper Creeper from stores in Canada
Terror Behind the Walls in Philadelphia, where actors play monsters who take over an abandoned prison and where zombies battle SWAT team members, employs 300 people during the Halloween season, according to human resources and creative director Amy Hollaman.
Entry pay for actors and makeup artists is $10.88 an hour, and the jobs are seasonal and part-time, like most jobs in the industry. Tickets cost $20 to $45.
The online application asks for skills like stilt-walking, puppetry, chain saw use and the urban acrobatics discipline known as parkour.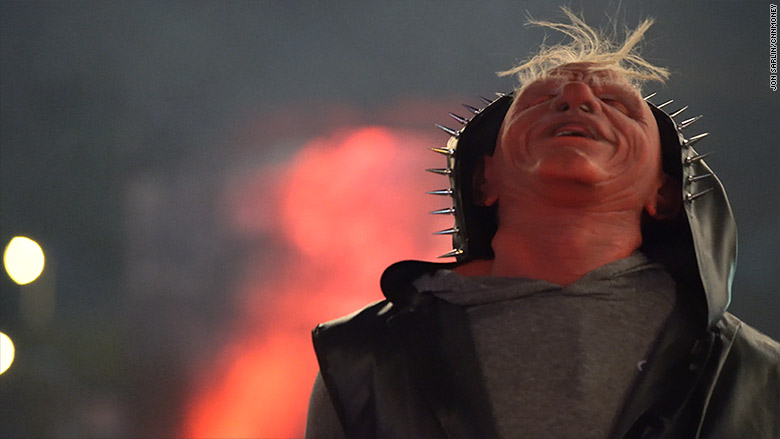 Melissa Carbone, the founder and CEO of Ten Thirty One Productions, which runs haunted hayrides and other, more extreme interactive horror events, hires seasonal actors to work as ghouls and monsters.
At her Haunted Hayride on Randalls Island in New York, people pay $37 to ride a hay-stuffed trailer behind a tractor while getting freaked out by maniacal clowns and devil worshipers. Carbone employs 350 people.
One of them is Joseph Salvatore Knipper, who plays a wandering face-painted monster named Crow.
By night, he roams the "purgatory" section before the hayride, where guests enter beneath an archway made from jack-o'-lanterns. He claimed that a pregnant woman got so scared when she saw him that she ran off and didn't even go on the ride.
By day, "Right now I'm a health care recruiter, which I know is an unusual day job for an actor," he said.
Related video: Check out this haunted house designed by tech students
Carbone, a former executive for Clear Channel, started a haunted hayride in Los Angeles in 2009 and has expanded. In 2013, she convinced Mark Cuban on "Shark Tank" to back her with a $2 million investment.
"It is literally my passion," she said. "I love horror. I love creating these live immersive worlds."
Her company, Ten Thirty One, has events in California throughout the year, including Ghost Ship, an interactive haunted cruise with cocktails, and Great Horror Campout, which caters to clients with extreme tastes.
They pay up to $119 to camp overnight in a park in Los Angeles where they are raided and tormented by actors in horror makeup. Carbone said guests in the more extreme events get buried alive. The safe word is, "I want my mommy."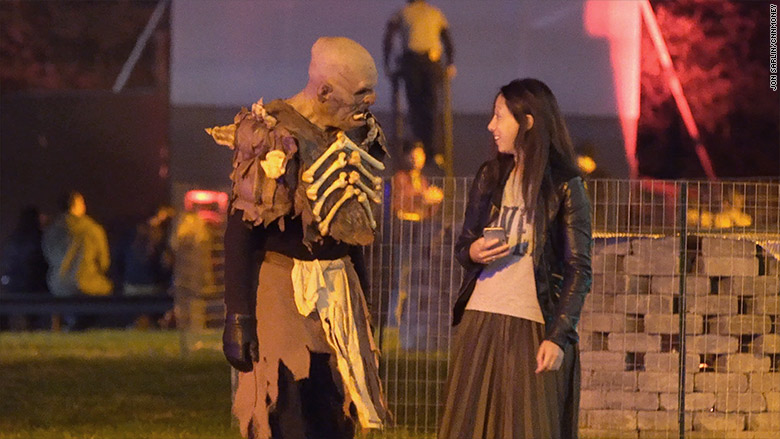 The trend in haunted houses is darker and darker. Adventurous masochists pay to visit dungeons where they're chained, stripped, humiliated and even subjected to simulated waterboarding.
"There's a lot of restraint, and we've used toilets in many different incarnations," said Joshua Randall, who co-founded Blackout in 2009 in New York. He's expanded the immersive horror show to different locations, including Los Angeles, and he does it year-round, not just for Halloween.
Tickets range from $40 to $135, depending on the nature of the show. For the actors playing the torturers, Randall said he seeks out particular skills.
"We actually hire a lot of therapists and psychoanalysts because they actually get a kick out of seeing how this all plays out," he said. "What we look for are responsible, intelligent people who are able to manifest what we are looking for instead of the more traditional haunted houses with chain saws, screaming and zombies eating your brains."
Related: Are you ready for the zombies? Weapons of 'The Walking Dead'
Beth Stranathan, an actor from Los Angeles, decided to work for Blackout after she bought a ticket and endured a simulated waterboarding, and was then told to strip to her underwear and sing "Happy Birthday" to people she couldn't see.
"I went through it as a guest once, and it was actually a lot of fun," she said. "When I was finished, I said, 'Do you need actors?'"
Now she's a Blackout actor, putting guests through sensory deprivation, blaring white noise and other torments.
"People enjoy feeling extremes," she said, "and to have a safe place for them to feel their extremes is almost cathartic to some people."