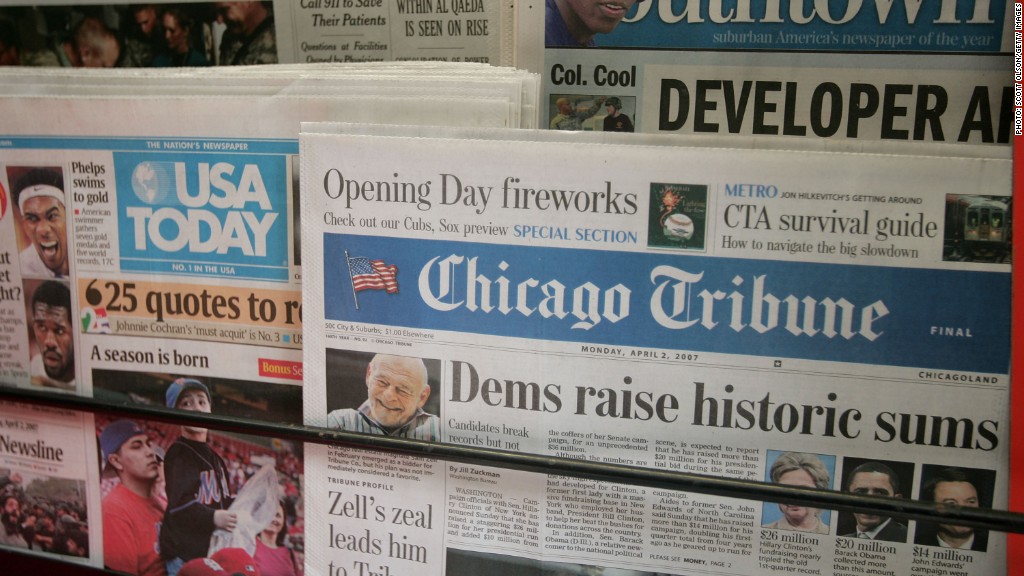 The long-rumored marriage of USA Today owner Gannett and LA Times publisher Tronc is suddenly in doubt.
Shares of Tronc (TRNC) plummeted 28% on Thursday following a report that banks have pulled financing for the company's potential takeover by rival Gannett (GCI).
According to Bloomberg News, several lenders backed out of the deal due to concerns over the financial health of Gannett and Tronc, long known as Tribune Publishing before a much-criticized makeover. Gannett shares dropped 17% on the news.
Gannett has come under more financial pressure in recent months. The company revealed a third-quarter loss on Thursday amid another decline in print advertising sales.
Related: Hillary Clinton addresses AT&T-Time Warner merger
Gannett and Tronc, which also owns the Chicago Tribune and Baltimore Sun, had agreed to a price of $18.75 before the funding troubles, Bloomberg reported, citing unidentified sources.
Neither Gannett nor Tronc responded to requests for comment on the report.
Gannett CEO Bob Dickey hinted at the funding troubles during a call with analysts on Thursday. He said Gannett is focused on "building out our local footprint," but that hinges on a number of conditions, including financing terms that "make sense."
Contentious deal talks have been going on between the two media companies for many months. Gannett first bid $12.25 a share for then-Tribune in April, before raising the offer to $15 a share in May.
Tribune shot down both offers and criticized Gannett for what it described as an "effort to mislead and confuse" its shareholders.