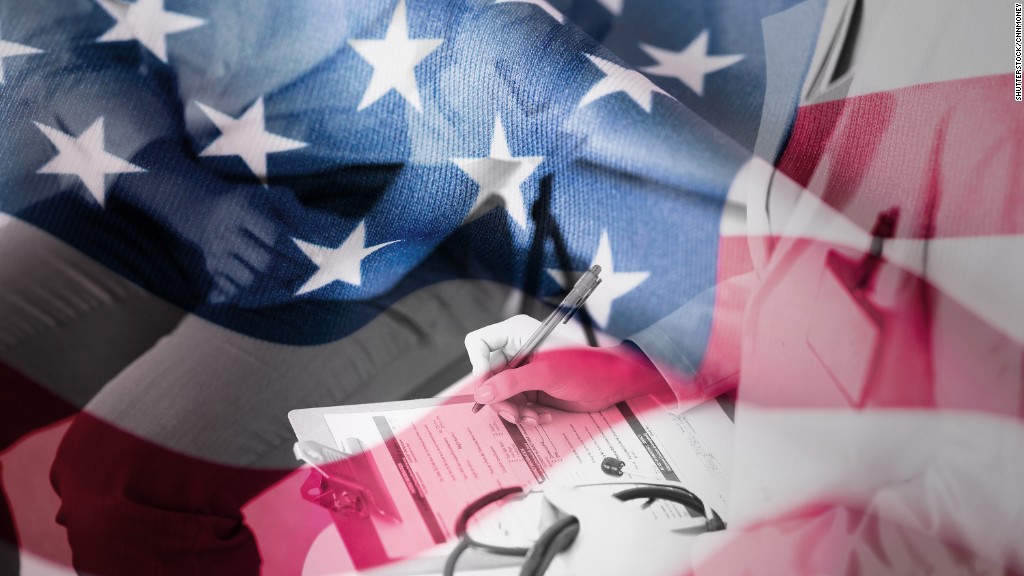 Hillary Clinton and Donald Trump both say they can fix America's ailing health care system.
They have wildly different plans. Trump would scrap the president's signature health reform bill, in favor of spurring more competition among insurers. Clinton wants to build on Obamacare, but make it more attractive and affordable for those shopping on the individual exchange.
But would either of these actually help Americans afford insurance and doctor's visits? Let's break it down.
Trump's plan, for the most part, adheres to longstanding Republican ideals. It revolves around allowing insurers to sell across state lines, which he argues would spur competition and reduce premiums for those without work-based coverage.
Related: Obamacare premiums to soar 22%
This would likely lower prices for the healthiest Americans, but would put coverage out of reach for most everybody else, said Linda Blumberg, a senior fellow in the Urban Institute's Health Policy Center. That's because without Obamacare, insurers could once again opt not to sell policies to the sick and cherry-pick only the fittest folks in other states.
Also, it's usually not that simple to set up shop in another state. Insurers have to develop networks with doctors and hospitals and market their plans to consumers.
"It's about creating a product offering that's competitive and compelling," said Paul Lambdin, a managing director focusing on insurance exchanges at Deloitte Consulting.
Insurers can actually sell plans across state lines now, thanks to an Obamacare provision. But no carrier has moved to do so.
Trump would also allow those who buy individual policies to fully deduct their premiums. This would bring them more in line with employees who have work-based plans, who don't have to pay taxes on their premiums. This would reduce the cost of coverage for those on the individual market, but could ultimately raise the price of employer-based insurance if lots of healthy people opt to get individual coverage, Blumberg said.
Related: Obamacare is sick but not in a death spiral
Clinton's policy prescription would more directly lower American's cost of care by shifting the burden to the government and taxpayers. She would increase Obamacare subsidies so enrollees wouldn't have to pay more than 8.5% of their income, down from 9.66% this year, and she'd extend it to everyone who signs up, not just those making less than 400% of the poverty level. She would also offer a tax credit of up to $5,000 for families whose out-of-pocket medical costs exceed 5% of their income.
She would also push for a government-run health plan, known as a public option, to bring more competition into the marketplace. And she would invest more in outreach to bring more of the uninsured into Obamacare during the open enrollment period.
This is a "good start," according to Blumberg, but more needs to be done.
Clinton's plan doesn't address some of insurers' main concerns: The cost of insuring patients with chronic illnesses, such as diabetes and Hepatitis C. One reason why premiums are spiking this year is because two programs designed to shield insurers from these bills are expiring after this year. And many insurers say the remaining program's formula doesn't adequately reflect their true costs.
So ultimately, Clinton's plans may not fully fix Obamacare's price spikes. Instead, taxpayers would be shouldering more of the bill.