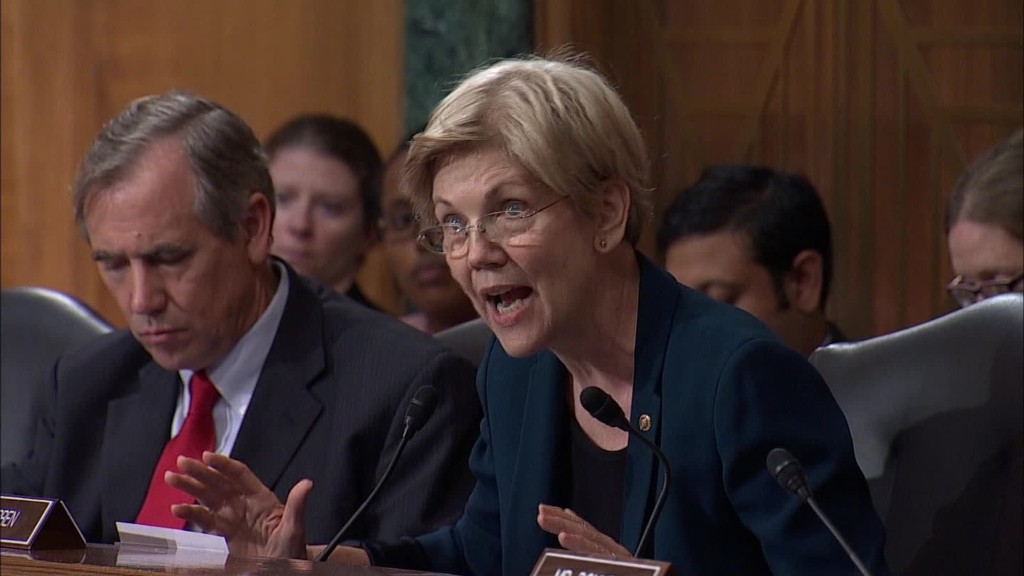 The 2001 implosion of Enron ushered in laws that require public companies to have their financial statements blessed by independent auditors.
But the staggering nature of the Wells Fargo scandal -- 5,300 employees fired for creating millions of fake customer accounts -- is raising questions about the quality of those independent audits.
Senators Elizabeth Warren and Bernie Sanders fired off a letter on Thursday to KPMG, calling the accounting firm out for failing to discover the widespread illegal behavior at Wells Fargo (WFC).
Wells Fargo hired KPMG as its independent auditor for all five years in which regulators say fake accounts were being opened. (Testimony from employees and documents obtained by CNNMoney suggest the problem actually began earlier than 2011, the date regulators have cited.)
Related: Letter warned Wells Fargo of 'widespread' fraud in 2007
Each year, KPMG put a stamp of approval on the procedures that Wells Fargo had in place to guarantee the integrity of its financial statements -- controls that have since come into serious doubt. KPMG never flagged concerns about Wells Fargo's record-keeping or compliance with laws and regulations.
"Your firm's failure to identify the illegal behavior at Wells Fargo raises questions about the quality of your audits," Warren, Sanders and two Democratic colleagues wrote in the letter to KPMG CEO Lynne Doughtie.
In a statement, KPMG said it was "confident in our work" and looks forward to responding to Warren's letter.
The letter, which was also signed by U.S. Senators Mazie Hirono and Edward Markey, asks KPMG to respond to a series of questions by November 28. The lawmakers want to know whether KPMG was aware of the unauthorized accounts and, if so, whether the firm talked to senior Wells Fargo executives.
Related: Wells Fargo workers describe mental health nightmares
Warren and her colleagues also want to know whether KPMG was misled by Wells Fargo about the extent of the problem and whether the accounting firm has conducted its own review of what went wrong.
The lawmakers also asked whether KPMG's regulator, the Public Company Accounting Oversight Board, has taken any disciplinary action against the firm.
The criticism of KPMG could put pressure on auditing firms to apply extra scrutiny to the public companies they are required to audit under the post-Enron law, known as Sarbanes-Oxley.
Warren has led the congressional pressure on Wells Fargo. The Massachusetts senator, during a hearing last month, demanded in blistering language that CEO John Stumpf resign. (He did, weeks later.) She has since questioned whether new CEO Tim Sloan was aware of the opening of unauthorized accounts.