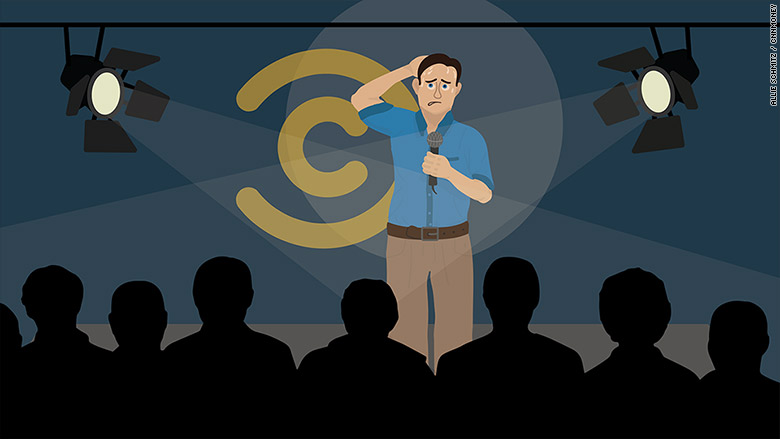 Stephen Colbert probably spoke for most in the comedy business when he told me in a recent interview that this has been probably the most extraordinary period for comedians and comedy writers in recent memory.
He was talking, of course, about the opportunities that this presidential election has created for topical humor, largely directed at the candidate he has lampooned with special vigor over the past few months, Donald Trump. (Colbert added that the prospect of a Trump presidency also carries untold promise for climbing comedic heights, but that didn't mean he welcomed that outcome, as a citizen.)
What is true is that comedy is experiencing a quality surge all across television-- and not all of it is tied to the targeting of political excesses and outrages going on nightly in the late-night arena. New fresh-voiced comedies are all over television, from FX to HBO to Netflix to ABC to Amazon, and elsewhere.
But not everywhere. Notably absent from that list is the place you might expect to be at the heart of this profusion of new comedy excellence -- central to it, you might say.
After years of leading the conversation about comedy on television, Comedy Central is experiencing what looks like a sustained slump, while many other television outlets have had hit streaks.
The most obvious area, already widely documented, is late night. Once the channel's crowning glory -- Jon Stewart and Colbert pulled in Emmys and Peabody by the boatload -- its late night offerings have fallen markedly in both ratings and, perhaps more troublingly, influence. Trevor Noah's "Daily Show" has languished mostly on the outskirts of the late-night discussion during this election season, not a place the show was accustomed to being when Stewart was anchor. And the 11:30 entry, Larry Wilmore's "Nightly Show," which also had difficulty breaking into the national discussion, has already succumbed to disappointing numbers.
It surely doesn't help that two Comedy Central grads, John Oliver and Samantha Bee, have ignited the media commentariat with their own election-based efforts. Oliver even rubbed some metaphorical salt in his old employer's wounds by scooping up this year's Emmy in the late-night category, marking the first time a Comedy Central show had not won that award since 2003. (For the record, the executive in charge of Comedy Central, Doug Herzog, sent me a message saying, graciously, "We are proud of John.")
Related: The year late night picked a side
In defense of the new iteration of "The Daily Show," Comedy Central executives stress that online viewing of the show has been strong, though apparently not strong enough to push the show back anywhere near its former place as a dominant influence among younger viewers -- and opinion-makers.
That Emmy win by Oliver only underscored what now seems like a mind-boggling lack of foresight regarding Oliver's trial run as "The Daily Show" host in 2013. He filled in to universal applause for eight weeks when Stewart took a hiatus to direct his movie "Rosewater." Amazingly, Comedy Central did not insist that Oliver sign a new contract committing him to work exclusively for Comedy Central before handing him the keys to the vehicle that made him a breakout star. Absent that deal, he was free to bolt to HBO and collect an Emmy for that network.
Even if Oliver, a Stewart acolyte, would not have been willing to take up the reins of the show as Stewart's successor, had he been under contract he at least would have been available to be a star somewhere else on Comedy Central, maybe building a once-a-week, prime-time show as he has for HBO.
Bee could have done the same thing, had Comedy Central secured her after her "Daily Show" career concluded. (She told me this summer she really had no interest in doing more than a once a week show.) The fact that both "Daily Show" alumni are now talked-about stars for other networks appears to be the definition of missed opportunity.
Related: 'The Daily Show' turns 20: A look at its legacy
Their absence certainly is a factor in any evaluation of the recent programming moves by Comedy Central. The network retains a core of outstanding shows, led by its warhorse, "South Park," now in its 20th season. Other stalwarts have some mileage on them, like "Tosh.O" (eight seasons), "Workaholics" (seven seasons) and "Inside Amy Schumer" (four seasons.) But more problematically, Schumer first said she was done with her headline-making show, then said only that she will do a fifth season "but not in the foreseeable future."
And Adam Devine, one of the three stars of 'Workaholics," said this summer that the seventh season will likely be the last for that show. "We've talked as a group," Devine said. "We kind of think now is a good time to put it to bed."
That message can't warm hearts at Comedy Central, which just lost another powerhouse series, the Emmy-winning "Key and Peele."
The cupboard is not empty. "Broad City" has made a splash in its three seasons. "Drunk History" has its admirers. But the prime-time lineup is hardly murderer's row at the moment -- especially when a host of competitors have been cranking out hot comedies recent years.
FX, already a force in drama, has a sizzling hot comedy in "You're the Worst" on its sister network FXX and two new praised entries, "Atlanta" and "Better Things."
ABC has broken through with its diverse sitcom lineup, including "Black-ish" and "Fresh Off The Boat." NBC has gotten traction over the past two seasons with "Superstore" and "The Good Place."
And two subscription services, Netflix and Amazon, own a host of buzzed-about comedies. "Orange Is the New Black," "Master of None," "Invincible Kimmy Schmidt" and "Bojack Horseman" on Netflix; and "Catastrophe," "Fleabag," "One Mississippi," "Mozart in the Jungle," and, most impactful of all, "Transparent" on Amazon.
Some of those shows -- "Transparent," "Master of None," -- won major Emmys this year. Comedy Central won exactly one Emmy on the night of the major awards -- for the departed "Key and Peele."
Change is obviously in the air at Comedy Central, in both its direct leadership, as Kent Alterman replaced the long-time president Michele Ganeless in May, and at the very top, with the departure of Phillipe Dauman, the chairman of Comedy Central parent Viacom.
The holdover executive with oversight over Comedy Central, Herzog, who is president of Viacom's music and entertainment groups, has always had a reputation for savvy appreciation of comedy. With a freer hand, and some time, he may re-burnish the network's comedy credentials. Herzog has frequently cited the strength of its brand.
That strength needs to reassert itself. The place to start is in late night, where there is already one opening. Herzog says he is "pondering and developing" replacement ideas for the 11:30 show.
That's a start.