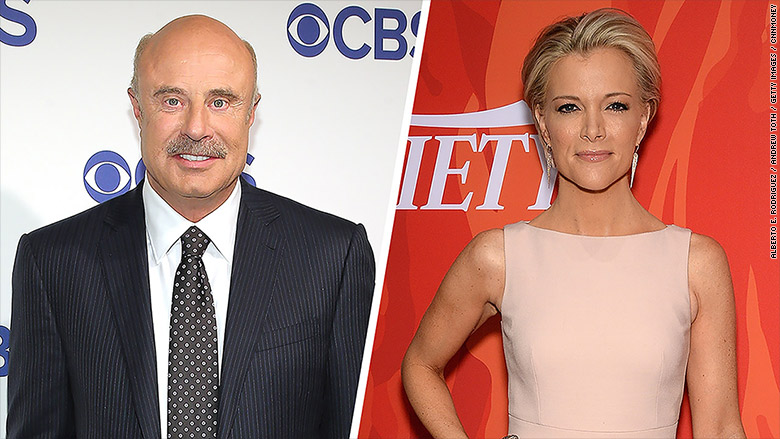 Megyn Kelly's first interview about her new book, "Settle for More," will be with daytime talk show host Dr. Phil McGraw.
The interview will air on "Dr. Phil" on November 15, the same day her book comes out, a spokesman for the show confirmed.
From there, Kelly will blanket the airwaves to promote a memoir that is expected to sell hundreds of thousands of copies.
The Fox News host is in the middle of contract talks, which makes the book tour all the more interesting. She will be appearing on several major networks during the promotional tour, though no details have been announced yet.
Related: Rupert Murdoch speaks out about Megyn Kelly's contract talks
Separately, Kelly will be guest-hosting "Live with Kelly" with Kelly Ripa on November 9, the day after Election Day. But that is not a part of her book tour.
The choice of "Dr. Phil" as her first book-related stop reflects a longstanding relationship between Kelly and McGraw -- he helped to inspire the title of her book -- and an effort to reach millions of daytime TV watchers who tend to buy books.
Kelly's book is likely to generate headlines based on what it says about former Fox News chairman Roger Ailes, who resigned in July, and about Donald Trump, who attacked Kelly throughout the GOP primary process.
Kelly reportedly added material to the book about Ailes, her longtime boss, after he resigned. After ex-anchor Gretchen Carlson sued Ailes, alleging sexual harassment, Kelly and numerous other women spoke privately with people conducting an internal investigation about mistreatment. But Kelly has not spoken publicly about what happened. Ailes has denied the allegations.
An in-depth interview with McGraw assures that Kelly will have time to talk about more than just those headlines. McGraw routinely devotes entire hours to prominent authors.
Kelly has spoken in the past about her affection for McGraw -- and her interest in maybe hosting a daytime talk show someday. (She has talked about Oprah Winfrey and Barbara Walters as career models, but also Charlie Rose.)
At a 2014 Fortune event, Kelly said this piece of advice from McGraw changed her life many years ago: "He said the only difference between you and someone you envy is you settled for less. It just spoke to me."
So she decided to "settle for more," she said, which became the title of her memoir.
HarperCollins, which like Fox News is a part of the Murdoch media empire, acquired the book after a bidding war involving several publishers.
At the time the deal was announced, back in February, reports about the value of the book deal varied widely. Deadline.com reported that it was worth $10 million, an exceedingly high price for any first-time author, even one as well known as Kelly.
Other sources told Page Six that it was more likely "in the $3 million to $4 million range."
A person with knowledge of the competing offers told CNNMoney it was closer to "the neighborhood of $5 million."
After the "Dr. Phil" appearance on book launch day, Kelly will be holding several book signings, including one at a Barnes and Noble in New York City on November 16.