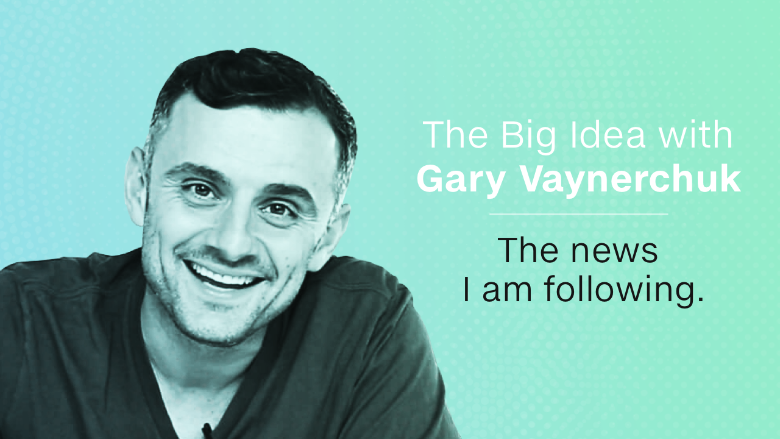 This week, the guest curator for "The Big Idea" on the CNN MoneyStream app is Gary Vaynerchuk.
Occupation: CEO of VaynerMedia, a digital advertising agency
Best-known for: A serial entrepreneur and Twitter pioneer
The Belarus-born entrepreneur and investor started his career by building up his family's liquor store into a multi-million dollar business. In 2006, he started the web series, Wine Library TV.
Wine Library TV vaulted Vayernchuk to social media prominence and led to him writing four New York Times bestsellers and a slew of speaking engagements.
In 2009, GaryVee, as he is known to his more than 1 million Twitter followers, started VaynerMedia with his brother. The digital advertising agency boasts clients such as GE (GE) and PepsiCo (PEP).
Vaynerchuk is also a well-known angel investor and venture capitalist, investing in companies including Facebook (FB), Twitter (TWTR), Tumblr and Uber.
Here's a sample of what Gary Vaynerchuk is reading this week (to see more, add "The Big Idea" stream on the CNN MoneyStream app)
- ESPN loses 621,000 subscribers; worst month in company history (Fox Sports)
- Gary Vaynerchuk on the difference between sales and marketing (The Telegraph)
- Why Vine died (The Verge)
- Vine users answer back after Twitter shuts down a community of creators (Wall Street Journal)
- Publishers are rethinking those 'around the Web' ads (New York Times)
- Numbers don't matter, influence does (Medium)
- IBM Watson lends brains to Slack's chatbot (Fortune)
- Uber and Airbnb should never have started the way they did (Medium)
- Justin Kan launches video Q&A app Whale (TechCrunch)
- More websites were viewed on mobile devices and tablets than desktops for the first time ever (StatCounter)
- Instagram's new shoppable photos are a glimpse at its e-commerce future (The Verge)
- Budweiser honors legendary Cubs announcer Harry Caray in World Series commercial (SB Nation)
- Facebook now has more users on mobile devices than anywhere else (Mashable)
- Pokémon Go gets a big revenue boost from its special Halloween event (TechCrunch)
- 5 things every employee should ask their CEO (Medium)
- Budweiser imagines how Harry Caray would have called Cubs win (AdAge)
- Facebook wants to start selling TV ads — on TVs — via Apple TV and Roku boxes (Recode)
"The Big Idea" lets you peek into the minds of leading people in business.
Every day, you will see multiple stories appear in your stream that are hand-picked by the guest curator of the week. "The Big Idea" was curated last week by Ellevest CEO Sallie Krawcheck.
Reading this article on your Apple device, click here to download CNN MoneyStream. Or if you are on Android, download it here.