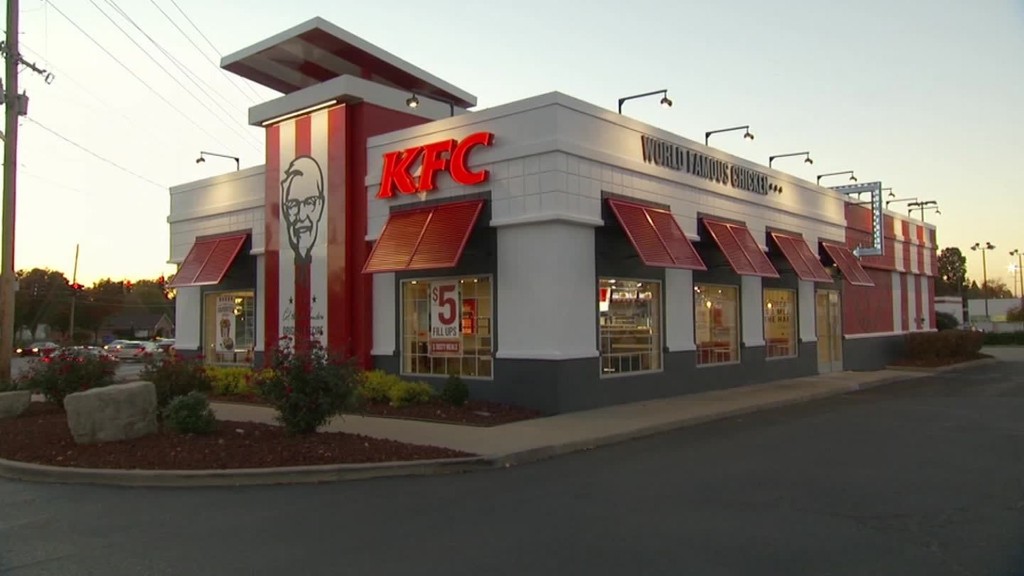 China's insatiable appetite for fried chicken used to be a big reason why investors loved KFC-parent Yum Brands.
But after a couple of food safety scares and concerns about China's suddenly sluggish economy, Yum (YUM) bowed to pressure from activist shareholders last year and decided to spin off its China division from the rest of the company.
This newer Yum debuted Tuesday. Yum China began trading on the NYSE under the ticker symbol "YUMC."
So far, Wall Street seems to think the stock is finger lickin' good. Yum China's stock rose nearly 10%. (I wonder if KFC in China will have 50 different actors -- or so it seems -- playing Colonel Sanders in TV ads like the company is doing here in the U.S.)
The old Yum Brands stock was down 1% though. But Yum, which also owns Pizza Hut and Taco Bell, has had a pretty good year. The stock is up nearly 20%.
And a lot of that has to do with the spinoff. Investors are relieved management listened to shareholders.
Keith Meister, head of investment firm Corvex Management, aggressively pushed the company to separate the China business from the rest of Yum. Meister, who is a big investor in the company, is now a board member at Yum as well.
Related: Yum boosts outlook as China starts to rebound
But Yum has also done well thanks to strong sales from KFC and Taco Bell in the U.S. this year.
The company has been a bright spot in the restaurant world at a time when McDonald's (MCD), Wendy's (WEN) and many other restaurant chains have warned that cheaper food prices at the grocery store are leading more people to eat at home and dine out less.
Sales are slowly starting to turn around in China as well. But Yum CEO Greg Creed, speaking to CNN's Maggie Lake at the NYSE Tuesday, said the company will benefit from the split since U.S. investors will be able to worry less about risks from China.
At the same time, a separate Yum China should be more intriguing to Chinese investors. Creed noted that Ant Financial, an affiliate of Jack Ma's Alibaba (BABA), is an investor in Yum China.
Related: Domino's is a huge hit with Millennials
The one weak spot for Yum? Pizza Hut. The chain has reported sluggish growth for a while now. Pizza Hut has struggled due to tough competition from rivals Domino's (DPZ) and Papa John's (PZZA). Both of those companies are thriving.
But splitting off Yum China from the rest of Yum Brands could give Creed and other Yum executives more time to focus on the problems at Pizza Hut.
That will be a big challenge. Domino's is red hot this year. The stock is up more than 50% this year and is trading near an all-time high.