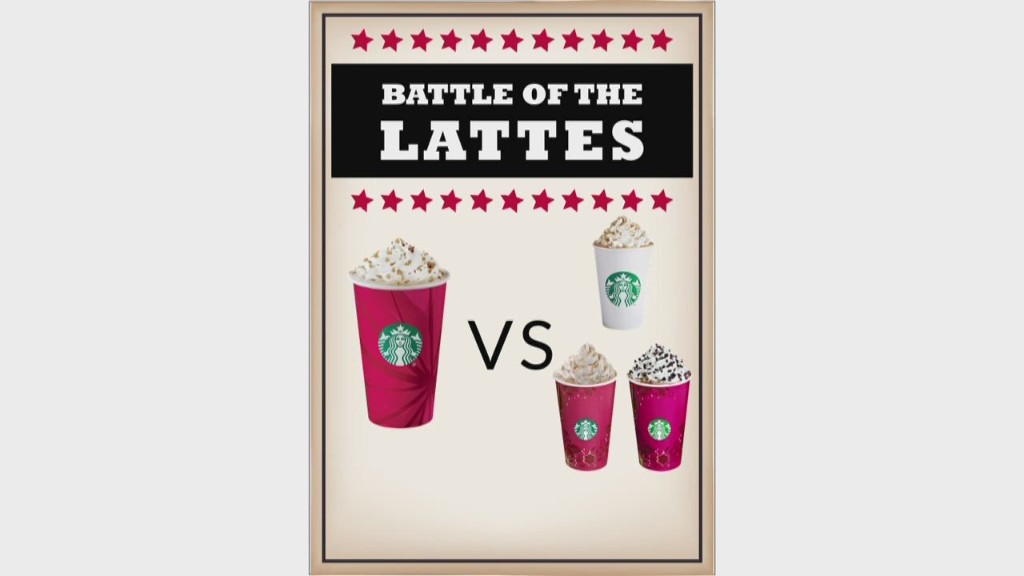 Maybe Starbucks will find it easier being green.
A holiday cup design that showed up in stores Tuesday features a mosaic of more than 100 people drawn in a single stroke -- art meant to convey "connections" the company shares between employees and customers.
What's more striking than the image, however, is the color. Starbucks (SBUX) usually rolls out a festive red holiday cup, but this year it's green.
Gallery: Starbucks holiday cups through the years
"During a divisive time in our country, Starbucks wanted to create a symbol of unity as a reminder of our shared values, and the need to be good to each other," Starbucks CEO Howard Schultz said in a statement.
Red Starbucks cups have become a holiday staple, about as sure to appear before Thanksgiving as Christmas music on the radio. But last year's cups drew controversy for abandoning seasonal designs like tree ornaments, snowmen and snowflakes in favor of a simple, two-toned red cup.
Related: Starbucks' plain red holiday cups stir up controversy
The company said at the time that it wanted a "purity of design that welcomes all of our stories." Critics called it a declaration of war on Christmas.
The red cups may not be gone long. While Starbucks said Tuesday that the rest of the company's holiday plans "are still under wraps," sharp-eyed fans have noticed boxes at Starbucks stories labeled "no peeking" unti November 10.
Fueling further speculation, one Reddit user posted an image on the website last week that shows a stack of red Starbucks cups featuring a classic holiday design.
The caption: "I peeked."
--CNNMoney's Jackie Wattles contributed to this report.