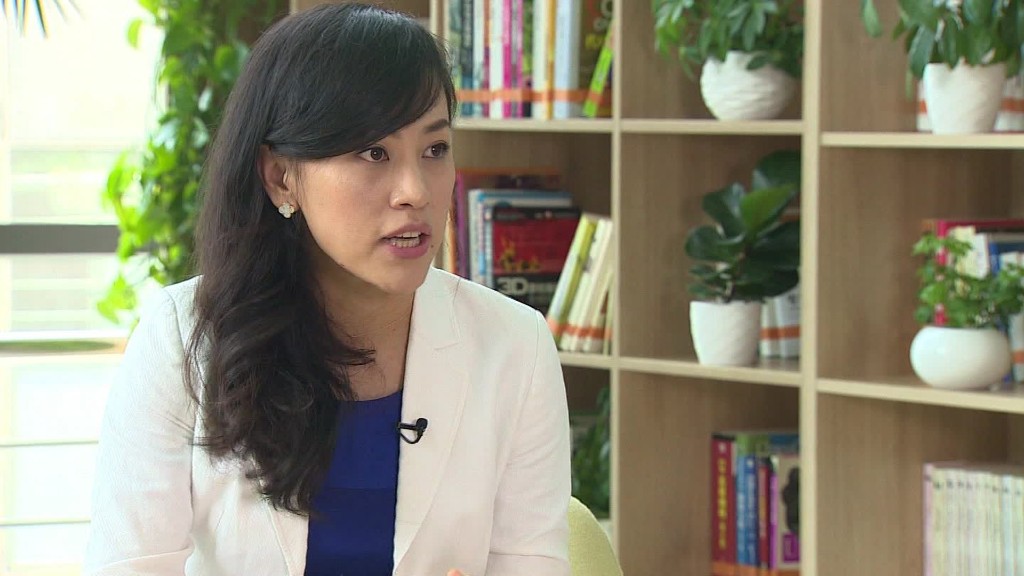 Planning to use Uber on your next visit to China? Think again.
The Uber app that's used by people around the world is being disabled in China. Travelers who want to try to book a ride through Uber there will have to download a separate Uber China app that's only available in Mandarin and doesn't accept foreign credit cards.
The changes are currently being rolled out across China. They are the work of Didi, the ride-hailing company that dominates the Chinese market and is taking over Uber's China operations in a multibillion-dollar deal.
The overhaul breaks Uber's pledge to its global customers that "if a city you visit has Uber, you can request rides there just like you would back home."
Related: Uber sells its China business to big local rival
"We apologize for the inconvenience temporarily caused to our global roaming users," a Didi spokeswoman said, describing the changes as the first phase of a transition plan for Uber China.
Uber and Didi teams are "working hard to bring back online international payment and roaming services as soon as possible," the spokeswoman said. International credit cards could be added in the next version of the Uber China app, and the aim is to make an English-language version available early next year, according to Didi.
Uber didn't immediately respond to a request for comment Tuesday.
Related: Meet the people behind Uber's big Chinese rival
The priority for Didi is clearly the huge Chinese ride-sharing market, where it had been engaged in a fierce battle for customers with Uber before the two struck a deal in August.
"That's the true market they want to retain," said Xiaofeng Wang, a senior analyst with Forrester Research.
Didi is focusing on its hundreds of millions of Chinese customers rather than the far smaller pool of travelers and expats who can't read Mandarin. Under the transition, Uber China will become available in around 400 Chinese cities, a sharp increase from the roughly 60 where it currently operates.
Related: 'It's complicated' for ridehailing giants Uber, Lyft and Didi
Didi also highlighted a number of changes to the Uber China app that it said would improve things for Chinese customers, including linking it with China's dominant messaging service WeChat and popular payment platforms on the mainland.
International Uber customers aren't the only ones who face difficulties hailing a ride in China. Didi also has an alliance with Uber rival Lyft. At the moment, Chinese customers using the Didi app in the U.S. are able to hail a ride from Lyft -- but Lyft customers aren't able to do the same with Didi in China.
Didi's Chinese customers are currently unable to hail an Uber in the U.S., but the Didi spokeswoman suggested it could become possible in the future.
-- Nanlin Fang contributed to this report.