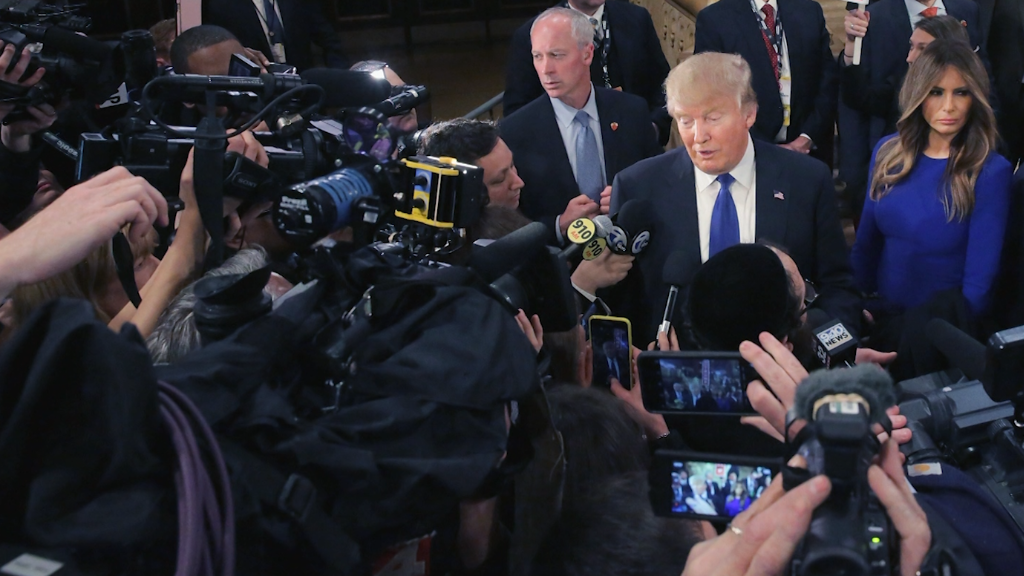 Donald Trump once again singled out NBC News journalist Katy Tur by name during a rally on Wednesday, reigniting concerns about reporters' safety at Trump rallies.
Speaking at a rally in Miami, Trump launched into his oft-repeated line about how the "dishonest" media never showed the size of his rallies before singling out Tur.
"There's something happening. They're not reporting it. Katy -- you're not reporting it, Katy," Trump said. "But there's something happening, Katy. There's something happening, Katy."
It was not the first time Trump had singled out Tur, who has been covering his campaign since last summer. Last December, he called Tur a "third-rate journalist" during a rally, causing supporters to shout at her and boo. During a news conference in July, he told her to "be quiet."
Related: How Donald Trump changed political journalism
Following Trump's remarks on Wednesday, other journalists at the rally reported that some Trump supporters were harassing Tur. "Now this guy behind me is just endlessly taunting her," Yahoo's Holly Bailey tweeted.
Several journalists rallied around Tur on Twitter, writing supportive tweets with the hashtag #ImWithTur.
When asked about the issue by CNN's Wolf Blitzer on Wednesday evening, Trump campaign manager Kellyanne Conway said the campaign had encouraged their supporters "to be civil," and that Trump hadn't encouraged supporters to be mean to Tur.
Blitzer, who had previously urged Conway to dissuade Trump from singling out reporters traveling with Trump, asked Conway how that conversation with the candidate went.
"The conversation was very productive," Conway said. "I don't appreciate a lot of the threats that I get either."
Related: Fake story about Obamas, Hillary Clinton ensnares Sean Hannity
"But don't you sort of feel uncomfortable when he does that in front of all those thousands... when he points to the journalists who are covering him?"
"I would always urge our supporters at these rallies and elsewhere to be civil and respectful to each other," said Conway.