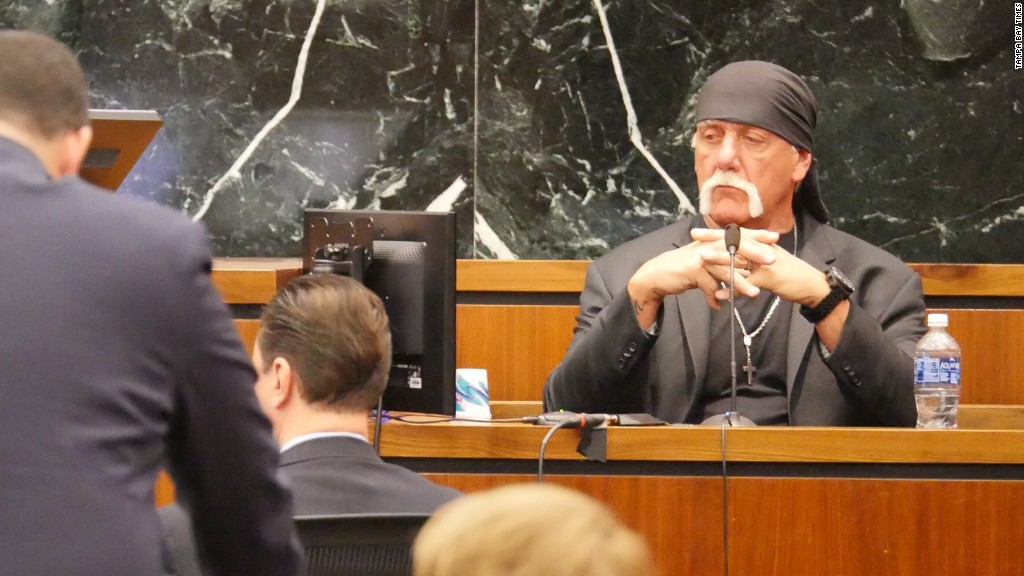 Hulk Hogan and the remnants of Gawker Media have struck a confidential settlement agreement, rewarding the wrestler with millions of dollars.
"After four years of litigation funded by a billionaire with a grudge going back even further, a settlement has been reached. The saga is over," Gawker founder Nick Denton wrote in a blog post on Wednesday.
He said "Hulk Hogan's retirement will be comfortable."
As part of the settlement, Hogan, whose real name is Terry Bollea, will receive $31 million in cash, according to a court filing.
"As with any negotiation for resolution, all parties have agreed it is time to move on," Hogan's longtime attorney David Houston said in a statement.
Related: Peter Thiel defends his support of Donald Trump
The deal ends ongoing litigation between the wrestler and the media company, which filed for bankruptcy earlier this year after Hogan won a $140 million judgment from a Florida jury.
Two other pending cases against Gawker have also been settled. Verbal agreements were reached last week, sources said, but were up in the air until this week.
One of the cases involves Shiva Ayyadurai, a man who claims to have invented email, who sued Gawker for damages after the web site criticized him. The other case involves Ashley Terrill, who was also the subject of unflattering coverage.
Related: Gawker.com's subdued finale
Ayyadurai will receive $750,000 and Terrill will get $500,000, according to court documents.
After the unfavorable verdict for Gawker, the company was effectively forced into bankruptcy. After a court auction, the company's assets were sold to Univision. It now operates all of the company's web sites with the exception of the flagship Gawker.com.
Denton said in Wednesday's blog post that he believed the appeals court would have reduced or eliminated "the runaway Florida judgment against Gawker, the writer of the Hogan story and myself personally." Furthermore, "we expected to prevail in those other two lawsuits by clients of Charles Harder, the lawyer backed by Peter Thiel," he wrote.
"But all-out legal war with Thiel would have cost too much, and hurt too many people, and there was no end in sight," Denton wrote. Wednesday's settlement "allows us all to move on, and focus on activities more productive than endless litigation."
Thiel, the billionaire entrepreneur, revealed earlier this year that he had secretly funded Hogan's lawsuit against Gawker, as well as other litigation brought against the media company.
After the settlement was announced Wednesday, Thiel struck a celebratory note.
"It is a great day for Terry Bollea and a great day for everyone's right to privacy," he said in a statement.
Related: A Gawker Media without Gawker?
After Gawker Media was sold, Univision shuttered Gawker's flagship site that had published the Hogan sex tape, saying its fate was sealed when the Florida jury returned its verdict. Shortly thereafter, Univision removed several stories across Gawker Media -- now known as Gizmodo Media -- that had been the subject of litigation.
Denton said Wednesday that the "most unpalatable part" of the settlement was the agreement to remove "three true stories" involving Hogan, Ayyadurai and Terrill.
Thiel defended his role in the litigation during a speech in Washington, D.C. earlier this week, calling Gawker a "singularly sociopathic bully" whose staff members are "not journalists."